What Time Do 'Star Wars' Tickets Go On Sale? 'Rise of Skywalker' Presales Begin During Monday Night Football
Anyone who has tried to secure opening night tickets for The Force Awakens or The Last Jedi knows the jostling rush ahead when Star Wars: Episode IX The Rise of Skywalker tickets go on sale after the Monday Night Football premiere of the movie's final trailer. In previous years, Fandango and other ticket sites struggled to process the flood of ticket buyers, so arriving on the site and slamming refresh over and over right when ticket presale begin is absolutely essential. So what time do Star Wars tickets go on sale?
What Time Do Star Wars Tickets Go On Sale?
Disney / Lucasfilm hasn't provided an exact on-sale time for The Rise of Skywalker tickets. However, ticket presales are expected to begin immediately after the halftime premiere of the final Episode IX trailer, which debuts during the New England Patriots vs. New York Jets game scheduled for 8:15 p.m. EST on ESPN. Halftime is typically about 90 minutes into a football game, so expect the trailer to drop around 9:45 p.m. EST.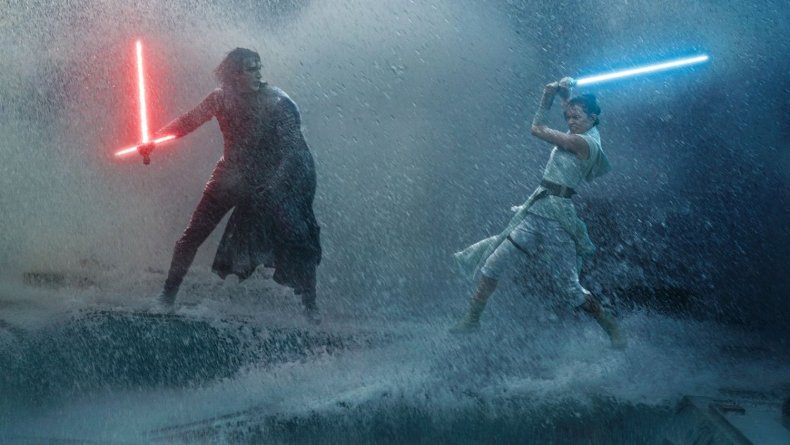 Ticket presales for The Rise of Skywalker follow the same release strategy as the previous two Star Wars saga movies. In 2015, Star Wars: The Force Awakens tickets were available right after the October premiere of the movie's trailer during Monday Night Football. The presales briefly crashed both Fandango and MovieTickets.com (which is now owned by Fandango).
With Star Wars: The Last Jedi, tickets became available immediately after the trailer premiered, which ended with the release date and an official announcement: "Tickets Available Now." We expect the same to happen with Star Wars: The Rise of Skywalker.
How To Get Star Wars: The Rise of Skywalker Tickets?
While only an approximate time is available, a little preparation can put you in a better position to score tickets in the crucial seconds after the trailer premieres.
Ticket vendors, including Fandango, already have their showtimes up for Thursday, December 19—which will hold evening screenings—and the official The Rise of Skywalker premiere date on December 20. Knowing your theater and screening time in advance could prove a major asset Monday evening.
And while not everyone will be able to watch the trailer premiere live on ESPN, there are other ways to keep track of exactly when the trailer premieres. For example, taking to Twitter to "like" the following tweet will automatically sign your account up for a reminder when the trailer premieres:
The Rise of Skywalker trailer will also premiere simultaneously, or immediately afterwards, on YouTube.
While tickets are meant to go on sale right after the trailer premiere, it's probably best to start refreshing and trying to secure tickets on your preferred vendor right at the trailer's beginning. You can always go back and watch, giving it your full attention, after you have tickets in hand.
Whatever your strategy, keep your eyes open starting around 9:30 p.m. EST and may the Force be with you. Star Wars: The Rise of Skywalker is out in theaters on December 20.