What Time Is the Joe Biden Press Conference? President Set to Discuss Gun Control
President Joe Biden will host his first presidential press conference later on Thursday. While he has answered reporters' questions since entering the Oval Office, today will be the first time the president has held a full press conference since taking office.
It comes 64 days after Biden became president, which is the longest wait in modern history. Former President Donald Trump, by comparison, hosted his first press conference 27 days after taking office.
White House press secretary Jen Psaki has repeatedly defended the delay and told reporters earlier this month: "He has done about 40 Q&As since he took office.
"But in terms of a formal press conference, which I understand there's a big focus on, we will have one before the end of the month."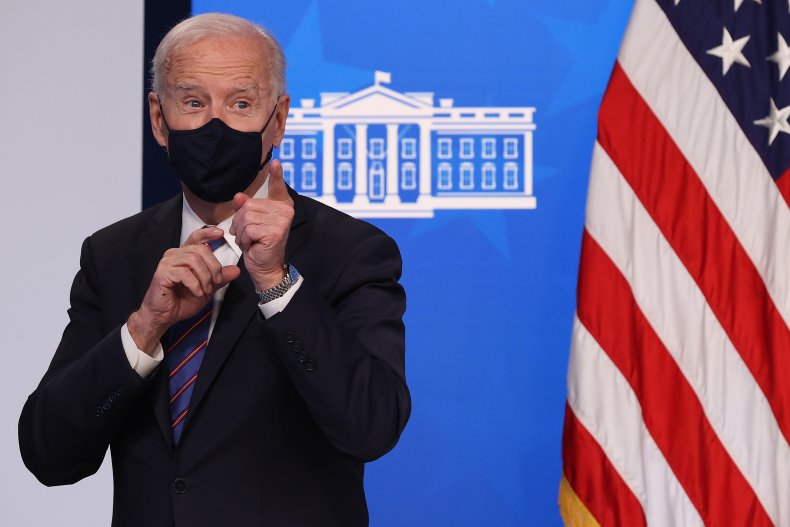 Media outlets had been highlighting the lack of a solo press conference from Biden in the days before the announcement was made on March 16.
President Biden's first presidential press conference will take place at 1.15 p.m. EST on Thursday, March 25. The press conference will be aired on major news stations and can be streamed on news websites, C-SPAN and PBS.
It can also be watched live via the White House's official YouTube channel.
When speaking with reporters about how Biden was preparing for the press conference, Psaki joked: "Looking at your Twitters and seeing what's on your mind."
Psaki then said: "It's an opportunity for him to speak to the American people, obviously directly through the coverage, directly through all of you.
"And so I think he's thinking about what he wants to say, what he wants to convey, where he can provide updates, and, you know, looking forward to the opportunity to engage with a free press."
What to expect
Biden is expected to use the press conference to celebrate the passage of the COVID-19 relief bill. He is also expected to discuss gun control following the shooting in Boulder, Colorado, in which 10 people died.
At the time, Biden said: "As President, I can use all the resources at my disposal to keep the American people safe. As I said: At this moment, a great deal remains unknown.
"But three things are certain. First, 10 lives have been lost, and more families have been shattered by gun violence in the state of Colorado. And Jill and I are devastated.
"And the feeling—I just can't imagine how the families are feeling—the victims whose futures were stolen from them, from their families, from their loved ones who now have to struggle to go on and try to make sense of what's happened."
Biden is also expected to discuss immigration following a surge in border crossings.