What Time is President Trump's Coronavirus Briefing Today? Watch as White House Gives Latest COVID-19 Updates
Alongside members of the Coronavirus Task Force, President Donald Trump will deliver remarks during the White House's latest news briefing on Tuesday afternoon.
The press briefing is set to begin at 5 p.m. ET and will be available to live stream on the White House's website, as well as its YouTube page. C-SPAN will air the televised broadcast on its cable channel in addition to sharing its own live stream video online.
Tuesday's coronavirus briefing will take place after Trump is due to meet with New York Governor Andrew Cuomo in the Oval Office, according to the president's public schedule. Trump prefaced the upcoming meeting on Monday.
"They're getting it together in New York," he said. "A lot of good things are happening in New York, and I think the governor is going to come in to see us tomorrow." When reporters asked why Cuomo planned to travel from New York to Washington, D.C. for in-person correspondence amid the pandemic, Trump told them, "I don't know. He wanted to."
Cuomo has voiced numerous requests for increased federal assistance during New York's recent coronavirus briefings. As the state launches widespread antibody testing and looks toward an eventual economic reopening, per the terms of Trump's "Opening Up America Again" plan, Cuomo articulated concerns about the state's ability to recover without additional resources from the White House.
"The federal government has said from day one, 'Don't worry. We're going to provide funding to the states.' I'm worried because I've heard this over and over again," Cuomo said Monday, warning that using current state resources to fund a reopening strategy would threaten support to schools and medical facilities. "You would be cutting schools 20 percent, local governments 20 percent and hospitals 20 percent," he continued. "This is the worst time to do this."
Noting that the White House "has not funded state to date," Cuomo reiterated the National Governors Association's request—initially introduced earlier this month, in coordination with Maryland Governor Larry Hogan—for at least $500 billion in unrestricted fiscal aid to states from the federal government. Trump responded to an inquiry about state relief aid on Monday, saying his administration planned to address it during the national reopening plan's fourth phase, "which we'll start very shortly."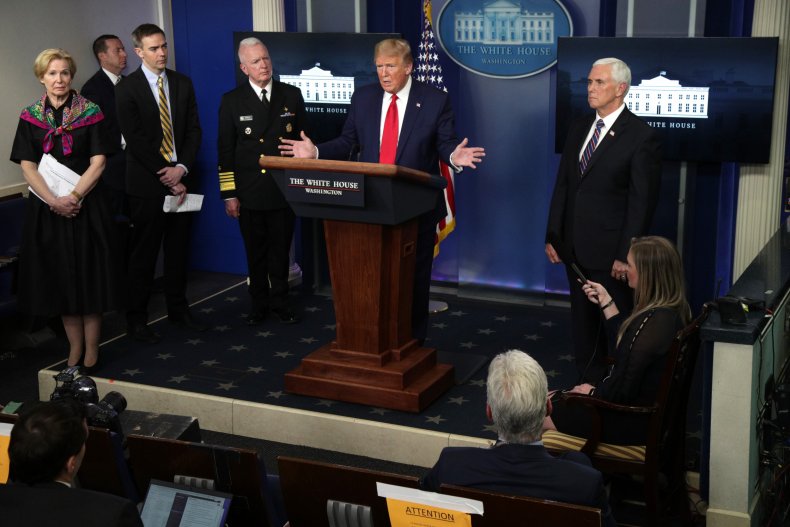 Following Monday's White House briefing, Trump shared intentions to temporarily suspend U.S. immigration proceedings with a forthcoming executive order.
"In light of the attack from the Invisible Enemy, as well as the need to protect the jobs of our GREAT American Citizens, I will be signing an Executive Order to temporarily suspend immigration into the United States!" he wrote on Twitter around 10 p.m. ET Monday night.
The statement has already received criticism from Congress members, including Texas Representative Joaquin Castro, who responded to Trump's tweet shortly after it was posted.
"This action is not only an attempt to divert attention away from Trump's failure to stop the spread of the coronavirus and save lives, but an authoritarian-like move to take advantage of a crisis and advance his anti-immigrant agenda," he wrote. "We must come together to reject his division."