What Time Is the Scottish Independence Referendum Result Due?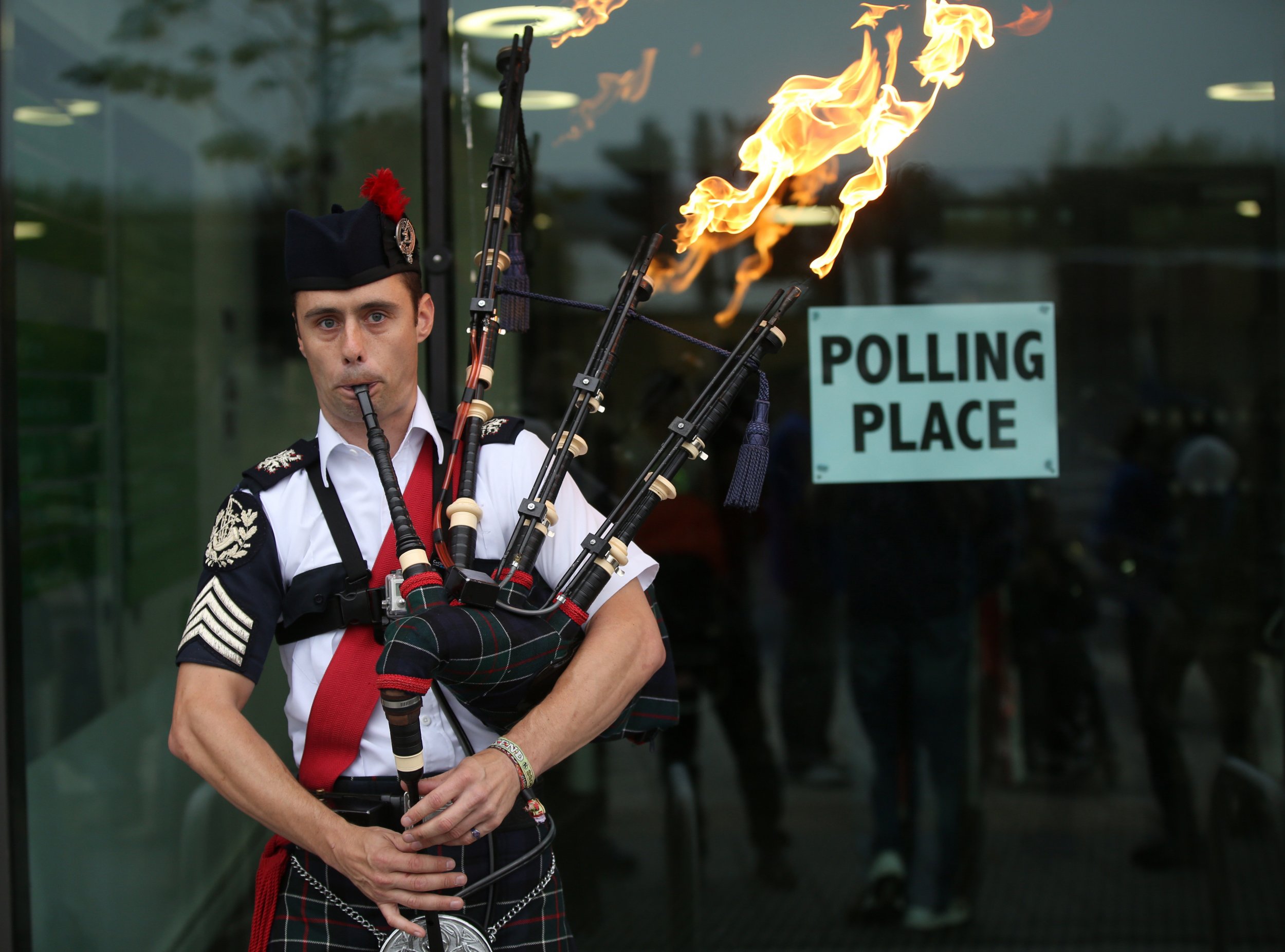 Polling stations are now open at 2,608 locations across the Scotland for the independence referendum. Voting will finish at 10pm tonight, with postal votes returned after this time declared void. The result is expected early on Friday morning.
Elections Scotland has estimated that the result will be announced between 06:30 and 07:30 BST, based on previous election announcements, but can't be exact because of the unique nature of the ballot. Scottish declarations in the 2010 UK parliamentary elections and the 2011 Scottish parliamentary elections were made at those times respectively.
However, running totals - which can be made from the first declaration onwards - may indicate a result earlier in the morning, and owing to the remote nature of some Scottish regions, there is also a possibility that bad weather could delay the national result. Helicopters and boats are being used to transport ballot boxes to counts in areas such as Argyll and Bute.
The ballot papers are composed of the question "Should Scotland be an independent country?" with "Yes" and "No" as the only possible answers.
A historically high turnout is expected. According to the BBC, 4,285,323 people - 97% of the electorate - are currently registered to vote. Voting is open to Scottish residents aged over 16 or over, who are either British, qualifying Commonwealth or European Union citizens.
Once polling closes, ballot papers will be counted in each of Scotland's 32 local authority areas, along with votes cast from 789,024 postal vote applications, the largest volume of registrations in the nation's history.
Read Newsweek Europe's cover story: Two writers journey to the heart of the independence debate, but will their friendship survive the trip?
After votes have been counted, officials in each area will disclose the result to the chief counting officer Mary Pitcaithly in Edinburgh. Falkirk Council's chief executive since 1998, Pitcaithly has been a returning officer for council, Scottish, Westminster and European parliament elections.
Once the results from all local authority areas are known, Ms Pitcaithly will announce the result of the referendum at the Royal Highland Centre outside Edinburgh.
Ms Pitcaithly told STV that she will announce the result at "breakfast time" on Friday, and that her declaration "will simply confirm how many votes there were for Yes, how many votes for No and how many papers were rejected. Then the conclusion of that speech will say the majority of the people of Scotland voted either Yes or No."
In depth: Why the Nationalists have won, whatever the result
So far, the Yes campaign hasn't had the media on their side – only one paper, the Sunday Herald, has come out in favour of independence.
The final Referendum opinion poll, conducted by Survation in the last 24 hours found the No campaign leading the Yes side by 53% to 47%. Yet it also found that 9% of respondents remain 'undecided', a proportion which could swing the result.