What Time Is SOTU 2020? How to Watch, Live Stream Trump's State of the Union Address
President Donald Trump will deliver his third State of the Union address Tuesday on the eve of the Senate's impeachment trial vote.
The speech gives the president an opportunity to share his thoughts on America's current condition and his vision for the country's future. But this year, before Trump's address in the House of Representatives, senators will take to the Senate floor to offer their opinions on whether his impeachment trial should result in his removal from office.
Trump is expected to begin delivering his remarks at 9 p.m. EST and conclude before 10:30 p.m. There are a number of ways to watch the address live whether it's using television, a computer or mobile devices. C-SPAN, CBS, ABC News, Fox and NBC will all broadcast the speech on their respective television channels. The live stream will also be available on C-SPAN's website and each network's mobile application.
Those who don't have a cable subscription or prefer to use YouTube for all video-related tasks can catch the speech through any one of the live streams that ABC News, CBS or PBS sets up on its page.
Trump isn't the first president to address the nation as the future of his presidency is being decided in the Senate. In 1998, President Bill Clinton delivered his speech as his legal team was defending him in his Senate trial. Clinton made no mention of the proceedings against him and was acquitted after the Senate voted about a month later.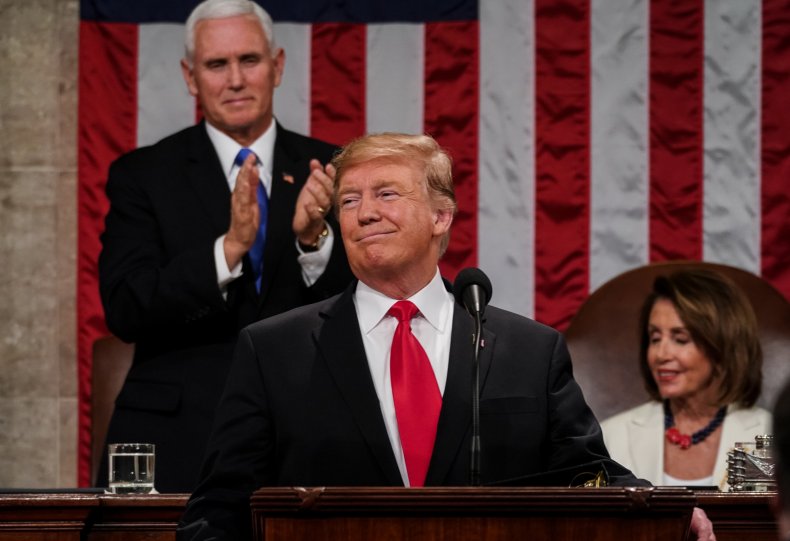 Given the Republican majority in the Senate, an acquittal is expected for Trump's trial as well. A two-thirds majority is required to remove a president from office, meaning 20 Republicans would have to vote against him. The vote is scheduled to take place on Wednesday.
Trump hasn't been shy about sharing his opinions on the impeachment proceedings, often using Twitter to call them a "witch hunt" and a partisan attack on him. He's expressed similar sentiments at his rallies, telling supporters at a Wildwood, New Jersey, event that Democrats were "obsessed with demented hoaxes, crazy witch hunts and deranged partisan crusades."
In past State of the Union addresses, Trump has taken a less combative approach in his rhetoric, compared to what he says at his rallies, and urged unity among Republicans and Democrats. However, last year he did say that the "only thing" that could stop the nation's "economic miracle" was "foolish wars, politics or ridiculous partisan investigations."
"If there is going to be peace and legislation, there cannot be war and investigation. It just doesn't work that way," Trump said in last year's speech. The White House hasn't said whether Trump plans to include comments about the trial in his address.
Immediately following Trump's speech, Michigan Governor Gretchen Whitmer will deliver the Democratic response. Her remarks are scheduled to begin at 10:30 p.m. EST.