What Time Is the Vice Presidential Debate Tonight Between Kamala Harris and Mike Pence?
The vice presidential debate between California Senator Kamala Harris and Vice President takes place tonight.
The debate is the second in a series of presidential debates, following the first debate between President Donald Trump and former Vice President Biden. Trump and Biden are due to debate again on October 15 and October 22.
Tonight, the vice presidential debate will take place at Kingsbury Hall at the University of Utah in Salt Lake City and will be moderated by Susan Page, USA Today's Washington bureau chief.
The topics of the debate will be chosen by the moderator, Page, and though the topics have not been revealed at the time of writing, Harris and Pence are expected to discuss themes such as Trump's handling of the coronavirus pandemic and the Supreme Court. Harris and Pence will discuss nine topics during the debate, with 10 minutes allocated for each topic.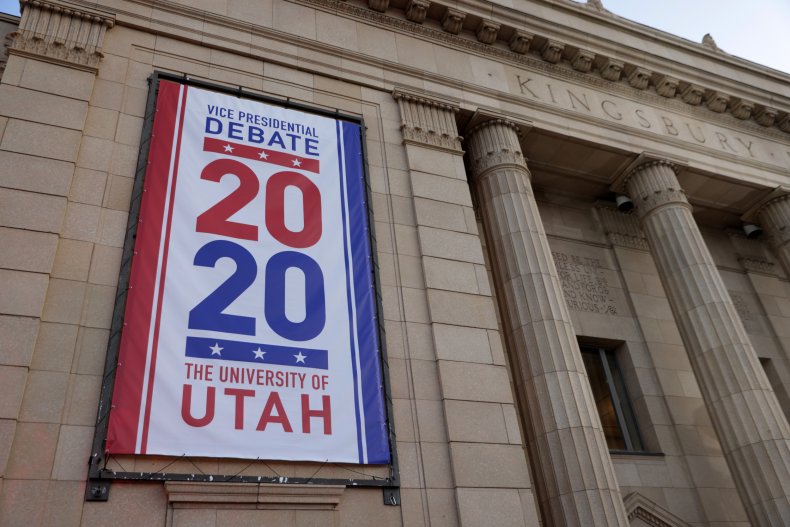 What time is the vice presidential debate tonight?
The vice presidential debate is taking place tonight, October 7, from 9 p.m.-10.30 p.m. ET, 8 p.m.-9.30 p.m. CT, 7 p.m.-8.30 p.m MT, and 6 p.m.-7.30 p.m PT.
The Vice Presidential Debate will air live on ABC, CBS, CNN, C-SPAN, FOX, NBC, and PBS, and some networks will be live streaming the debate on their websites or YouTube channel.
While the debate itself will run for 90 minutes from 9 p.m. until 10.30 p.m. ET, many networks will be hosting coverage before and after the debate.
The vice presidential debate will take place in person, but following Trump's COVID-19 diagnosis, Harris and Pence will be positioned 12 feet apart and separated by plexiglass. Page will also be protected by plexiglass.
Pence's team was initially hesitant about using plexiglass to shield him from Harris and Page, but they have since agreed to the barrier.
CNN reported that a Pence aide said: "We have inquired as to the medical or scientific need for a plexiglass barrier when two times the (US Centers for Disease Control and Prevention) distancing guidance has been implemented.
"But most importantly the Vice President is looking forward to having a conversation about the marked shift left that Joe Biden wants to take this country, so we are not going to let a barrier prevent the Vice President from making the case for four more years of Donald Trump."
Ahead of the debate, Harris said on Twitter: "People have asked me what they can do in the final 28 days of this election, and here's what I say: make more phone calls. Send more texts. Reach out to more of your friends and neighbors.
"Tell them why this election matters to you. Every conversation helps."