What Time Is the Second Presidential Debate Tonight? Where to Watch and Live Stream Trump vs. Biden
The second presidential debate between President Donald Trump and former Vice President Joe Biden will take place tonight, less than two weeks before the election on November 3.
The presidential candidates will discuss fighting COVID-19, American families, race in America, climate change, national security, and leadership at the debate, which will be moderated by NBC White House Correspondent Kristen Welker and hosted by Belmont University in Nashville, Tennessee.
What time is the presidential debate tonight?
The second presidential debate between Trump and Biden will begin at 9 p.m. ET, 8 p.m. CT, and 6 p.m. PT, and will run for 90 minutes with no commercial breaks.
Most major news networks will also host coverage of the debate before and after, so viewers may want to tune in a little earlier and plan to watch for a little longer.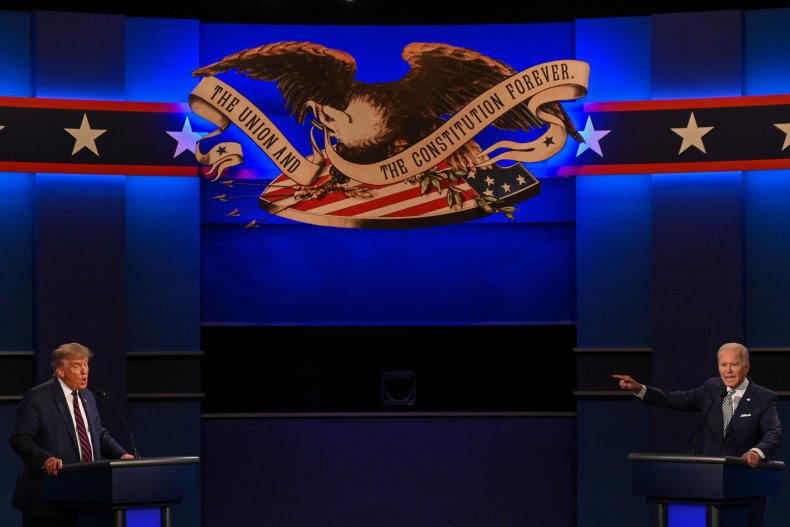 Where to watch the presidential debate?
Most major news networks will air the debate on TV, including ABC, CBS, NBC, Fox News, CNN, and MSNBC. These networks will also likely be streaming the debate online, either on their own websites or their YouTube channels.
Tonight's debate will be the final one between Trump and Biden, following their first debate on September 29, (in which they discussed their records, the Supreme Court, the coronavirus pandemic, the economy, race and violence in cities, and the integrity of the election), and their separate town hall events on October 15.
The second debate was supposed to be a town hall-style event attended by both Trump and Biden, but following Trump's COVID-19 diagnosis and his refusal to debate Biden virtually, the presidential candidates ended up hosting separate town hall events that were broadcast at the same time.
Therefore, while tonight will be only the second time Trump and Biden debate, it will also be the final debate in this presidential election season, with election day is less than two weeks away, on November 3.
Tonight's debate may look a little different as the Commission on Presidential Debates (CPD) announced on Monday that the presidential candidate's microphones will be muted while the other makes their opening remarks. Following the opening remarks on each topic, the microphones will be unmuted and Trump and Biden will then have time to debate the subject.
This measure was brought into force following the first debate which was widely viewed as disordered, as Trump, Biden, and the moderator Chris Wallace frequently spoke over one another, at one point prompting Biden to tell Trump to shut up.