Health officials in Michigan are warning residents to cancel late-night outdoor events after discovering a possible case of the Tripe E virus, a dangerous mosquito-borne illness.
An adult from Barry County, located in the southwestern part of the state, is suspected of contracting the Eastern equine encephalitis virus, or Triple E (EEEV), health officials announced Tuesday. The state's Department of Health and Human Services (MDHHS) encouraged people in 10 Michigan counties to cancel or postpone any outdoor event scheduled at or after dusk, the Detroit Free Press reported.
"MDHHS continues to encourage local officials in the affected counties to consider postponing, rescheduling or canceling outdoor activities occurring at or after dusk, particularly those involving children, to reduce the potential for people to be bitten by mosquitoes," Dr. Joneigh Khaldun, chief medical executive and chief deputy for health at MDHHS, said in a statement.
EEEV is spread to humans and animals through the bite of an infected mosquito. It is a rare but deadly disease, with a 33 percent fatality rate in humans and 90 percent fatality rate among horses. Just this year, 22 horses in the 10 identified Michigan counties have had confirmed cases of the virus, according to the MDHHS statement.
EEEV can cause neurological diseases, including meningitis and encephalitis, in humans who are infected. Those who survive may have lasting neurological problems, according to the U.S. Centers for Disease Control and Prevention (CDC).
The type of illness will depend on the person's age and other factors, and some people can even be asymptomatic. The illness lasts one to two weeks, and most people can recover completely if their central nervous system is not involved, according to the CDC.
For those who experience a more severe infection, death typically occurs two to 10 days after the onset of symptoms, which include fever, chills, headaches and vomiting. Humans who can survive the infection are often left with physical or mental impairments, including mild brain dysfunction, intellectual impairment, personality disorders and seizures.
There is no approved vaccine or approved antiviral treatment for EEEV infections. Instead, after receiving a positive diagnosis, doctors can provide supportive treatment, according to the CDC.
The most effective way to prevent EEEV and other mosquito-borne illnesses is to prevent mosquito bites. The CDC recommends that people wear long-sleeved shirts and pants and use insect repellent when going outdoors.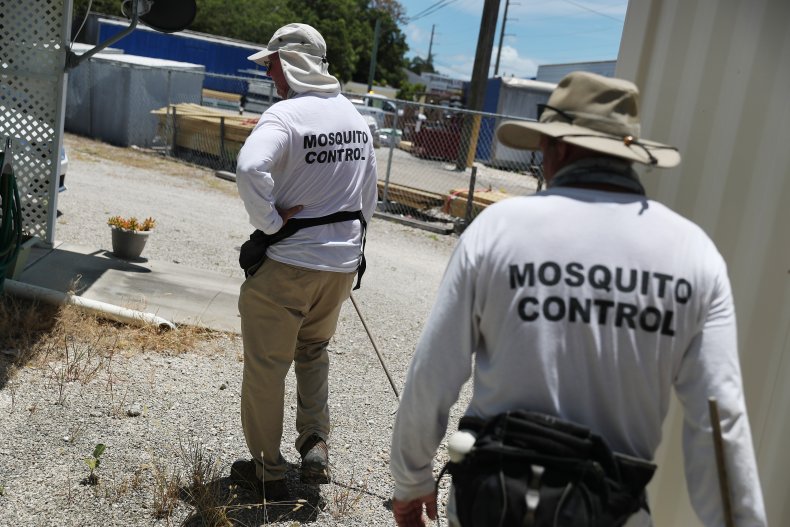 If the suspected human case in Barry County is confirmed through lab testing later this week, it would mark the first diagnosis of a person with EEEV in the state this year, the Free Press reported. Health officials did not disclose how the person might've contracted the case, but the EEEV infections found in the horses would not have been a significant risk factor.
Horses, like humans, are considered to be a "dead-end" host for the virus, meaning that they usually do not have a sufficient amount of the virus concentrated in their bloodstreams. There is a vaccine to prevent EEEV infections in horses, according to the CDC.
The spread of EEEV to mammals, including humans, is maintained through a natural cycle between mosquitoes and birds. Mammals contract the virus when they are bit by an infected mosquito species that feeds on both birds and mammals, according to the New York State Department of Health. The virus cannot be spread person-to-person or between people and animals.
While anyone can become infected with EEEV, people over the age of 50 and younger than 15 are at the greatest risk for developing a severe disease, according to the CDC. The rate of developing the disease—EEE—is incredibly rare. Overall, only about 4 to 5 percent of human EEEV infections result in EEE, according to the CDC.
In the U.S., an average of 11 human cases of EEEV are reported each year, the CDC reported. Within the last 10 years, states with the most number of EEEV cases include: Massachusetts; Michigan; Florida; Georgia; New York and North Carolina.
The MDHHS announced earlier this week that it would partner with the Michigan Department of Agricultural and Rural Development (MDARD) to spray aerial pesticides in the 10 identified counties in an effort to reduce mosquito populations and the risk of EEEV infection.
"As recent history has shown us, EEE can strike fast and it can be deadly to humans and animals," MDARD Director Gary McDowell said in a statement. "MDARD fully supports the work and commitment of MDHHS to protect public health, which is why we have removed an obstacle that might have prevented them from taking action quickly."
Newsweek contacted the MDHHS for comment, but did not hear back in time for publication.