What Did Donald Trump Do and Not Do At The G20 Summit?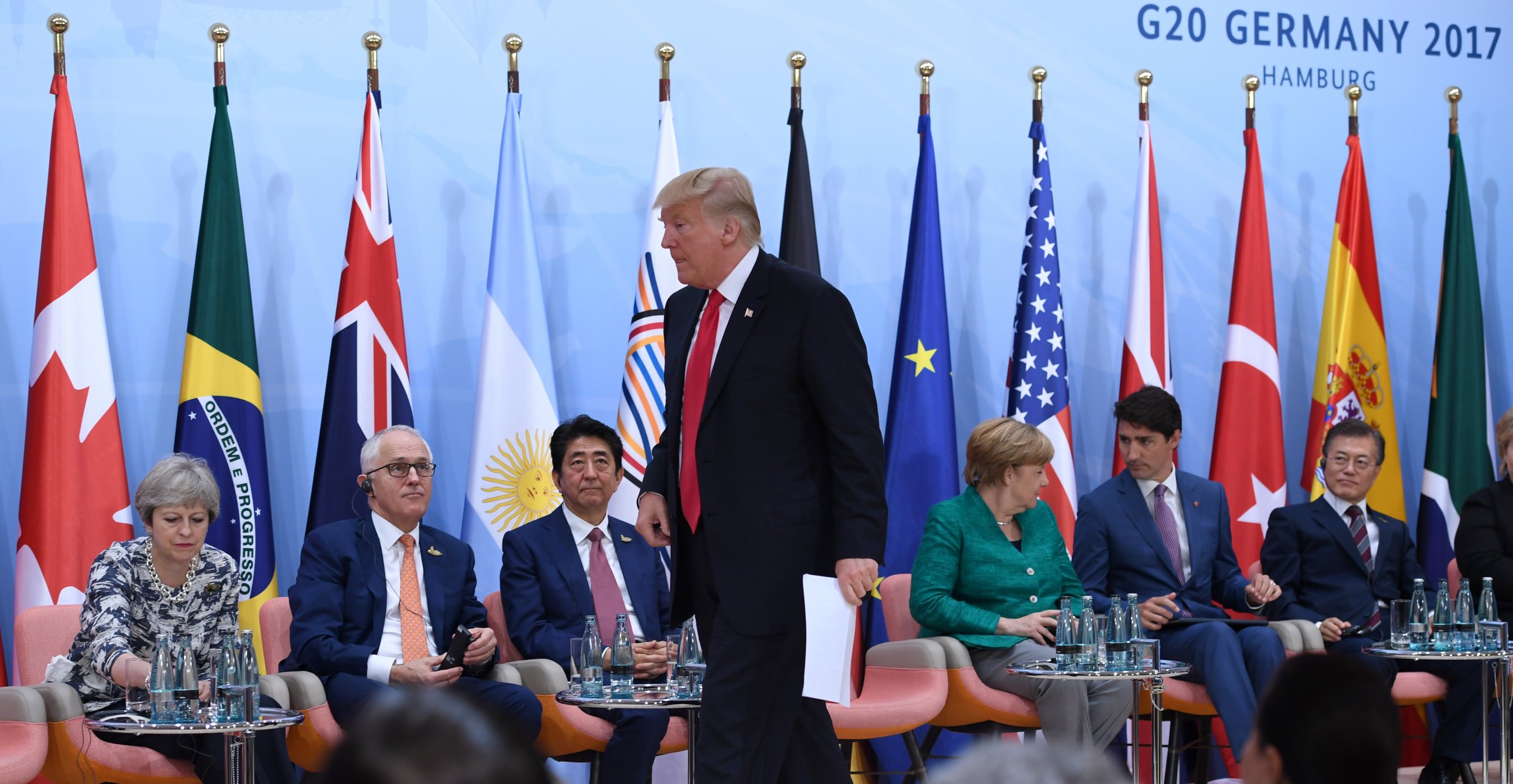 U.S. President Donald Trump wrapped up his time at the Group of 20 Summit Saturday in Hamburg, Germany, his second overseas trip since moving into the White House, and it certainly made for a jam-packed couple of days rife with some accomplishments and some head-scratching moments.
Per usual, Trump summed up his time abroad with a quick little Twitter burst, shouting out German Chancellor Angela Merkel, the "anarchists" who waged protests throughout as well as the security forces that contained them and praise Chinese President Xi Jinping for their talks on "trade & North Korea."
Indeed, the trip allowed Trump to somewhat make up for his first European trek earlier this year, one that was widely panned by critics. This time the Republican did make some progress in various areas.
Here's a quick synopsis of Trump's time before and during the G20.
Putin Showdown
This was the main event that much of the country and globe had marked on their calendars for months. Trump had the opportunity to directly confront Russian President Vladimir Putin on a number of issues, but most importantly the accusations that Russia hacked the 2016 election in order to elevate Trump and defame Democrat Hillary Clinton and her party.
Putin and Russian foreign minister Sergey Lavrov said Trump accepted the former's denials and even stated Trump had said some in the U.S. had "exaggerated" Russia's efforts.
U.S. Secretary of State Rex Tillerson said the subject was the first brought up in the six-person sit down – Trump, Tillerson, Putin, Lavrov and two translators – and afterward told reporters the question was how the two nations could move forward.
According to media reports, White House officials later said that Russia's interpretation of Trump's "acceptance" was not accurate.
Praising the "West"
Though Trump's speech in Warsaw, Poland occurred Thursday, one day before the G20, it served as a precursor or warm-up before the summit in front of a rather friendly crowd eager to hear him speak. The president criticized his two predecessors in Barack Obama and George W. Bush, as well as the U.S. intelligence community, breaking with years of tradition, The New York Times reported.
Trump also posed several questions about the West and it's "will" to face challenges.
"The fundamental question of our time is whether the West has the will to survive," he said. "Do we have the confidence in our values to defend them at any cost? Do we have enough respect for our citizens to protect our borders? Do we have the desire and the courage to preserve our civilization in the face of those who would subvert and destroy it?"
Global Famine Aid
The president's signature mantra of "Make America Great Again" was credited for helping him claim the White House last year, but it was also accused of spreading nationalism or isolationism, two things the U.S. has not been known for quite some time.
But Trump appeared to break from at least the isolationism when he agreed Saturday to provide $639 million to the United Nations' World Food Programme to help those starving from famine and drought in Somalia, South Sudan, Nigeria and Yemen, Reuters reported.
Each country is scheduled to receive more than $120 million, and the new infusion puts the U.S's grand total aide to all four countries at $1.8 billion. Altogether the U.N. has estimated that more than 30 million people are being affected by the famine.
Making Women Business Leaders
Consider this one a victory for Trump and his daughter Ivanka. Trump pledged $50 million to a new World Bank fund to help women entrepreneurs. The program, called the Women Entrepreneurs Finance Initiative, is aimed at helping women find better avenues for capital, training and increasing policies, ABC News reported. To date, World Bank Group president Jim Yong Kim said the fund has received $325 million in pledges so far.
Left Out of Climate Change
The summit closed on perhaps a sour note for Trump, at least when it comes to his decision to pull the U.S. out of the multi-lateral Paris Climate Accord earlier this year. When Trump made the announcement June 1, he did leave the window open for re-entering the voluntary accord if he could re-negotiate.
However, at the G20, the other 19 nations' leaders all reached an agreement stating the accord is "irreversible," leaving the U.S. as the only one out.