What is Trump Doing on Vacation? Golf, Fox News and Fried Chicken, According to Stephen Colbert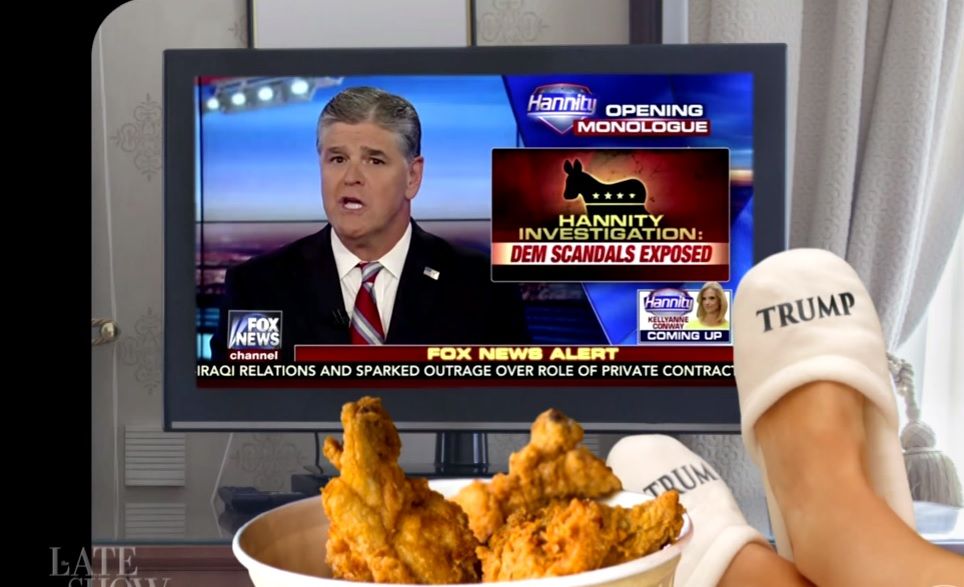 President Donald Trump is on vacation for 17 days, beginning last Friday—though he is insistent that he is not taking a break from his White House duties.
Trump tweeted August 5 that he is "working in Bedminster, New Jersey," where he has a golf course, "while the White House undergoes construction work.
"This is not a vacation—meetings and calls!" the president said emphatically.
But on Monday's Late Show, Stephen Colbert presented a very different picture of the president's working vacation.
Colbert unveiled a mock slideshow of Trump's New Jersey staycation, showing the commander-in-chief watching a lot of Fox News while lounging in Trump Hotel slippers, playing golf, and watching even more Fox News.
Also pictured is the president indulging in burgers, fried chicken and nachos. (I wonder if he used a knife and fork for his chicken?)
But if there's one thing that threatens to ruin Trump's vacation, it's the latest coverage from his sworn rivals at CNN. One slide shows Trump flicking from Fox News to CNN, where the top story is: "Mueller asks White House for Flynn documents."
The next slide shows Trump throwing his television out the window. That's going to be a costly hotel charge.
Of course, Colbert isn't the first to insinuate Trump may be coasting. Newsweek's latest cover features Trump resting in a reclining chair with the headline "Lazy Boy."
Trump's working vacation has been just as dramatic as the times when he's in the White House.
On Monday, the trigger-fingered president directed Twitter missives at both The New York Times and Democratic senator Richard Blumenthal.
He questioned how much longer the Times would remain in business:
And he brought up Blumenthal's service record in Vietnam, after Blumenthal appeared on CNN's New Day program Monday morning and suggested collusion between the Trump campaign and Russia during the 2016 presidential election.
After all that furious tweeting, perhaps Trump could use a nice, relaxing hand massage on his vacation.