What Trump Has in Common With Putin's Close Allies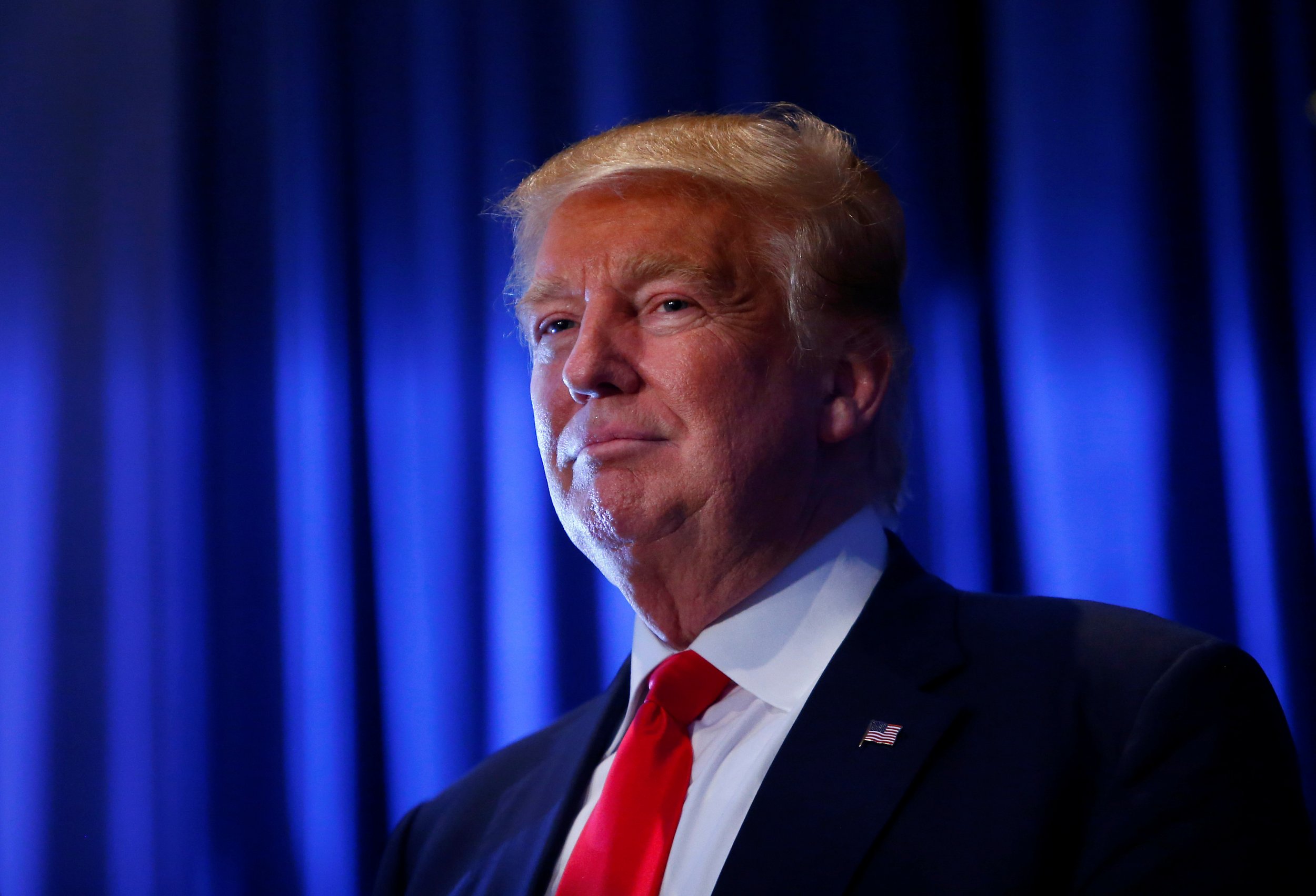 U.S. presidential hopeful Donald Trump and Russian President Vladimir Putin have never met. That is what both are claiming at the moment anyway.
Given that the main body evidence for any direct contact between the two came from Trump himself, when he boasted on two occasions that "nice" Putin "contacted" him and that "he spoke to Putin directly and indirectly" in 2014, it is harder to believe that now Trump has actually disowned those claims himself.
However, Trump staffers' suspected links with pro-Kremlin parties and Trump's own willingness to speak favorably of the Russian leader set the imagination going about what their relationship would be like. Upon closer inspection, many of Trump's statements, while outlandish and shocking, have decided echos of Putin and his allies.
"Lock Her Up!"
Anyone following Trump on Twitter is surely familiar with the Republican candidate's new shorthand for his opponent—"Crooked Hillary". The campaign has even set up a site named LyingCrookedHillary.com, which promises to inform subscribers about "legendary lies" told by Clinton and forward the questions to the FBI if her actions seem illegal. Part of the Republican campaign now appears to be calling for Clinton's incarceration, with party members chanting "Lock her up" at the national convention, while Trump branded her "Queen of corruption" at a rally.
Far from campaign rhetoric, the idea of locking up "crooked" opponents, is not novel among Kremlin allies. Putin's own opponents have many convictions between them, usually for fraud or illegal financial dealings. Former opposition backer Mikhail Khodorkovsky was jailed for fraud, opposition leader Alexei Navalny is on a suspended sentence for embezzlement and Ilya Ponomarev, Russia's only MP to oppose the annexation of Crimea, Ilya Ponomarev, is facing a financial investigation that is persistently reopened. There are also critics such as punk rock group Pussy Riot, whose anti-Putin performance in a church saw them jailed for almost two years.
The parallels between Trump and Ex-Ukrainian President Viktor Yanukovych are even more irresistible. Yanukovych was only a year in office, when the leader of the pro-EU opposition Yulia Tymoshenko was jailed in 2011 for apparently overstepping her powers while prime minister. She walked free after Yanukovych resigned and fled Ukraine in 2014, ousted by a relentless protest movement that opposed his close ties with the Kremlin. Incidentally, Ukrainian MP Serhiy Leshchenko said it was around that time when Yanukovych's U.S. adviser Paul Manafort ended his 10-year association with the deposed president. Until Friday, he found gainful employment as as Trump's campaign chairman.
Gun Rattling Rhetoric
Threatening to gun someone down for their political opposition is of course illegal in both Russia and the U.S. but that didn't stop Trump telling a rally on Tuesday August 16 that gun rights activists should be the ones to act to stop his rival Hillary Clinton from winning the presidency.
His comments sparked widespread concern that he was alluding to gun violence—something that Trump has since denied, insisting instead that he meant gun rights activists should act by backing him.
One of Putin's most outspoken followers, Chechnya's ubiquitous leader Ramzan Kadyrov, who is a self-confessed "soldier of Putin and servant of Allah" courted controversy in a similar way in February. Kadyrov posted a video on his Instagram of Russian opposition leader Mikhail Kasyanov, through the crosshairs of a rifle, vowing that "those who don't get it, will get it soon". The image concerned many liberal Russians, especially since men who once worked under Kadyrov are currently the main suspects in the murder of Kasyanov's late friend, Boris Nemtsov.
Kadyrov has also referred to the opposition as "traitors" and "liberal Satans." Trump made headlines by referring to Clinton as "the devil" earlier this month and an ABC report showed that calling Clinton a traitor has become commonplace in his rallies.
Who Founded ISIS?
The origins of militant group Islamic State (ISIS) are tied to the complex geopolitics of Syria, Iraq and the aftermath of the Arab Spring. In political rhetoric, however, many have blamed the George Bush administration's War in Iraq, Syrian President Bashar al-Assad's brutal crackdown and Gulf governments' indiscriminate funding of Islamist groups in the Syrian Civil War. Recently Trump has blamed two people—Clinton and incumbent President Barack Obama.
Pro-Kremlin politicians widely blame the U.S. for the birth and spread of ISIS and Kadyrov is one of the most vocal proponents of this theory, maintaining that the U.S. "invented al-Qaeda" and that "ISIS is an alternative to al-Qaeda with the same functions." Putin deserves a Nobel prize, not Obama, Kadyrov has repeatedly said. Russian parliamentary speaker and another Putin-ally Alexey Pushkov has backed a similar theory. "It is the West's obsession with regime change that created the (Syria) crisis," Pushkov said in February. "Topple Saddam (Hussein), topple (Muammar) Gaddafi, but when they tried Assad, they hit a brick wall."
Cracking Jokes
Another parallel with Chechnya's strongman leader is found in the way Trump has explained his remarks above. "They don't get sarcasm?" Trump tweeted, explaining his remarks by blaming "ratings channeled" networks for not getting the humor in his ISIS-Obama claims. His party's leader was also pressed to explain Trump's gun remarks, telling the LA Times "it sounds like a joke gone bad."
Kadyrov's spokesman brushed off his gun post as a joke, saying that liberals did not get Kadyrov's "unique sense of humor." Even when Putin himself was quizzed about his protege's statements, he brushed it off as the Caucasus temperament.
Views on Women
Donald Trump co-owns the Miss Universe franchise and has claimed to "cherish" and "love" women.
Trump's sensitivity to women's issues made front page news after Fox News reporter Meyn Kelly asked him about his history of calling women "fat pigs", "dogs", "slobs," and "disgusting animals" during a debate last year. Afterwards he accused her of turning on him for having "blood coming out of her wherever" and retweeting a post that called her a "bimbo".
Not only did Belarus's Alexander Lukashenko, who affectionately calls Putin his "brother," opt to host a national version of the pageant himself, Miss Belarus 2016, but he too has declared his love for women many times. His opening speech of the pageant saw him pay tribute to female beauty many times and declared it can overpower political and economic power.
Both men were called sexist when faced with a female opponent, though. Trump's dismissal of the only female contender for the Republican Party nomination, Carly Fiorina, about whom he said: "Look at that face! Would anyone vote for that? Can you imagine that, the face of our next president? I mean, she's a woman, and I'm not supposed to say bad things, but really, folks, come on."
Lukashenko himself ran against a woman, Tatyana Korotkevich, in 2015 who has said he supports more women taking public office, changed his tune, saying that the "person in a skirt" could not carry out the responsibilities of president. Both women lost.