What Is Trumpy Bear? Meet The Toy With The Head-Scratching Commercial
A Monday morning advertisement on Fox News took some by surprise, leaving many unsure if the commercial was real or simply a spoof.
The commercial in question was for Trumpy Bear, a plush bear that features U.S. President Donald Trump's comb-over, a red tie, white cuffs and collar.
Vox journalist Aaron Rupar tweeted about the ad on Monday morning, sparking thousands of responses to the campy commercial that features Trumpy Bear accompanying individuals to various excursions such as a trip to a golf course, a motorcycle ride, and to a desk job.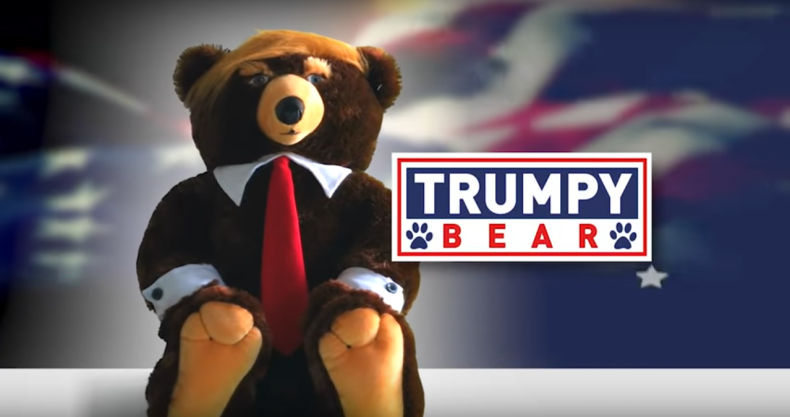 While portions of the ad seem to be tongue in cheek, the 22-inch Trumpy Bear is for sale by visiting GetTrumpyBear.com. The stuffed bear can be purchased for two payments of $19.95 plus $6.95 for shipping and handling.
The bear also comes with a secret pouch that features a fold-out American flag blanket and a certificate of authenticity.
Fox News' senior vice president of eastern sales, Dom Rossi, explained via a spokesman that the commercial is a local ad and the network does "not do business with them nationally," The Huffington Post reported.
A commercial for Trumpy Bear were posted on YouTube in July 2017, with a second following in April 2018.
According to Snopes, the ads began running on 10 various tv networks, including the Discovery Channel and Animal Planet, in October 2017.