What Is an Uncontested Divorce? Donald Trump Jr. and Vanessa Split After 12 Years of Marriage
Donald Trump Jr. and his wife Vanessa have filed for divorce after 12 years of marriage, according to reports.
The pair were married in 2005 and have five children together. As reported by Page Six, Vanessa Trump filed for an uncontested divorce from the President's eldest son, meaning there is not likely to be a legal battle for full custody of the couple's five children or their assets.
Filing for an uncontested proceeding also indicates the split is amicable. According to legal experts, the pair may have already signed a prenuptial agreement.
"Prenuptial agreements and confidentiality agreements are in the Trump dynasty DNA so I would be surprised if Donald Jr. went into the marriage completely naked," divorce lawyer Michael Stutman, who is not involved the case, told Page Six.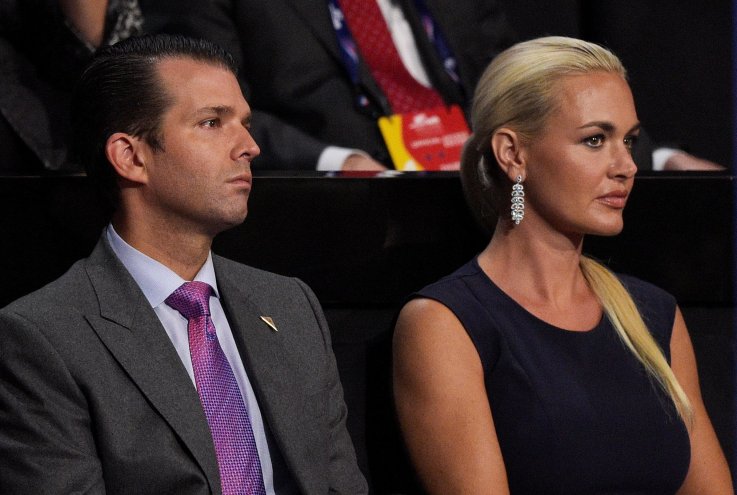 In a statement confirming their separation, the Trumps said: "After 12 years of marriage, we have decided to go our separate ways.
"We will always have tremendous respect for each other and our families. We have five beautiful children together and they remain our top priority. We ask for your privacy during this time."
The pair filed for their divorce at the Manhattan Supreme Court. There has been no specific reasoning for the separation, but media reports previously claimed Vanessa was unhappy with Trump Jr.'s hectic work schedule and travel in recent years, as well his conduct on social media.
Having played a significant role in his father's presidential election campaign, Trump Jr. and his younger brother Eric took over the running of the Trump Organization.
According to Page Six, Vanessa Trump also became concerned about her husband's Twitter-usage in recent months, including liking a tweet attacking a survivor of the Stoneman Douglas High School shooting on 14 February.
Trump Jr. appeared to address the divorce publicly for the first time with a post on his Instagram page. The 40-year-old uploaded a photo of him with in bed with his young daughter along with the caption: "No matter what is going on bedtime cuddling with the smurf puts a Yuge smile on my face ."
The pair first met when Donald Trump introduced them at a fashion show in 2003. They were married in November 2005 and had their first child together two years later.
In February, Vanessa was taken to hospital as a precaution she opened a letter addressed to her husband containing an unidentified white powder. The substance was later ruled to be non-hazardous.