What U.S. Soccer Fans Can Still Take From This World Cup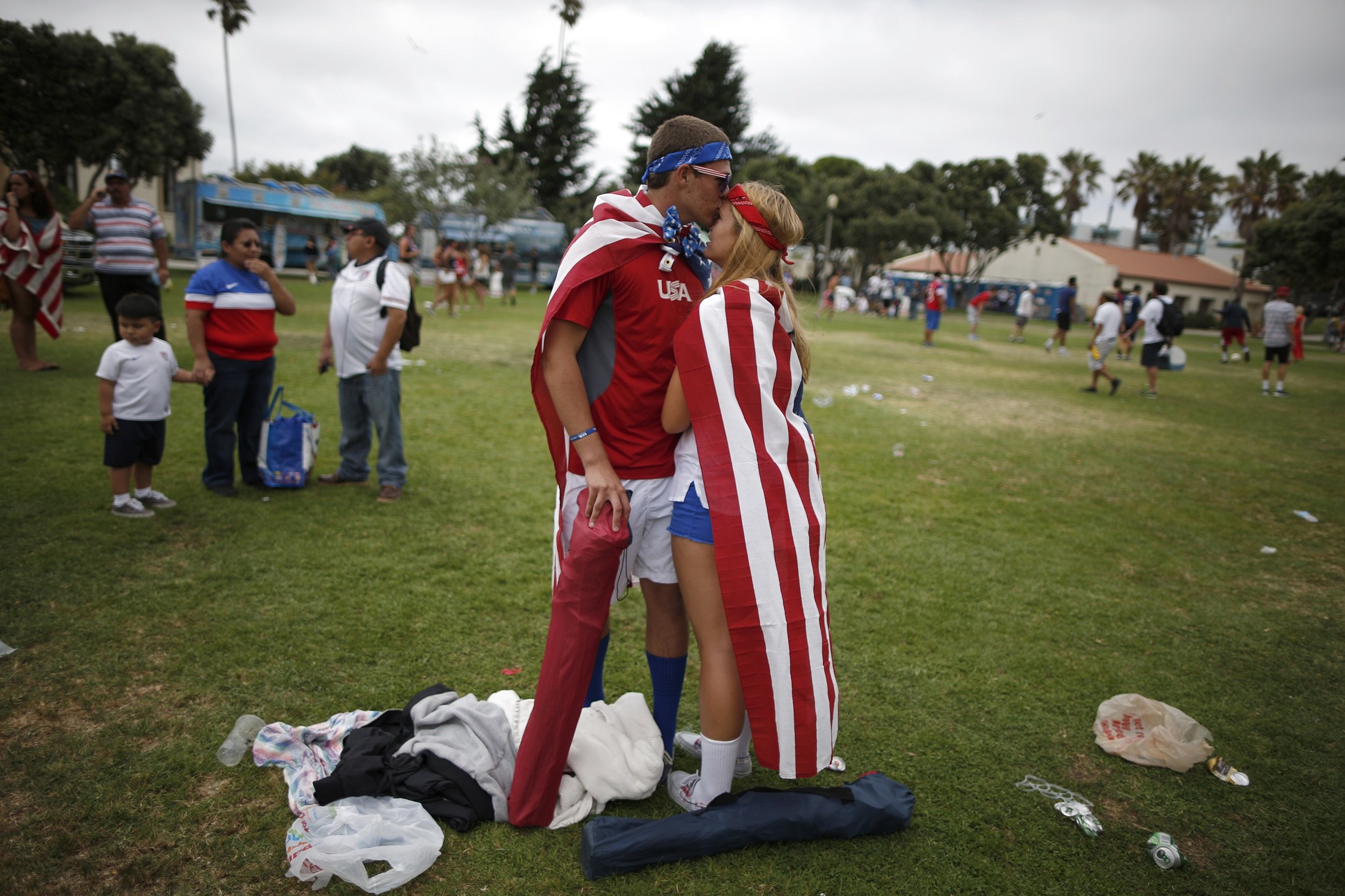 I believe that we will… wince when we gaze back at the missed opportunity in the 93rd minute versus Belgium. The United States was never going to win this tournament, but one more day of mass hysteria, red, white and blue nationalism and day-drinking would have made this Fourth of July weekend… well, okay, just like most of them. But a little more fun.
What now? Well, before you begin penciling in a 23-man roster for the U.S. Men's National Team in 2018, it's worth remembering that the current World Cup is heading into the lightning round. This isn't Game 6 of the 2013 NBA Finals and you are not a Miami Heat fan. Stick around. Some thoughts on soccer's immediate and distant future:
1. Tune In
Beginning Friday at noon, the quarterfinals get underway with France facing Germany on ESPN from famed Maracana Stadium in Rio de Janeiro. Franco-Germanic conflicts go back 900 years, to the month, as you will note that the Battle of the Bouvines took place in July of 1214. (The French won that one in extra time.)
Les Bleus and die Mannschaft are two of the four remaining European sides as well as half of the four remaining nations, along with Brazil and Argentina, that have won a World Cup. Selecao, as the host nation is known, meets Colombia-with-an-"o" at 4 p.m. on ESPN from Fortaleza.
On Saturday Argentina faces Belgium at noon in Brasilia, followed by the Netherlands versus Costa Rica at 4 p.m. from Salvador.
This is a loaded elite eight. The last time a World Cup final took place without at least one of these countries involved was 1938, when Italy defeated Hungary in Paris. Brazil and Germany have both been involved in seven World Cup finals and Argentina four --all have won multiple times --while the Dutch have played in the most finals (three) without ever winning. Costa Rica, which is the only nation remaining that does not border at least one other country still in contention (Belgium borders three) and which is also the only one not ranked in the top 15 by FIFA (Los Ticos are at 28) is the Boise State of this field.
2. Savor the Moment
My memories of the World Cup do not extend further back than Diego Maradona's mad dash in 1986, and so I am no one to proclaim this the most entertaining World Cup ever. But what great moments already…
The tournament began with an own goal by Brazil. Defending champion Spain allowed five goals in its first game, still the most of any side thus far in Brazil. Lionel Messi caused two Bosnia and Herzegovinian defenders to collide with each other and stumble, an apt metaphor for the nation itself. Switzerland scored a game winner in stoppage time after stripping an Ecuadorian striker in its own penalty box and going coast-to-coast in a matter of seconds.
And that was just the opening weekend.
The characters: from the exuberance of Mexican manager Miguel Herrera to the mastery and miscreantism of Luis Suarez, who demonstrated what all Brits already knew --that he can strike in a flash and strike at the flesh. The absurdly clutch play of Argentina's Messi, whose "magic bullet" goal to break a 0-0 tie in stoppage time against Iran remains the craziest shot of the tournament. The comedy of Dutch striker Robin Van Persie's airball of a high-five with his manager after scoring a fabulous header versus Spain or of Thomas Muller's staged stumble during a German free kick against Algeria that was more intricately choreographed than anything from "Kinky Boots."
3. American Idyll
Before we tackle ---but cleanly tackle, nothing to induce a red or yellow card --the topic of where American soccer goes from here, let's discuss where American fandom goes from here. We Yanks are a spoiled tribe of fans who only want to watch the best. And while Major League Soccer is growing and has attracted a few foreign studs in the twilights of their careers, such as Thierry Henry of France and, of course, English icon David Beckham, the best leagues and the best players still are found in Europe.
The English Premier League (EPL) is the most accessible to Americans and last year NBC Sports Network, in its debut season of coverage, did both an outstanding and dedicated job. The EPL season runs from August to May and as NBC, unlike CBS, ABC/ESPN and FOX, makes a minimal commitment to college football on Saturdays (Notre Dame home games), it should capitalize on it ability to offer an alternative. It needs to think of itself as the Chipotle of Saturday sports television come autumn. The Peacock should consider moving at least some games to its big bird network, NBC.
The breakout media stars of the World Cup have been ESPN's (and ESPN.com's, courtesy of sister site Grantland.com) Men in Blazers. English ex-pats Michael Davies and Roger Bennett are cheeky and playful ambassadors for the sport, whose discourse is as palatable to neophytes as it is to Americans who know when to say, "Nil." ESPN, which in May signed an expanded deal with MLS, needs to give the pair a meaningful forum going forward. They can do for educating Americans about soccer what Bear Grylls has done for educating us about eating insects in the wild.
Finally, soccer's popularity --or lack thereof -- will hinge less on the mechanics of the sport than it will on its characters. I read, almost daily, columnists taking down soccer because it's boring, and many of these columnists happen to love baseball, which is fine, but is also a sport that subjects viewers to how many foul balls per game? I mean, c'mon.
Sportswriters and columnists talk less about the sport itself than they do its compelling figures (LeBron, anyone?). What this World Cup has done better than any that I can remember is introduce fans to characters, to heroes (Messi) and villains (Suarez) and even an A-Rod doppelganger (Ronaldo). Nobody watches Game of Thrones for the swordplay; we watch because we care if the Starks will ever have a family reunion, diminished as it may be.
We watch because we care about the characters. Sports are no different. As more and more players become identifiable and unique personalities, be it in MLS or in Europe, more fans will tune in.
4. Jurgen's Army
First, the "Ifs." If only the U.S. had held off Portugal in the final minute, they would have avoided Belgium last Tuesday and instead played Algeria. Then again, Algeria gave Germany all it could handle. And if only Chris Wondolowski had converted that goal from six yards away, the U.S., badly outplayed by Belgium as they were, would be playing Argentina on Saturday.
Never mind. The U.S. has advanced to where it can stay on the pitch with anyone, but it remains below the world's top dozen or so squads. And while we can discuss which individuals will be coming back for the Russia World Cup in 2018 (Jozy Altidore will only be 28) and which won't (Clint Dempsey will be 35), the larger issue is this: When will the premier young athletes in the U.S. take up and keep playing soccer through college?
If you watched Belgium's Romelu Lukaku explode past the U.S. twice in extra time, you saw a six-foot-three, 220 pound beast. You saw an NFL linebacker (if he were in the NFL, they'd have him playing at 250). The U.S. has more young athletic talent than perhaps any nation on the planet --and you see that talent playing football in the Southeastern Conference or Pacific-12, or heading off to the NBA before their 20th birthday.
If the talent pool ever grows larger, the U.S. will be a world soccer power. It's worth noting that three of the Yanks' five goals in Brazil were scored by the sons of U.S. serviceman stationed in Germany during the youths of those players.
That's nurture.
Until, or unless, American kids grow up kicking soccer balls more than they do playing catch or shooting baskets, the U.S. will have to rely on nature. And that means attracting more elite athletic talent at the youth league level.
To put it bluntly: Don't expect to see the U.S. in a World Cup final until you hear that the head cheerleader is taking the striker to the prom.