What U.S. States Plan to Ease Coronavirus Lockdown Restrictions?
As the worst of the coronavirus outbreak appears to be over in some states, governors are coordinating with their neighbors to devise plans to begin easing social distancing restrictions.
On Monday, seven governors on the East Coast and three on the West Coast joined forces to decide the best path forward. Neither group issued specific timelines for the reopening effort, but California Governor Gavin Newsom was expected to unveil what he called a "bottom-up plan" on Tuesday.
The East Coast group is made up of Massachusetts, New York, New Jersey, Connecticut, Pennsylvania, Delaware and Rhode Island. Along with a health expert and economic development expert from every state, each governor's chief of staff will be included in the working group to develop a reopening plan.
"Now it is time to start opening the valve slowly and carefully while watching the infection rate meter so we don't trigger a second wave of new infections," New York Governor Andrew Cuomo said in a statement on Monday.
New York has had 195,031 cases, vastly more than any other state, according to the State Health Department. At this point, Cuomo said he believes the "worst is over" if everyone continues to "be smart," but this chapter of life won't be over until there's a proven vaccine.
Easing restrictions too early can backfire and cause a resurgence of cases, though. So, Cuomo said it's important to implement a regional plan that includes states sharing information, resources and intelligence with each other.
The "best course" in reopening the country, according to Cuomo, is to take one step forward, evaluate the situation and then determine if another step can be taken.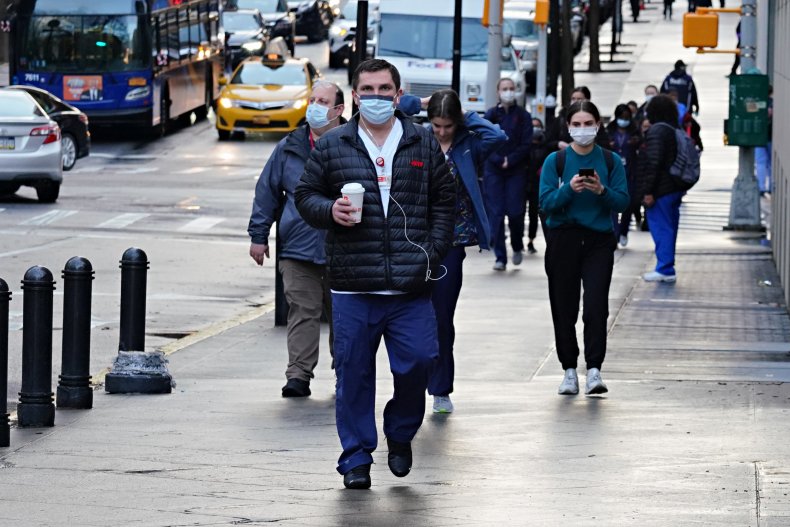 On the West Coast, California, Oregon and Washington banded together to create a shared approach to reopen their economies. They've each agreed that residents' health come first, health outcomes and science will guide their decisions and states will only be effective if they work with local leaders and communities. However, each state will build its own state-specific plan, according to a joint statement.
Dr. Anthony Fauci, director of the National Institute for Allergy and Infectious Diseases, has said that returning to normal life won't be like a light switch. It likely won't be that measures are in place one day and not the next, but instead be a gradual easing of restrictions.
The slow rollout of returning to normalcy is a method that governors on the East and West Coasts implied they'll implement in their plans. So, people shouldn't get their hopes up that social distancing will be completely gone anytime soon.
On Monday, Newsom said during a press conference that the curve appeared to be bending in California, but now was not the time to do away with social distancing.
"We've got to continue to practice physical distancing, social distancing, and safe practices that have helped us bend this curve and mitigate what some had thought would be a surge that was exponentially worse than so far it has been," Newsom said.
In Texas, where there have been 13,906 cases, Governor Greg Abbott said on Friday he would provide an executive order this week for reopening businesses. He didn't reveal many details but said during the press conference that testing will be a component of the plan and that the state will operate "very strategically."
"We want to open up, but we want to open up safely knowing that if we do it too fast, without the appropriate strategies, it will just lead to a potential closure because of another outbreak of COVID-19," Abbott said.
As of Tuesday, 582,634 people in the United States have tested positive for the virus, according to a tracker maintained by Johns Hopkins University. It's the largest outbreak worldwide and mitigating it has caused high unemployment numbers and negatively impacted the stock market.
People across the country are eager to once again eat at a restaurant, visit family and friends and walk into retail stores. But, officials have warned that even when social distancing measures are pulled back, the world may look different than it did before states started shutting down.
"If back to normal means acting like there never was a coronavirus problem, I don't think that is going to happen until we have a situation where you can completely protect the population," Fauci said on Monday. "When we get back to normal, we will go back gradually to the point where we can function as a society."