What Is V-J Day? Date and Meaning Behind Victory Over Japan Celebrations Explained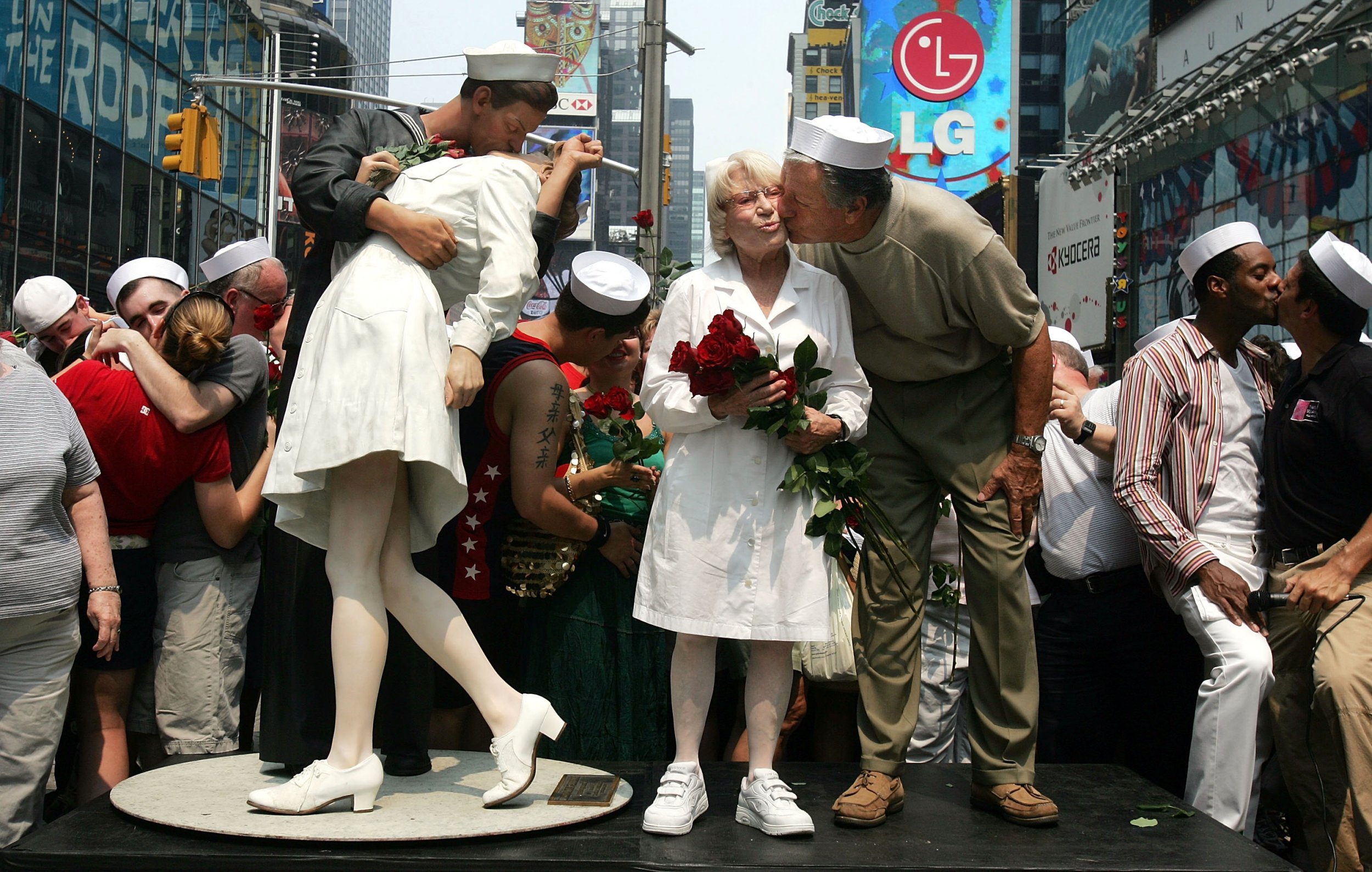 "V-J Day" is a shortened form of "Victory over Japan Day." It refers to Japan's formal surrender to the Allies on August 14, 1945, which signaled the effective end of World War II.
Japan bombed the American naval base at Pearl Harbor on December 7, 1941, prompting the U.S. to declare war the next day, two years after the start of World War II. Adolf Hitler-led Germany, Japan's ally, subsequently declared war on the U.S. The Allies bore down on Japan over the next several years and issued the Potsdam Declaration on July 26, 1945, calling on Japan to surrender or face "prompt and utter destruction."
On August 6 the U.S. dropped an atomic bomb on Hiroshima that killed more than 70,000 people. A second atomic bomb dropped three days later on Nagasaki claimed 40,000 lives. Emperor Hirohito subsequently made a radio address on the afternoon of August 15, calling on his nation to surrender.
"Should we continue to fight, it would not only result in the ultimate collapse and obliteration of the Japanese nation," Hirohito said, "But would also lead to the total extinction of human civilization."
U.S. President Harry S. Truman, in a press conference at the White House, said: "This is the day we have been waiting for since Pearl Harbor. This is the day when fascism finally dies, as we always knew it would."
Americans declared the date V-J Day, after the Allies called Nazi Germany's surrender "Victory in Europe Day." Across the U.S., V-J celebrations were held to rejoice over the end of the war, and a photograph of a sailor in uniform kissing a nurse in Times Square became emblematic.
But overtime, as Japan became a close ally of the U.S., V-J Day celebrations lost popularity and were considered by some people to be offensive to the Japanese. President Bill Clinton on the 50th anniversary of the end of World War II referred to commemoration events as the "End of the Pacific War," instead of V-J Day.
Rhode Island is the only state in the U.S. that still has a legal holiday for V-J Day, and some veterans wish more states celebrated it.
"I'd like to see it expanded to other parts of the country," World War II veteran Armando Napoli told The Providence Journal. "I want to thank all the people in Rhode Island for remembering Victory Day, and I'm sorry to hear that we're the only state in the union" that celebrates it.