What Vladimir Putin Has Said about Joe Biden
U.S. intelligence officials have said that Russia is trying to influence the 2020 presidential election to boost President Donald Trump's chances of winning, but Russian President Vladimir Putin said that he sees an "ideological basis" for working with Democratic presidential candidate Joe Biden.
Putin's comments were widely interpreted as an attempt to play to both sides as Biden continues to lead Trump in most national polls with less than one month to go until Election Day. Biden has been tough on Russia throughout his campaign, and he once questioned whether Putin should run for president during a 2011 trip to Russia while serving as vice president, according to The Moscow Times. In contrast, Trump's hesitancy to criticize Putin has been the subject of criticism throughout Trump's time in office.
Putin was asked whether he supports Trump or Biden during an interview last week with the Rossiya television channel. Putin began by saying he appreciated how Trump has "repeatedly expressed interest in the improvement of Russian-American relations" but went on to say that he believes the U.S. Democratic Party is "closer to social democratic ideas" than Europe. He added that the Communist Party, which he said aligns with values that he believes in, originated from those same social democratic ideals.
"This can be seen as an ideological basis for developing contacts with the Democratic representative," Putin said.
Putin said that Black Americans' fight for justice and equality in the U.S. was another issue on which Russia agreed with the Democratic Party. The Black Lives Matter movement reignited over the summer as protesters reacted to the death of George Floyd, a Black man who died while in police custody in Minneapolis on Memorial Day. Putin once again tapped into the history of the Communist Party to make his point, saying that communist leaders unified Black and white workers during the 1930s against "imperialism and capitalism."
"This is something that can be seen, to a degree, as common values, if not a unifying agent for us," Putin said. "I am not afraid to say so. This is true."
Putin primarily referred to Biden in general terms as the Democratic Party's representative but did mention Biden's name once when addressing a nuclear arms reduction agreement between the U.S. and Russia, known as the New START treaty. New START began during former President Barack Obama's administration and is due to end next year.
"Candidate Biden has said openly that he was ready to extend the New START or to sign a new strategic offensive reductions treaty," Putin said. "This is a very serious element of our potential collaboration in the future."
While Trump has avoided criticizing Russia for its election interference efforts, Biden has done so often and identified the country earlier this election season as the biggest threat to the 2020 presidential election. In July, Biden said he was putting Russia "on notice" and said that he would respond to any efforts to interfere with elections in the U.S. if he became president.
Biden's stance on Russia is not new to this election cycle. As vice president, Biden encouraged Obama to respond with force when Russia invaded Ukraine and became a top representative for the administration in the region, according to The New York Times. Three years earlier, he met with Putin in Moscow to discuss the relationship "reset" between the U.S. and Russia. At that time, Biden expressed support for Russia joining the World Trade Organization but also encouraged further development on human rights issues in the country. During that same trip, Putin attempted to push an idea about visa requirements between the two countries during a public meeting with Biden, a move that Biden shut down by reminding Putin that he was not in a position to make that decision, the Times reported.
Biden and Putin had another exchange in 2011 that led to an understanding between them, according to The New Yorker. Biden told the magazine in 2014 that, during one visit to Russia, he told Putin, "I'm looking into your eyes, and I don't think you have a soul." Putin's response was to smile and say, "We understand one another," according to the magazine.
Putin acknowledged during last week's interview that he associates "rather sharp anti-Russian rhetoric" with the Democratic Party. "Regrettably, we have become used to this," he said.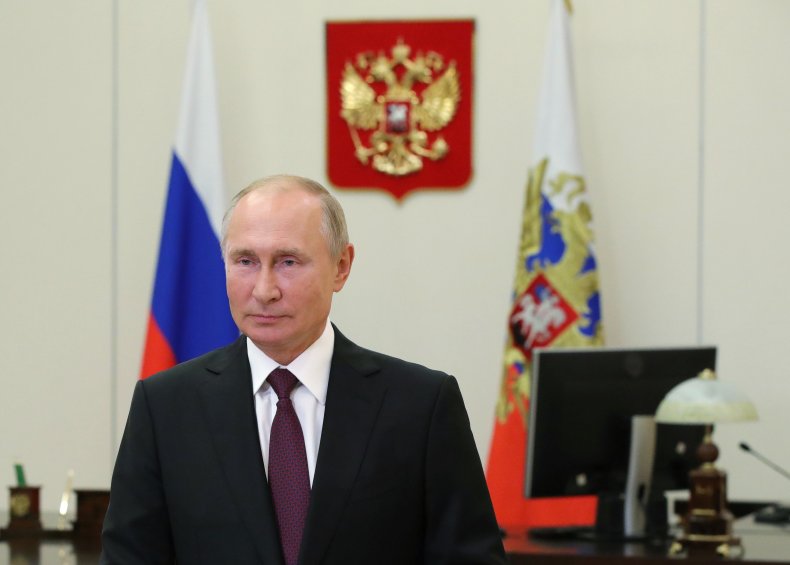 In contrast, Putin and Trump appear to have a much warmer relationship. Trump has publicly said he has "respect" for Putin and has downplayed the findings of U.S. intelligence officials by backing Putin's statements that Russia did not interfere with the 2016 presidential election. During a 2018 meeting with Putin, Trump said the Russian president "was extremely strong and powerful" in denying election interference and added, "I don't see any reason why Russia would interfere in the 2016 election," according to the Associated Press. Biden has criticized Trump's soft stance on Russia and said during the first presidential debate last month that Trump was "Putin's puppy."
Putin refrained from choosing one candidate over the other and said he would work with whoever won the election on November 3. "We will work with any future president of the United State, the one whom the American people give their vote of confidence," he said.
According to the Institute of Modern Russia, a public policy think tank based in New York City, Trump's decision to side with Putin over allegations of election interference has been "symbolically valuable to Putin's regime." In a report published earlier this year, the institute concluded that a Biden presidency would pose several problems for Russia ranging from sanctions to pushing authoritarian governments toward democratic ideals.
Federal Bureau of Investigation (FBI) Director Christopher Wray warned lawmakers in Washington, D.C., last month that Russia was making "very active efforts" to try to influence the 2020 election. The National Counterintelligence and Security Center (NCSC) also said in a report published in August that Russia was trying to interfere in the election by targeting Biden.
"We assess that Russia is using a range of measures to primarily denigrate former Vice President Biden and what it sees as an anti-Russia 'establishment,'" the NCSC report said. Meanwhile, "Some Kremlin-linked actors are also seeking to boost President Trump's candidacy on social media and Russian television," according to the report.
Newsweek reached out to Biden's campaign for comment but did not receive a response in time for publication.