What is Wanton Endangerment in the First Degree? Explaining Brett Hankison's Indictment
A grand jury indicted former Louisville, Kentucky, Police Officer Brett Hankison on three felony counts of first-degree wanton endangerment for his role in the death of Breonna Taylor.
According to the Kentucky State Legislature, someone is guilty of wanton endangerment in the first degree when, "under extreme circumstances manifesting extreme indifference to the value of human life," they wantonly engage "in conduct which creates a substantial danger of death or serious physical injury to another person." It is a law unique to Kentucky, and went into effect January 1, 1975.
First-degree wanton endangerment is considered a Class D felony, punishable with fines of up to $10,000 and up to five years in prison.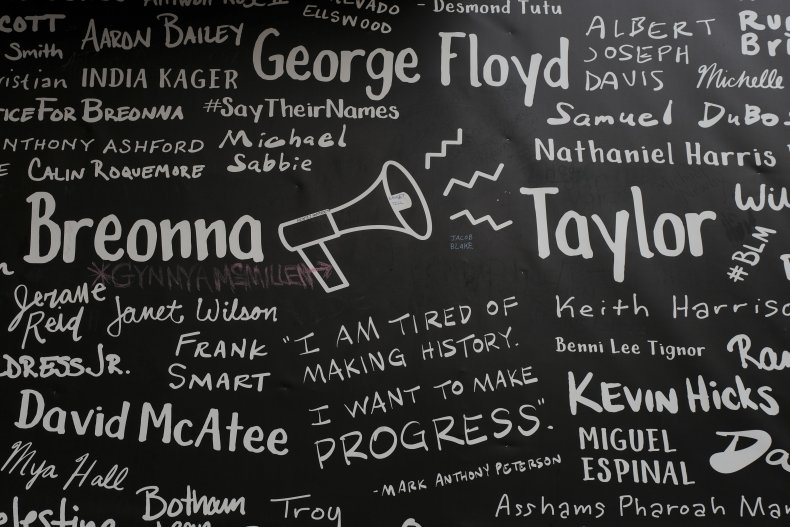 The state began presenting the grand jury with evidence Monday, said Kentucky Attorney General Daniel Cameron during a press conference Wednesday. Cameron will serve as the prosecutor on the case against Hankison.
Among the evidence presented to the jurors included a play-by-play of the three officers' actions who remain at the center of the case: Hankison, Sgt. Jon Mattingly and Detective Myles Cosgrove.
Cameron said evidence shows police officers both knocked and announced their presence as they served a warrant to enter Taylor's apartment, a fact that has been disputed since her March 13 death.
Mattingly was the first officer to enter her apartment and saw a male and female standing at the end of a hallway. The male, later identified as Taylor's boyfriend, Kenneth Walker, was holding a gun and was in shooting stance, Cameron said.
Walker fired at the officers, with a single bullet striking Mattingly. The officers then returned fire, with Mattingly shooting six bullets and Cosgrove discharging his weapon 16 times from his position in the apartment's doorway, Cameron said.
Of the six bullets that struck Taylor, only one was determined to be fatal, the attorney general said. A ballistics report conducted by the FBI found that Cosgrove fired the fatal shot, Cameron said.
But the grand jury found that both Cosgrove and Mattingly were justified in their use of force after Walker admitted he was the one who fired the first shot, Cameron said.
Hankison, for his part, fired his weapon a total of 10 times. He was positioned outside of Taylor's apartment, shooting through its sliding glass door and a window, Cameron said. Some of those bullets traveled through a neighboring apartment, where three residents were present at the time, including a male, pregnant female and a child, Cameron said.
There was no conclusive evidence that any of the bullets Hankison fired struck Taylor, Cameron added. Ultimately, the grand jury indicted Hankison for "wantonly placing three individuals in apartment three in danger of serious physical injury or death," Cameron said.
One of the defining elements of criminal offenses is the accused person's state of mind at the time the alleged offense was committed, according to the Ron Aslam Law Office. Some crimes fall into a grey area of negligence and malicious intent, its website reads.
Kentucky statutes defines a person who is acting "wantonly" when they are "aware of and consciously disregards a substantial and unjustifiable risk that the result will occur or that the circumstance exists." The statue continues, stating: "The risk must be of such nature and degree that disregard thereof constitutes a gross deviation from the standard of conduct that a reasonable person would observe in the situation."
"Wantonly" can be seen as the person's understanding of the risk at hand ("is aware of and consciously") and behaving negligently ("disregards a substantial and unjustifiable risk"), according to the law office.
The state distinguishes between first and second-degree wanton endangerment. Second-degree wanton endangerment is considered a Class A misdemeanor, punishable with fines of up to $500 and up to 12 months in county jail, according to the law office.
If convicted on all three counts of wanton endangerment in the first degree, Hankison could serve up to five years for each of them, potentially totaling 15 years in prison. Cameron emphasized that Hankison is innocent until proven guilty.
Hankison's charges relate to his alleged wanton behavior toward Taylor's neighbors, meaning that no one has been charged specifically in her death—a decision people around the world have called for during protests addressing police brutality and systemic racism.
Mattingly and Cosgrove's use of force was justified under Kentucky state law because they were protecting themselves against Walker, and that barred the attorney general's office from pursuing charges relating to Taylor's death, Cameron said.
Cameron, who is Black, grew visibly emotional at one point during the press conference when discussing the outcome of the investigation. "Justice is not always easy," Cameron said, adding that he understood not everyone would be satisfied with the state's findings.
This story has been updated with additional background and comments from Attorney General Cameron.