What Was Alfie Evans's Cause of Death? Terminally Ill Toddler Dies As Courts Denounce Religious Pro-Lifers Involvement
Terminally ill British toddler Alfie Evans has died overnight Saturday, succumbing to a degenerative brain disease five days after being taken off life support, the BBC has reported.
The controversial case sparked an outpouring of emotion from around the world and grew into a wider debate over the ethics of healthcare, drawing fundamentalist religious groups into the fray. Evans died early on Saturday morning at Alder Hey Children's Hospital in the northwestern city of Liverpool.
The 23-month-old's life support treatment was withdrawn on Monday after his parents lost a series of legal battles to maintain it. Evans had been in a semi-vegetative state for more than a year. Father Tom Evans wrote on Facebook, "My gladiator lay down his shield and gained his wings...absolutely heartbroken."
Doctors believed Evans was suffering from a rare neurological condition that caused seizures and had damaged the child's brain beyond recovery. By December 2017, the hospital had applied to end life support treatment.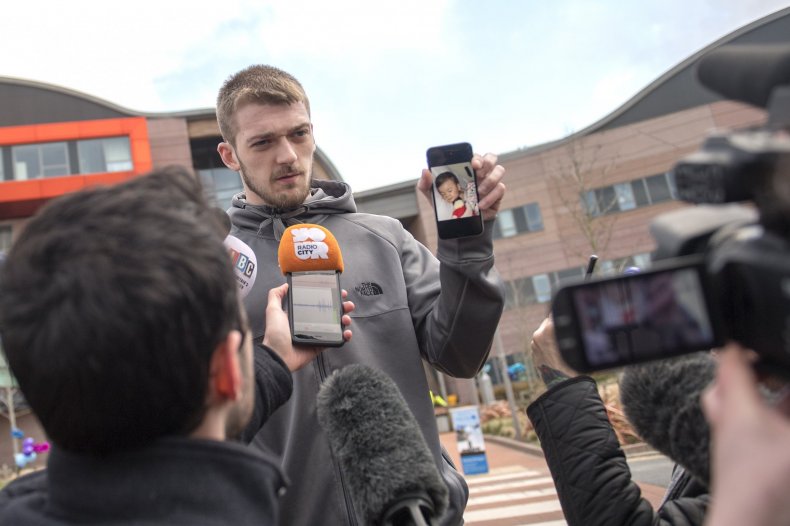 This sparked a bitter four-month legal battle. Evans's parents argued their son should be kept alive with the aid of life support treatment, but hospital staff were adamant that continuing treatment was not in his best interests. In February the British High Court ruled that the child could be taken off ventilation and that further care was "futile."
The case drew global attention. After a campaign backed by the Catholic Church, Evans was even given Italian citizenship in the hope that he could be flown to the country for treatment. Pope Francis tweeted his support for the family, and said he hoped "their desire to seek new forms of treatment may be granted."
U.S. pro-life figures were also drawn into the controversy, the Guardian reported. Rome-based American activist Christine Broesamle moved to Liverpool to advise the family, describing her work as "a call from God." She spoke on a U.S. Christian fundamentalist radio station earlier this week, accusing doctors of being "hellbent" on killing Evans "to cover something up." Broesamle said Britons should be rioting in the streets over the toddler's treatment.
The American activist was even named in court earlier this week as the family sought permission for Evans to travel to Italy. According to the Guardian, Broesamle is linked to the Italian "Lawyers for Life" network. One anonymous source told the newspaper she had access to a "seemingly endless pit of money and contacts" to assist the campaign.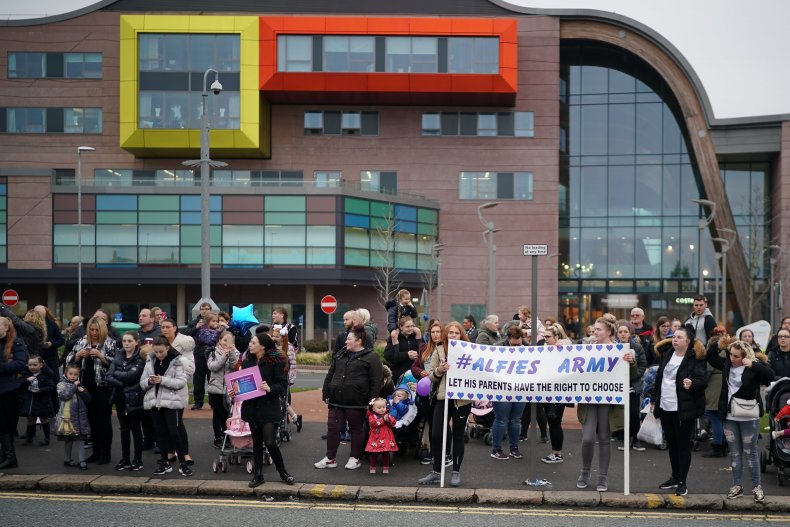 Broesamle reportedly had air ambulances on standby to take the child from Liverpool to a Vatican-run hospital in Italy if the courts allowed the family to do so, and even arranged for Vatican-backed doctors—posing as friends of the family—to travel to Britain to surreptitiously examine the child.
The Evans family's own legal representation was taken over by anti-LGBT Christian Legal Centre earlier this month. Russian law student Pavel Stroilov spoke for the family in court, and was described by a judge as a "fanatical and deluded young man" whose efforts were "inconsistent with the real interests of the parents' case." Stroilov told Evans's parents they could pursue a private prosecution for murder against three doctors who had been treating their son.
British judges expressed concern over the involvement of Catholic fundamentalists and recommended a wider investigation looking into how they may have hijacked the case. The Alder Hey lawyers are reportedly considering legal action against Stroilov unless he proves his legal qualifications.
The legal challenge finally ended earlier this week, when the European Court of Human Rights (ECHR) dismissed the parents' decision to appeal verdicts of the High Court, Court of Appeal, the Supreme Court and the ECHR. Following the decision, 200 people protesting for continued treatment attempted to storm the hospital where Evans was being treated, requiring police to intervene.
Tom Evans thanked the demonstrators for their support, but asked they "go home" so the family could work with the hospital to create an end-of-life plan for his son "that provides our boy with the dignity and comfort he needs."
Alder Hey hospital released a statement expressing the "heartfelt sympathy" of the staff and acknowledging what has been "a devastating journey" for his parents.