What Was in Pecker's Safe? National Enquirer Publisher Kept Stash of Secret 'Catch and Kill' Trump Files
The publisher of the National Enquirer, a U.S. tabloid, kept a safe containing damaging documents about President Donald Trump that the publication killed in the lead-up to the 2016 presidential election.
On Thursday, The Associated Press reported that David Pecker, CEO of National Enquirer parent company American Media Inc. and longtime friend of Trump, kept the files secret to protect his relationship with the presidential candidate.
During the 2016 election, the National Enquirer endorsed Trump for president—marking the first time it had ever endorsed a presidential candidate. Five people familiar with Trump and Pecker's arrangement—who spoke on the condition of anonymity because they had signed nondisclosure agreements—told the AP that the safe was "a great source of power" for the National Enquirer publisher.
The documents were reportedly stored alongside other famous people's "catch and kill" deals—a phrase used to describe a tactic in which a publication purchases the exclusive rights to a story and then doesn't publish it as a favor to someone.
The files became a liability after The Wall Street Journal ran details of Playboy model Karen McDougal's catch and kill deal in 2016. Following the report, Pecker and Dylan Howard, the company's chief content officer, reportedly took the files from the safe in the weeks leading up to Trump's inauguration, fearing they could be used against them.
It is unclear whether they moved the documents to another location or destroyed them.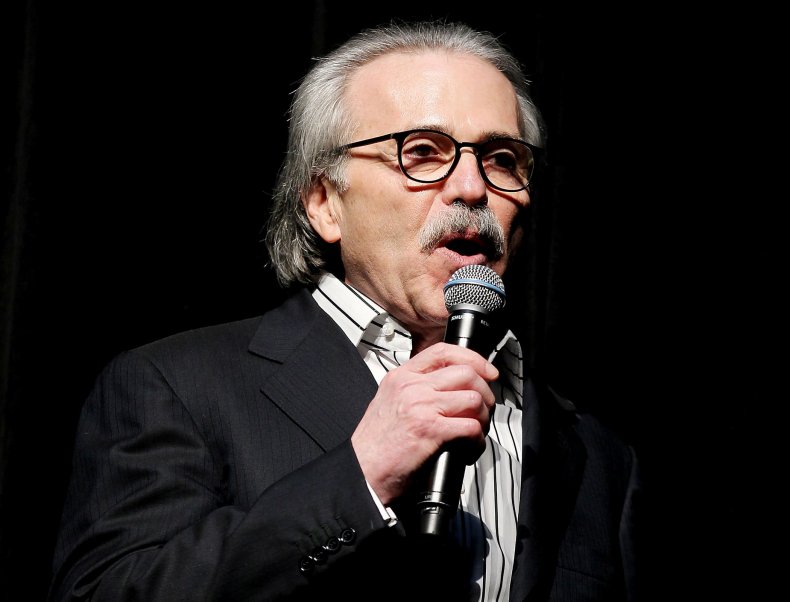 The AP's report came out hours after Pecker was granted immunity by federal prosecutors in the investigation into Trump's ex-attorney Michael Cohen in return for information on hush- money payments made to two women before the 2016 election.
Earlier this week, Cohen pleaded guilty to eight federal charges, including violating campaign-finance laws for his role in buying the silence of an adult film star and a former Playboy model who claimed they'd had affairs with Trump, and several counts of tax evasion and bank fraud. The president and the National Enquirer were also implicated in these deals.
On Tuesday, Cohen admitted that the $130,000 nondisclosure payments made to adult film star Stephanie Clifford, known professionally as Stormy Daniels, breached campaign finance laws.
Jerry George, a longitme National Enquirer reporter who left in 2013, said Pecker introduced the the practice of catch and kill deals, reported the AP. According to George, the publication's parent company only paid for secret files to hold if it thought it would eventually benefit them sometime down the line.
"It's 'I did this for you, now what can you do for me,'" George said. "They always got something in return."