Washington Capitals Waited 44 Years to Win the Stanley Cup—What Was the World Like Back Then?
The Washington Capitals made history on Thursday night, clinching their first ever Stanley Cup and bringing a first major title back to the capital for the first time in over two decades.
Lars Eller scored the winning goal 12:23 into the third period of Game 5, as Washington won 4-3 in Vegas against the Golden Knights, clinching a 4-1 series win and winning the trophy for the first time in the franchise's 44-year history.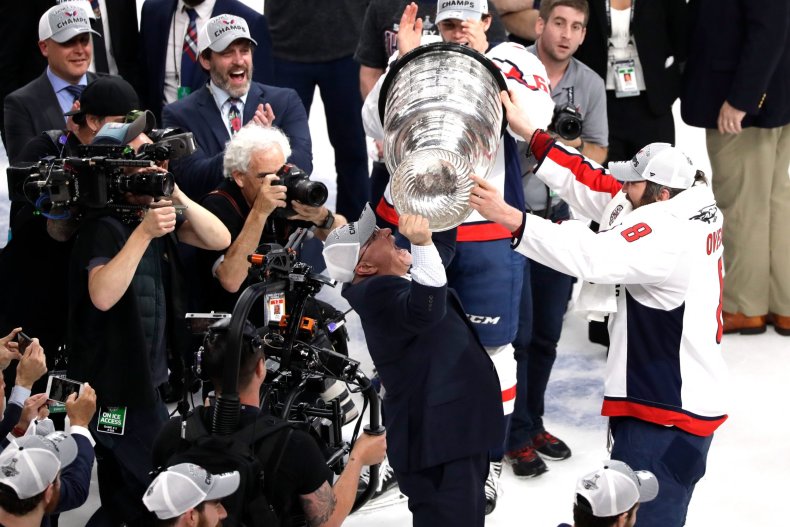 The Capitals' triumph also marks the first title for one the capital's major teams since the Redskins won Super Bowl XXVI in January 1992.
The world and the NHL have changed immensely since the Capitals made their league in the 1974-75 season. Here's how different things were 44 years ago.
The Capitals and the Kansas City Scouts entered the NHL as the league expanded to 18 teams. While the Capitals put down roots in Washington, the Scouts became the Colorado Rockies in 1976, before relocating to New Jersey in 1982 when they were rebranded New Jersey Devils.
Washington's NBA team became formally known as the Washington Bullets, after being previously referred to as the Capital Bullets.
Outside of the sports world, Richard Nixon resigned in the wake of the Watergate Scandal and Gerald Ford was sworn in as U.S. President just two months before the beginning of the regular season.
The Boston Celtics won their first NBA title since 1969 and their 12th in 17 years. Little did the Celtics know, they would win only five another titles in the 44 years since.
Meanwhile, Pepsi became the first American company to sell products in the Soviet Union.
The Philadelphia Flyers won their first Stanley Cup and successfully defended it the following seasons. The Flyers have not lifted the trophy since.
West Germany hosted the FIFA World Cup and won its second title after defeating the Netherlands 2-1.
The Miami Dolphins won Super Bowl VIII after beating the Minnesota Vikings 23-7.
In popular culture, The Sting won the Academy Award for best picture, while Jack Lemmon and Glenda Jackson were named best actor and best actress for their roles in Save the Tiger and A Touch of Class respectively.
And elsewhere in the sporting world, Muhammad Ali knocked out George Foreman in eight rounds in The Rumble in the Jungle in Zaire to regain the heavyweight title after eight years.
The Oakland Athletics won the World Series for the third year in a row, defeating the Los Angeles Dodgers 4-1. The A's have only won another title since.
Elton John's Caribou and Eric Clapton's 461 Ocean Boulevard both topped the Billboard 200 chart for four weeks each, but were outlasted by The Sting's soundtrack, which remained number one for five weeks.