What to Watch on Amazon in May 2020: Editor Kyle Suffers No Fools and Steers You In The Right Direction
Like a regularly scheduled delivery, there's a bundle of movies and TV shows surfacing on Amazon Prime every month—among them stone-cold classics, cult favorites and new originals. To help suss out some of the most worthwhile titles coming to the streaming service, Newsweek has assembled this list of recommendations, highlighting a mix of proven winners and promising prospects. And expect a fresh set of suggestions next month, just before the next batch of content arrives.
Upload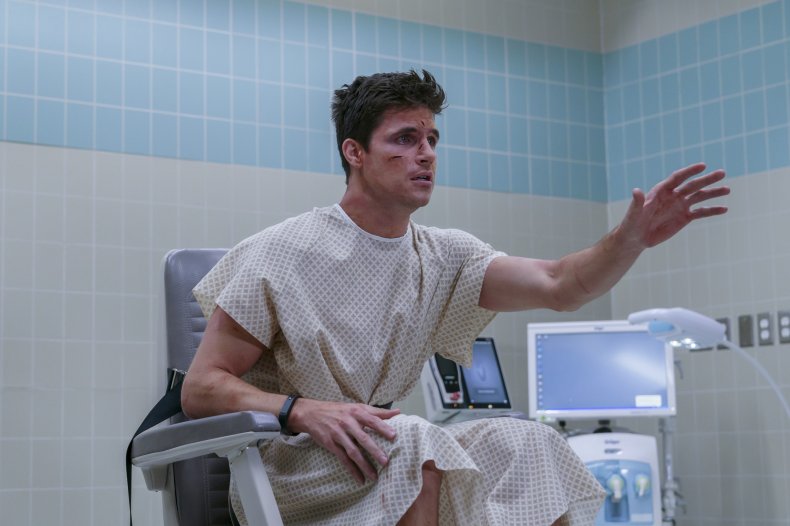 Greg Daniels—comedy statesman formerly of The Simpsons, NBC's The Office and Parks and Recreation—transports viewers to a virtual afterlife with his latest series, Upload. Set in the 2030s, the heady sci-fi comedy envisions a future where people can have their consciousness beamed (or, you know, uploaded) into a swanky, digital resort for the dead. Picture a multi-story lakeside lodge where the thermostat in your room lets you control the season outdoors, where "pet therapy" means talking to a therapist who appears to you as a yellow labrador. Within that (probably prescient) concept, Daniels packages class commentary, a murder mystery and a low-simmering romance. Just judging from the first couple of episodes, there are definitely some kinks that need to be worked out—much like the frame rate in the "Lakeview" afterlife, the story doesn't always run smoothly. Still, between the intriguing logline and Andy Allo's sure-to-be-star-making performance as the female lead, Upload makes for a pleasant getaway—even if it's all an illusion.
Upload begins streaming on Amazon Prime on May 1.
The Goldfinch
We'll be honest: The only reason we're recommending The Goldfinch—John Crowley's high-profile dud of an adaptation of Donna Tartt's Pulitzer Prize-winning 2013 novel—is to see if it's really as bad as everyone says. Back in September, just before the film pulled in a paltry $2.6 million (yes, there's a decimal point there) in its opening weekend, IndieWire wrote that it "doesn't consist of scenes so much as it does an awkward jumble of other, smaller problems stacked on top of each other like kids inside a trench coat." Vulture was a little more willing to go to the mat on The Goldfinch's behalf, but still admitted that the editing is "genuinely baffling." When a movie that has this supposed level of pedigree—based on a blockbuster book, capable director, Nicole Kidman in the cast, funding from Amazon—fails so spectacularly, we're curious. Aren't you?
The Goldfinch begins streaming on Amazon Prime on May 8.
Homecoming Season 2
Amazon's Homecoming was among the buzziest shows of late 2018, and rightfully so. Director and executive producer Sam Esmail (best known as the mastermind behind USA's Mr. Robot) arranged an unsettling 10-episode mystery that not only followed stars Julia Roberts and Stephan James, but also mimicked the stylistic flourishes of paranoid-cinema auteurs like Alfred Hitchcock and Alan J. Pakula. Season 2 picks up with a new lead character (played by Janelle Monáe, a win) who wakes up in the middle of a rowboat in a lake with no memory of who she is, what she's done, or why she's in said rowboat. Her search for herself has her crossing paths with the Geist Group, the creepy wellness corp that was the Big Bad from season 1. James returns as his first-season character, and the same goes for the always-welcome Hong Chau; executive producer Kyle Patrick Alvarez directs this time, and the cast expands to also include Chris Cooper and Joan Cusack. As far as we know, Roberts will not reappear, which means this new run might be short on questionable wigs. But we're still expecting an ambient eeriness to blanket the whole project.
The second season of Homecoming begins streaming on Amazon Prime on May 22.