What to Watch for in New Hampshire Primary After Historic Iowa Caucus Debacle Leaves No Clear Winner
With no clear winner Tuesday morning from the previous night's Democratic caucuses in Iowa, thanks to technical malfunctions and a historic debacle, 2020 hopefuls marched on to New Hampshire, where the nation's first primary will take place in exactly one week.
The lack of official results, due to failures with an app that the Iowa Democratic Party rolled out for the first time to help precinct captains tabulate results, leaves the Democratic candidates in a difficult—and awkward—place.
For the time being, each one must move on to New Hampshire for last-minute campaigning without officially knowing how he or she performed in Iowa, which is always the first race in a presidential election year. Iowa caucus entrance polls suggested Senator Bernie Sanders and former South Bend, Indiana, Mayor Pete Buttigieg were poised to do well, while former Vice President Joe Biden was projected to underperform.
The Iowa Democratic Party has vowed to release results as soon as possible on Tuesday. Despite precinct captains facing troubles with the reporting app, the party has said all votes were backed up with a paper trail and will be verified for accuracy.
While the Iowa contest is certainly headline-grabbing news and has the ability to provide campaigns with momentum, the caucuses remain far from being the be-all end-all for how New Hampshire will vote, or how the rest of the primaries will turn out.
In Iowa, Hillary Clinton narrowly beat Sanders in 2016, and Senator Ted Cruz (R-Texas) bested Donald Trump. In New Hampshire that same year, Sanders beat Clinton by a wide margin while Trump dominated his field, with former Ohio Governor John Kasich placing second.
There will also be a Democratic debate in New Hampshire. So far, Biden, Buttigieg, Sanders, Minnesota Senator Amy Klobuchar, billionaire Tom Steyer, Massachusetts Senator Elizabeth Warren and entrepreneur Andrew Yang have qualified for the Friday event.
Still, Democratic candidates tried on Monday night to declare victory, even without any official results from Iowa.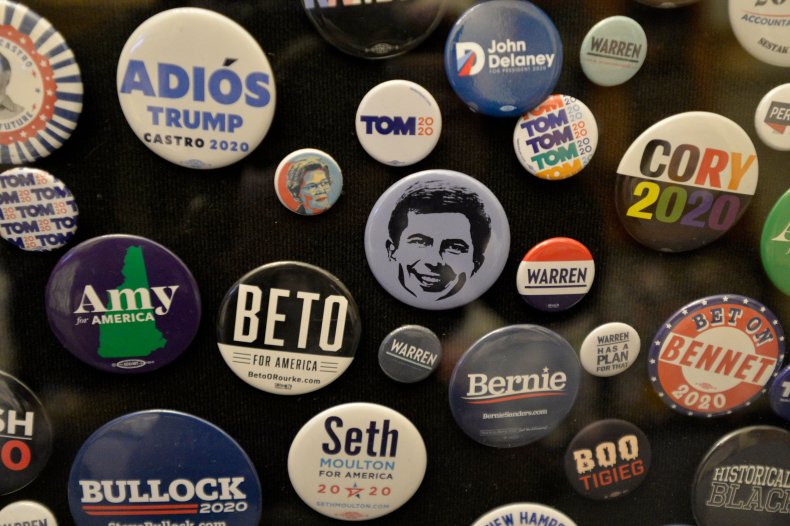 "We don't know all the results, but we know by the time it's all said and done, Iowa, you have shocked the nation because, by all indications, we are going on to New Hampshire victorious!" Buttigieg told supporters in a Monday night speech.
In a morning show media blitz on Tuesday, Buttigieg doubled down on what he considered an obvious success, touting "internal numbers" from his campaign.
The Sanders campaign quickly followed in Buttigieg's footsteps, releasing their own internal numbers that showed the independent Vermont senator was likely the winner.
"We recognize that this does not replace the full data from the Iowa Democratic Party, but we believe firmly that our supporters worked too hard for too long to have the results of that work delayed," Jeff Weaver, a senior adviser to Sanders, said in a statement.
Klobuchar told supporters they were "punching above our weight." Her campaign manager, Justin Buoen, claimed in a tweet that "[w]ith the numbers we've seen internally and publicly, we're running even or ahead of Vice President Biden."
Warren touted her belief she had a strong performance but made no victory claims. She received strong praise from supporters when she told them how much better off the country will be after Trump "is replaced by one very persistent woman."
Others questioned the legitimacy of the yet to be known results.
The Biden campaign raised questions about the legitimacy and election "integrity of the process," as Kate Bedingfield, Biden's deputy campaign manager and communications director, wrote on Twitter. "[T]here were flaws in the reporting systems tonight that should raise serious concerns for voters," she added.
In a letter to the Iowa Democratic Party, Biden General Counsel Dana Remus requested "full explanations and relevant information regarding the methods of quality control you are employing, and an opportunity to respond, before any official results are released."
Deval Patrick, the former governor of Massachusetts, took an entirely different approach altogether. Without naming his opponents, he criticized Biden and Buttigieg for each of their pre-determined stances without first seeing the results.
"One candidate is calling the results into question because he apparently didn't do well. Another is declaring victory without any votes being confirmed," Patrick said in a statement. "The way to beat Donald Trump isn't to act like Donald Trump. Our party and our country deserve better."