What to Watch for As These 8 States and D.C. Head to the Primaries Amid Civil Unrest and a Pandemic
Voters head to the polls in eight states and the District of Columbia on Tuesday amid a global pandemic and as protests and unrest have forced curfews and uneasiness in cities across the country.
While the Democratic presidential primary has all but been determined, members of Congress in both parties are up against some tough primary races that could play a role come November in incumbents losing their seats. And the key congressional contests will come as a test for the general election as to whether America can successfully—and safely—vote during a health crisis.
As of Monday, the U.S. death toll approached 105,000 deaths, a stark number that has prompted many states and Democrats to push for mail-in voting.
Indiana, Iowa, Maryland, Montana, New Mexico, Pennsylvania, Rhode Island, South Dakota and Washington, D.C., all have elections Tuesday, some of which were postponed from earlier this year in the height of the coronavirus pandemic. Local election officials in several states have warned to be patient for the results, which may not be available until Wednesday.
Here are the top things to watch for on Tuesday.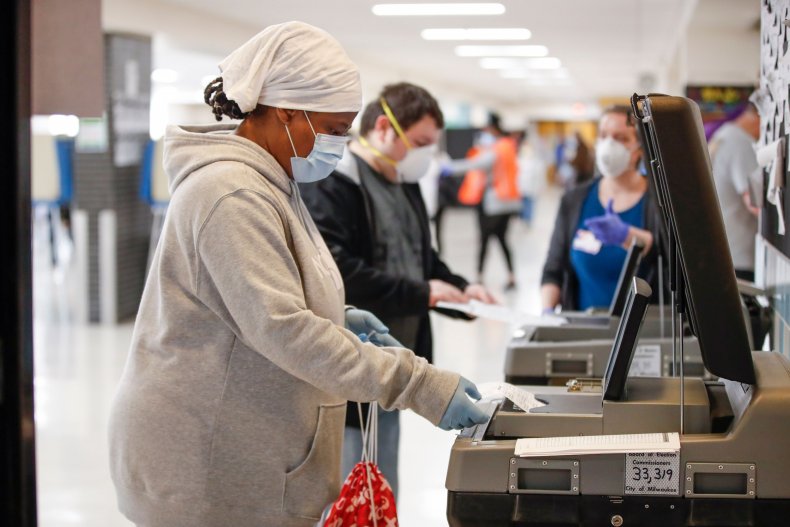 Indiana
The state has two primaries that feature perhaps some of the most crowded fields in the nation.
The 5th Congressional District has 15 Republicans and five Democrats running to fill the void that retiring Republican Susan Brooks is leaving. Cook Political Report has it as "Lean Republican."
Longtime Representative Peter Visclosky, a Democrat, is also retiring from his 1st Congressional District seat. Fourteen Democrats are vying for that seat while there are six Republicans.
Iowa
A longtime—yet controversial—GOP member of the House known for racist remarks could be out of a job.
Representative Steve King is struggling to maintain control of his seat against Republican challenger state Senator Randy Feenstra. The formidable candidate has not only outraised King, who was stripped of his committee assignments by GOP leadership last year for making racist remarks but has the backing of outside political groups that want to see the nine-term lawmaker ousted.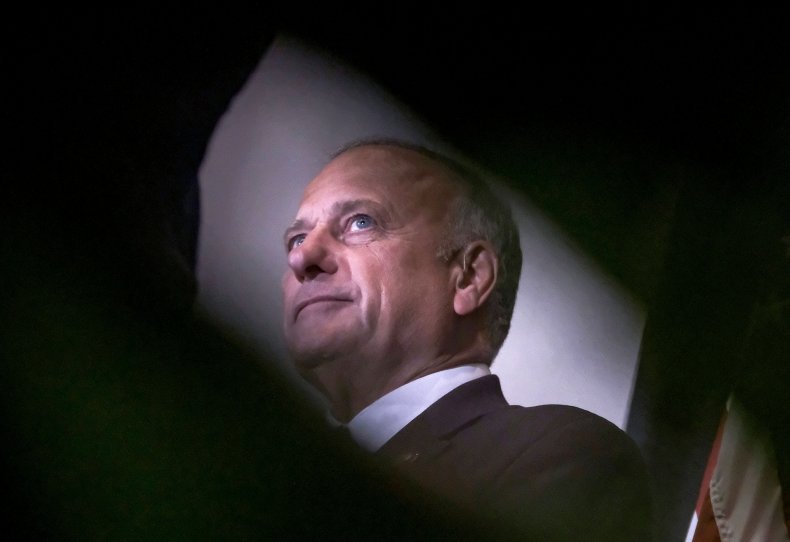 Three other Republican rivals are also going against King.
An internal poll by Feenstra's campaign in May showed him within the margin of error, significantly closing the gap between the two in recent months.
As King battles to win his primary, Democrats will choose their candidate who will go up against Republican Senator Joni Ernst in a fight to flip the seat. In their bid to take back the majority, Democrats are eyeing the first-term senator's seat as a potential pick-up. The non-partisan Cook Political Report considers the race "Lean Republican."
Maryland
Democrats are again jockeying over the seat of former Representative Elijah Cummings, a Democrat who chaired the powerful House Oversight Committee and was a civil rights icon.
Representative Kweisi Mfume proved victorious in a special election in April. He beat Cummings' widow, Maya Rockeymoore Cummings, and other Democratic candidates in February. Rockeymoore Cummings is challenging Mfume again, among other Democrats.
Montana
Governor Steve Bullock, a Democrat, is on pace to win the nomination for Senate in his bid to unseat GOP Senator Steve Daines.
Bullock, a two-term governor, has outraised Daines, a first-term lawmaker, in recent weeks. However, Bullock has been eclipsed by the incumbent in total cash raised.
New Mexico
Democratic Senator Tom Udall is not seeking re-election for a third term, giving way to important primary races.
Representative Ben Ray Luján, Assistant House Speaker to Nancy Pelosi (D-Calif.), is poised to clinch the Democratic nomination while three Republicans duke it out for the GOP nomination.
The Cook Political Report considers the race "Likely Democratic" and will be key for Democrats to maintain in their quest to regain control of the upper chamber.
House Republicans are looking to flip the state's 2nd Congressional District held by first-term Democrat Xochitl Torres Small. The party is backing oil and gas executive Claire Chase, who is running against former state Rep. Yvette Herrell and businessman Chris Mathys.
The Cook Political Report considers the race a "toss-up."
Pennsylvania
Two districts in Pennsylvania are considered "toss-ups" by Cook Political Report.
In the 8th Congressional District, six Republicans are trying to become the nominee to challenge first-term Democrat Matt Cartwright. In the 10th Congressional District, first-term Republican Scott Perry is defending his seat.