What We Know About Carlton Reserve: Only Place Brian Laundrie's Parents Say He Could Be
Brian Laundrie's father Chris was asked to help search for his son at the Carlton Reserve in Sarasota County, Florida, the only place the missing 23-year-old's parents believe he could be located.
Brian, a person of interest in the death of his fiance Gabby Petito, left his home in Florida for a hike on either September 13 or 14, depending on who you ask. He's been missing ever since and a widespread search for the 23-year-old has so far failed to uncover him, although it's possible authorities have found new evidence of his movements.
On September 17, the Laundries told police their son left for the Carlton Reserve on September 14 with a backpack and intended to camp there. Their attorney, Steven Bertolino, later told a reporter that his clients got the date mixed up based on their "recollection of certain events" and that it's believed he actually left on September 13.
A more than 24,500-acre preserve near the southwestern coast of Florida, the Carlton Reserve has more than 80 miles of hiking trails. A 12-mile trail connects the Carlton Reserve with the Myakka River State Park Reserve, one of the state's oldest and largest parks.
While several people reported they've seen Brian along the Appalachian Trail, which runs from Georgia to Maine, his parents believe the "only place" Brian could be is the Carlton Reserve, according to Bertolino.
"They don't believe he's in another area," Bertolino told CNN. "They believe he is in the preserve."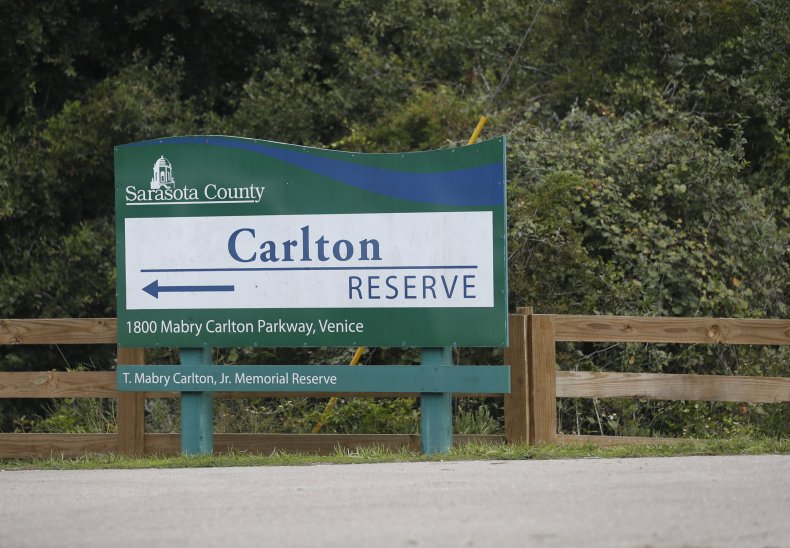 The Carlton Reserve has been closed to the public since September 21 because of the search for Laundrie. If he did stay in the reserve, some are skeptical that he'd be able to survive the deadly animals that reside there and the soggy conditions.
"If he's down there in the Carlton Reserve, he's living in hell," local survival expert Mark Burrow told the Sarasota Herald-Tribune.
The reserve is home to alligators, black bears, snakes and panthers, all of which could pose a threat to a human, especially if he was injured or exhausted. Given the heavy rain that occurred in late September, Burrow said it would have been difficult to start a fire and Brian may have struggled to find clean drinking water, making dehydration a danger.
However, not everyone is convinced Brian wouldn't be able to survive in the reserve. Brian's sister, Cassie, called him a "mediocre survivalist" during an interview with Good Morning America and said it wouldn't surprise her if he could "last out there a very long time."
Dog the Bounty Hunter, whose real name is Duane Chapman, also believes Laundrie could still be alive. He told TMZ on Monday that Brian's shown he's a "survivalist" and that he found evidence that suggests Brian was still in the Carlton Reserve area a few days ago.
Laundrie's parents have been the target of fierce criticism for not aiding the effort to find Gabby or their son. Bertolino told CNN that Chris hasn't been able to look for his son in the Carlton Reserve because it's been closed to the public. The attorney also said Chris was asked to help North Port police search for Brian on Wednesday, but they had to postpone. The North Port police denied they would have asked Chris for help and told CNN that the decision would fall on the FBI, which is the lead agency in the case.