EgyptAir Hijacker Surrenders to Cypriot Authorities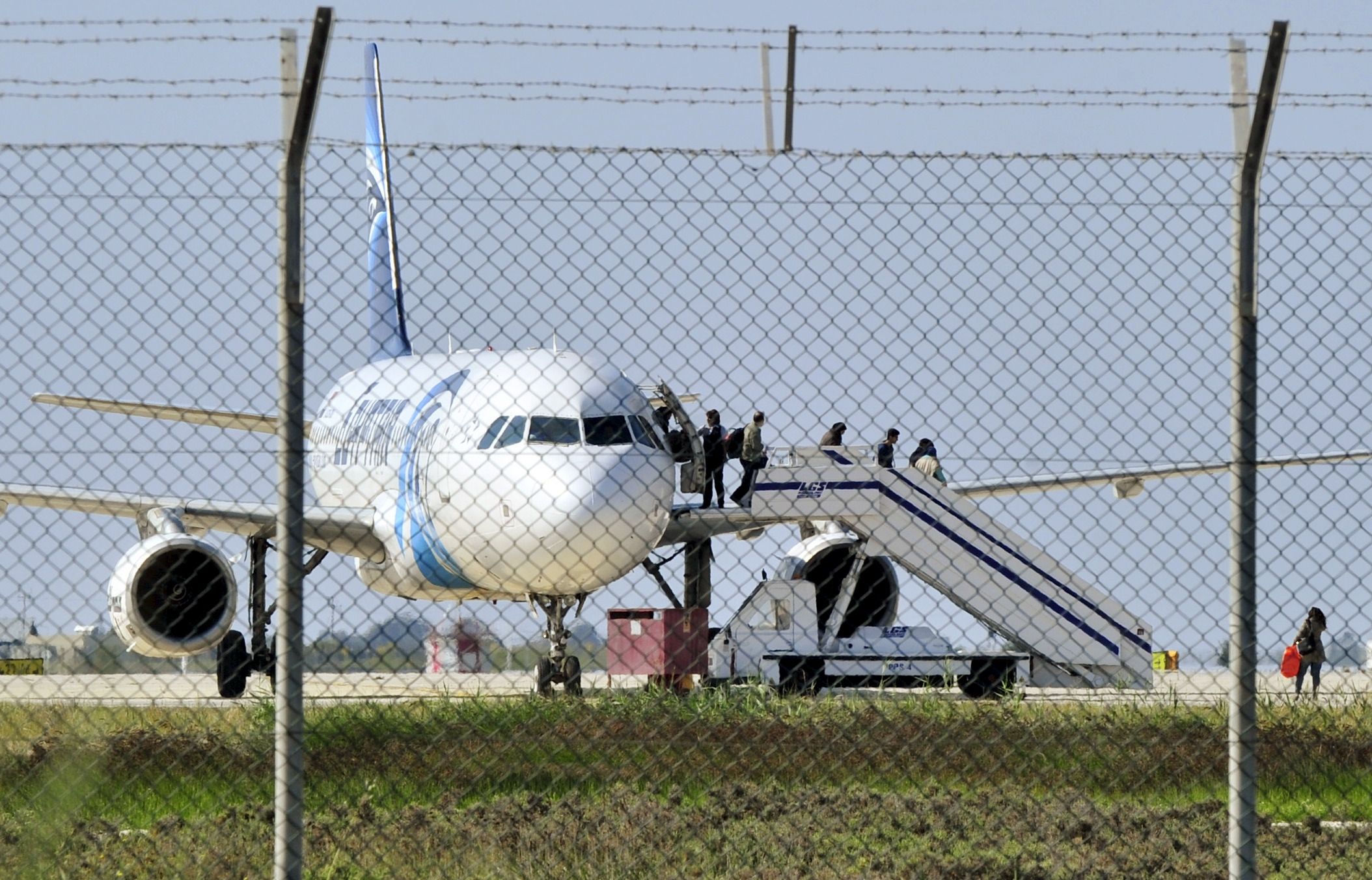 The suspected hijacker of an EgyptAir airliner surrendered to authorities at Larnaca airport in Cyprus on Tuesday, Cypriot authorities said.
The hijacker emerged from the aircraft with his hands in the air, according to state TV. He had threatened that he had a suicide bomb on his person, forcing the domestic Egyptian flight to divert to Larnaca.
Egyptian authorities had earlier misidentified the hijacker of flight MS181 as Egyptian-American dual national Ibrahim Samaha on Tuesday. The man called into a BBC programme to confirm that he was just a hostage released in the incident and that he had been erroneously named. An Egyptian government spokesperson and media outlets widely reported the hijacker to be Samaha.
Spokesman Hossam al-Queish said it was Samaha, but an Egyptian woman identifying herself as Samaha's wife told Egyptian private TV network ONTV that her husband was not the hijacker but was traveling to Cairo to then fly to the U.S. to attend a conference, the Associated Press reported.
Samaha himself attempted to clear up any confusion, denying that he was the hijacker in a phone interview with the BBC.
According to the BBC's Victoria Derbyshire programme, the veterinarian said: "I was not the hijacker, I was simply a passenger on that plane and I was released alongside other passengers and had absolutely nothing to do with hijacking the plane.
"We did not know what was going on. We got on board the plane and we were surprised that the crew took all our passports, which is unusual for a domestic flight.
"After a while we realized the altitude was getting higher, then we knew we were heading to Cyprus. At first the crew told us there was a problem with the plane and only later did we know it was hijacked."
Three passengers and four crew members had remained onboard the stationed aircraft with the hijacker. The Cypriot government later identified the hijacker as Seif Eldin Mustafa. The motivation of the hijacker remains unclear, with Cypriot President Nicos Anastasiades saying that it was "not something that has to do with terrorism."
He reportedly asked negotiators to deliver a letter to a woman who lives in Cyprus, while Cypriot state media reported that the hijacker was demanding the release of prisoners in Egypt. The number of prisoners and their identity also remains unclear.