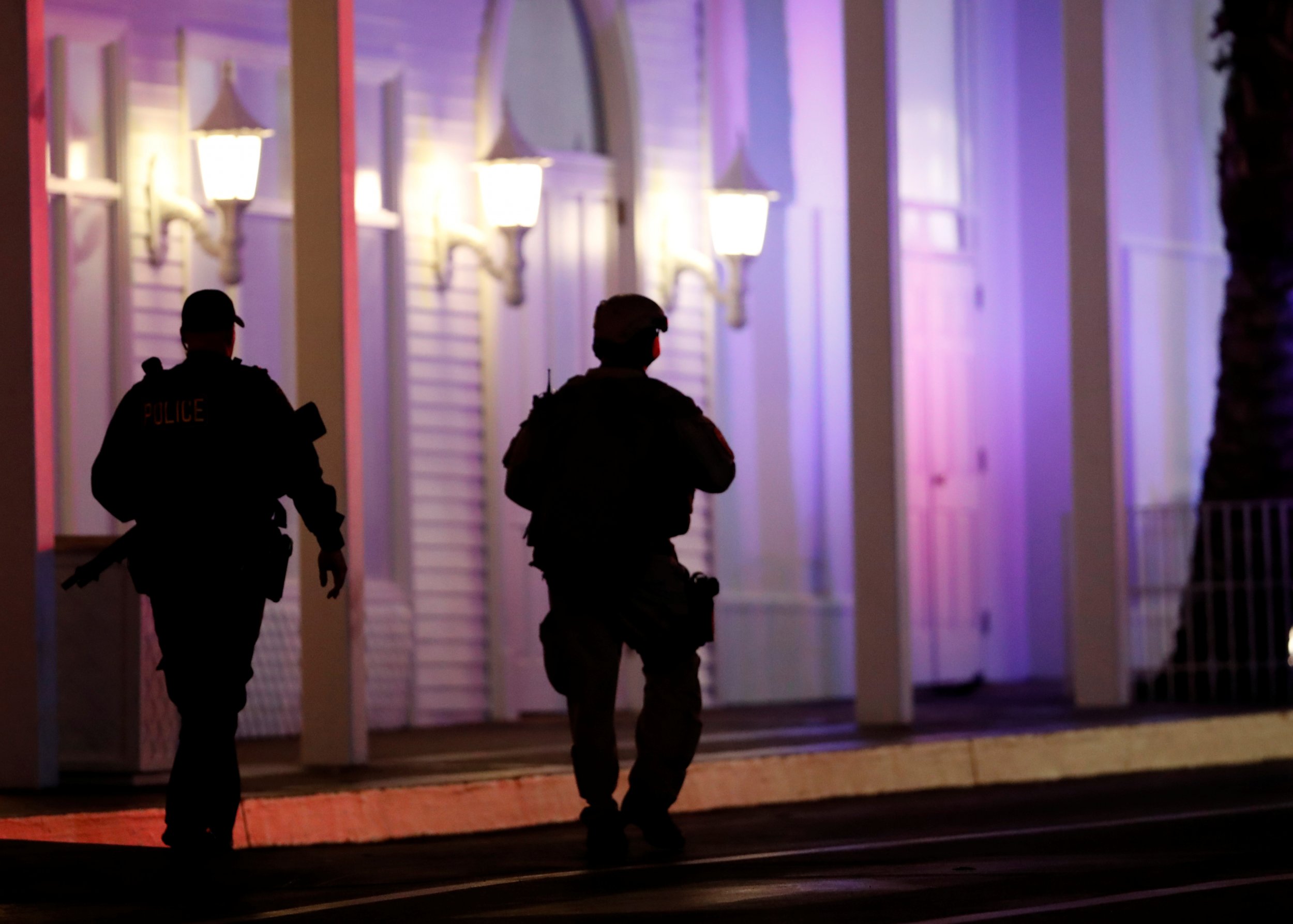 Updated | Late on Sunday night, country music star Jason Aldean took to the stage to perform at the outdoor three-day Route 91 Harvest Festival. The sounds of country were quickly silenced, over-powered by the pops and cracks of bullets fired from an automatic rifle.
The shooting left at least 58 people dead—including two off-duty police officers—more than 500 injured, and brutally shattered what should have been a normal night for country fans who had traveled from across North America to see their favorite acts.
The ensuing nightmare for concertgoers saw them flee as gunshots continued to be fired without reply into the large crowd that eyewitnesses said could have numbered around 50,000 people. Some people were trampled in the stampede that followed the attack. The death toll could rise further, police warned.
Police said that one gunman, identified as Stephen Paddock, was "engaged" by police and killed. Clark County Sheriff Joe Lombardo, speaking at a press conference, said that the suspect was cornered on the 32nd floor of the Mandalay Bay Hotel and Casino across the street from the festival, where he shot at civilians from his hotel room window. Police found more than ten guns in the room and he killed himself before they entered his hotel room, they said.
"We believe the individual killed himself prior to our entry," Las Vegas Sheriff Joseph Lombardo told a news conference.
The assault revived memories of the Islamic State militant group (ISIS) shooting attack at Paris' Bataclan concert hall that left 89 people dead, as part of a wider plot of attacks, in November 2015.
Police said that Paddock was a local resident, from Mesquite, Nevada, some 80 miles northeast of Las Vegas. They believe it was a "lone wolf" attack but are trying to find the suspect's Asian female roommate, who they have named as Marilou Danley and described as an "associate" who stands at 4 foot 11 inches tall and weighs around 111 pounds.
Police also said they are searching for a 2017 Hyundai Tuscon, with the number plate NV 114B40.
"We have no idea what his belief system was," Lombardo said. "Right now, we believe he was the sole aggressor and the scene is static."
Initial reports suggested that there may have been multiple gunmen on the strip, and an eyewitness tells Newsweek that gunshots were coming from "everywhere."
But police say that theory has proven to be false, and believe there was only one gunman.
Lombardo said police do not believe that the shooter had any links to a militant group. But ISIS claimed the attack on Monday morning, calling Paddock a "soldier of the Islamic State" via its self-styled news agency Amaq on the encrypted messaging app Telegram. It posted a second message that said Paddock had converted to Islam "months ago."
"Attacker of the #Las_Vegas shooting is a soldier of the Islamic State and carried out the operation in response to targeting coalition countries," Jihadoscope, a cyber monitoring company that monitors jihadist activity, confirmed in a translation sent to Newsweek.
However, a U.S. official, unauthorized to speak publicly and speaking on condition of anonymity, told Newsweek, "There is no indication that there is any link whatsoever. They claim a lot of things."
The Islamic State militant group (ISIS) has used Las Vegas in two propaganda releases since its rise to prominence in mid-2014, one in an August 2014 guide that suggested the city as a target, and the other in May, a video that showed the city's famous strip alongside footage of New York and Washington, D.C.
ISIS supporters have carried out shooting attacks in San Bernardino, California, and Orlando, Florida, but the motive for this shooting remains unknown, and police are yet to confirm their findings.
For those visiting Las Vegas, some flights have started to resume at McCarran International Airport after being grounded in the immediate aftermath of the shooting.
Aldean, who was performing alongside other top country acts such as Eric Church and Sam Hunt, took to photo-sharing app Instagram after the attack, posting that he and his bandmates were safe. He called the shooting "beyond horrific."
President Donald Trump, in a speech delivered from the White House, condemned the attack.
"Our unity cannot be shattered by evil, our bonds cannot be broken by violence," the president said.
"We call upon the bonds that unite us: our faith, our family, and our shared values. We call upon the bonds of citizenship, the ties of community, and the comfort of our common humanity."
This story has been updated to reflect a revised death toll and ISIS's claim of responsibility.