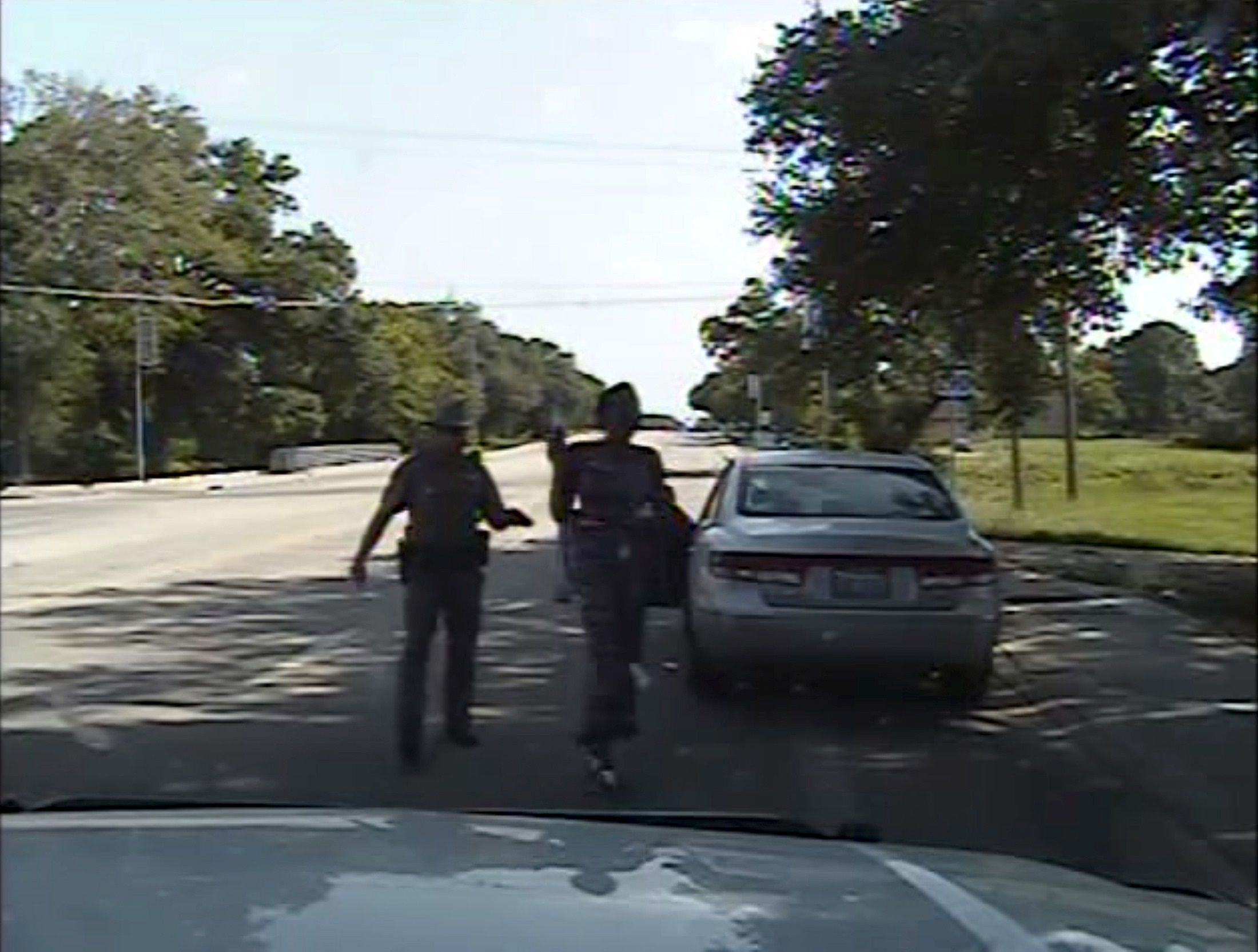 Sandra Bland, a 28-year-old African-American woman from suburban Chicago, was found hanging dead in her cell at a county jail in Texas on July 13. Three days earlier, Bland was stopped by a state trooper in Prairie View, Texas, for failing to signal a lane change.
Bland's death originally was deemed a suicide. Her relatives have acknowledged that she struggled with depression, but they don't believe she was suicidal, and none of her recent behavior raised any alarms. Bland was preparing to start a job at her alma mater, Prairie View A&M University. The family has requested an independent autopsy on her body.
Many local lawmakers have asked for the dashboard camera video from the traffic stop to be made public. On Tuesday, the Texas Department of Public Safety publicly released a 52-minute video that captures the late-afternoon traffic stop and reveals how the quickly the incident escalated into an altercation between Bland and State Trooper Brian Encinia. After checking Bland's driving history, the officer approaches her car and asks if she is irritated. Bland responds that she is upset she was stopped for such a minor issue.
Audio from the footage reveals that Encinia asked her to extinguish her cigarette. She questions him, saying she should not be forced to stop smoking in her own car. He demands that Bland step out of her vehicle and proceeds to open the door. He then points a Taser at her and yells, "I will light you up."
The trooper takes Bland to the side of the road, which isn't visible in the video. But the audio remains clear. Bland repeatedly asks, sometimes using vulgar language, why she is being arrested. Encinia, growing increasingly angry, says she is resisting arrest. She says, "I can't wait until we go to court." A second officer eventually arrives to assist Encinia, and a tow truck removes Bland's vehicle from the scene.
The 52-minute video has been criticized for some irregularities, such as when the audio is interrupted or people and cars suddenly disappear from view. While the Texas Department of Public Safety didn't immediately respond to Newsweek's request for comment, a department spokesman told The Washington Post the video wasn't altered in any way. The spokesman said technical problems with the recording caused inconsistencies in the footage.
By Wednesday afternoon, the 52-minute video had been removed from YouTube and appeared to be replaced by a 49-minute version of the traffic stop.
Following her arrest, Bland was booked for assault on a public servant, a third-degree felony, and placed inside a jail cell that typically holds four people. The last time a guard saw Bland alive was the morning of July 13. Shortly after, she asked through an intercom if she could use the phone. An hour later, a guard saw her hanging from a partition.
Activists have taken up her case, saying it is the most recent example of excessive force by police against an African-American. But authorities said motion-sensor cameras outside of her cell didn't indicate that anyone entered her space.
Following the incident, the officer, who is white, was put on administrative duty.
Local authorities are reviewing the incident. Waller County District Attorney Elton Mathis is investigating Bland's death as a homicide.
The FBI is monitoring the case, and federal officials are awaiting the results of the local investigation, U.S. Attorney General Loretta Lynch said Wednesday. But there is no independent federal probe of Bland's death.