What We Know About the Syrian Suspected Chemical Weapons Attack in Douma
A chemical weapons attack on a rebel-held town of Douma in eastern Ghouta killed dozens of people, a medical relief organization and rescue service said Saturday night.
A joint statement by the medical relief organization Syrian American Medical Society ( SAMS ) and the civil defense, which operates in rebel-held areas, said 49 people had died but different organizations have released conflicting reports on the numbers killed and injured.
Pro-opposition Ghouta Media Center (GMC) put the death toll at 75, and said that more than 1,000 people had been injured and some reports from the town suggest that the death toll is in the hundreds.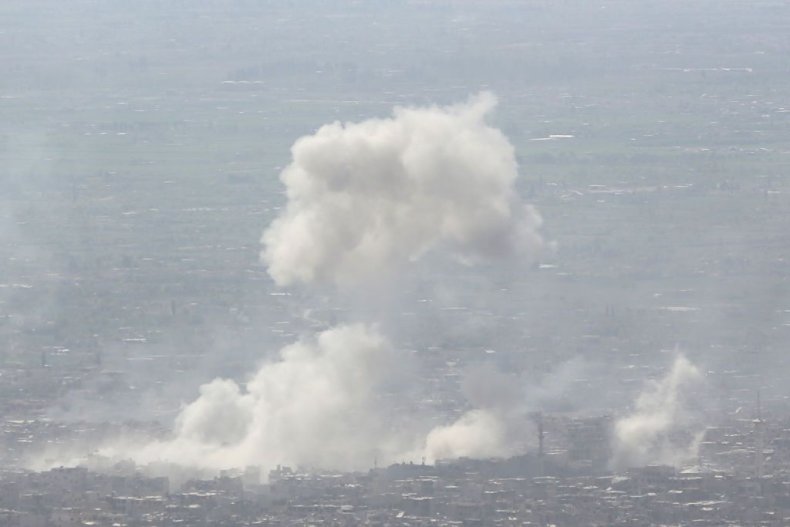 The lifeless bodies of around a dozen children, women and men, some of them with foam at the mouth, were shown in one video circulated by activists. "Douma city, April 7 ... there is a strong smell here," a voice can be heard saying.
Volunteer rescue service the White Helmets tweeted images showing bodies lying lifeless in a basement. It claimed the death toll was likely to rise.
"Seventy people suffocated to death and hundreds are still suffocating," Raed al-Saleh, head of the White Helmets, told Al Jazeera.
Heavy shelling in the area overnight and on Sunday morning is making it difficult to reach the victims.
There has been as yet no independent verification of the reports.
Who is responsible?
According to the GMC, the victims were killed by nerve agent Sarin, which was dropped in a barrel bomb from a helicopter.
The Russian-backed Syrian state denied government forces launched any chemical attack as reports began circulating on Saturday night. The government said rebels in the Eastern Ghouta town of Douma were spreading false news.
Head of the Russian Center for Reconciliation of the Warring Sides in Syria Major General Yuri Yevtushenko, as cited by TASS news agency, denied Syrian government involvement in the attack.
"We strongly reject this information and confirm readiness after Douma is liberated from militants to send Russian specialists in radiation, chemical and biological protection to collect data to confirm that these statements are fabricated," said the head of the center, which is part of the Russian Defense Ministry.
What is the U.S. response?
Washington said the reports - if confirmed - would demand an immediate international response.
The U.S. state department said reports suggested "a potentially high number of casualties", including families in shelters.
It said Russia - with its "unwavering support" for Syria's government - "ultimately bears responsibility" for the alleged attacks.
"The regime's history of using chemical weapons against its own people is not in dispute," it said in a statement.
In a tweet early Sunday, Trump said there would be a "big price" to pay for those responsible.
"Many dead, including women and children, in mindless CHEMICAL attack in Syria. Area of atrocity is in lockdown and encircled by Syrian Army, making it completely inaccessible to outside world. President Putin, Russia and Iran are responsible for backing Animal Assad. Big price to pay. Open area immediately for medical help and verification. Another humanitarian disaster for no reason whatsoever. SICK!"
One year ago, and only months into Donald Trump's first year as president, more than 80 people died in a Sarin attack in the rebel-held town of Khan Sheikhoun.
A joint inquiry by the UN and the Organization for the Prohibition of Chemical Weapons found the Syrian government responsible.
In response Trump ordered missile strikes on a Syrian government airfield, killing seven and injuring nine in the U.S. government's first direct military action against the regime of Syrian President Bashar al-Assad.
A Sarin nerve agent attack on a suburb of Eastern Ghouta in August 2013 prompted a UN investigation, with the Obama administration and allies claiming the Assad regime was responsible.
The extent of the Trump administration's commitment to further military action in Syria remains uncertain, with the president only days ago ordering the withdrawal of 2,000 U.S. troops who are part of a Washington-led coalition fighting militant group Islamic State in the country.
The president has not given a timeline for the withdrawal.
The Syrian government has also been accused of several chlorine gas attacks on rebels, most recently in January in eastern Ghouta.
Al Saleh told AL Jazeera that chlorine gas and another, stronger substance, were used in Saturday's attack.
What is happening in Douma?
Douma is the last rebel-held town in the eastern Ghouta area and has been under intense bombardment from Russian-backed Syrian forces.
According to U.K.-based monitoring organization the Syrian Observatory for Human Rights, 70 civilians have been killed in bombing in the town since Friday, after Moscow-brokered talks with rebels collapsed.