What We Know About the Trump TV Show Produced by the Obamas
Barack and Michelle Obama are back in action, and coming to your Netflix queue sooner than you think!
According to Vanity Fair, the power couple is developing a Netflix series "based on the chaotic transition of power when Donald Trump became president in 2016." The show's title is The G Word With Adam Conover, and it will be "part documentary, part comedy sketch," which could perhaps have a Documentary Now! vibe.
The "g word" is government, and Deadline noted that the series will explore whether it is a "a dirty word or a trusted institution."
The G Word will be a collaboration between comedian Conover (host of truTV's Adam Ruins Everything) and the Obamas' production company Higher Ground Productions.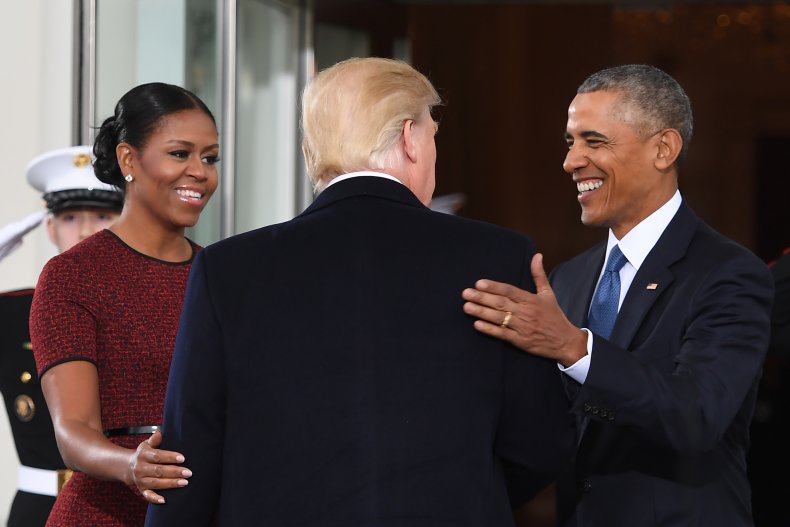 Michael Lewis's 2018 book The Fifth Risk serves as source material for the comedy. The book details the messy presidential transition between presidents Obama and Trump, namely in the Energy, Agriculture and Commerce departments. The Obamas acquired the rights to the book in 2018.
Lewis told Katie Couric that the series would serve as "a civics lesson," via Deadline. "I did three departments, because it would be the work of many lifetimes to do the whole government, but you could do this in a fun way across the entire government," he explained.
This isn't the first book-to-screen adaptation for Lewis; his books Moneyball and The Big Short both got the Hollywood treatment in 2011 and 2015, respectively.
Production is expected to begin in early 2021. Casting details have yet to be announced.
The Obamas and their company, Higher Ground Productions, signed a massive deal with Netflix in 2018, as per Variety. The multi-year deal included scripted and unscripted series as well as docu-series, documentary films, and features. "We hope to cultivate and curate the talented, inspiring, creative voices who are able to promote greater empathy and understanding between peoples, and help them share their stories with the entire world," Barack Obama said at the time.
The financial terms of the deal were not disclosed.
According to Elle, the projects the Obamas will be involved in include the film American Factory, the fashion series Bloom, a film adaptation of the novel Frederick Douglass: Prophet of Freedom, and an anthology series about New York Times obituaries called Overlooked.
"We created Higher Ground to harness the power of storytelling. That's why we couldn't be more excited about these projects," Obama said in a statement, when announcing the upcoming slate of projects. "Touching on issues of race and class, democracy and civil rights, and much more, we believe each of these productions won't just entertain, but will educate, connect, and inspire us all."