What the Trial Has Shown Us About Dzhokhar Tsarnaev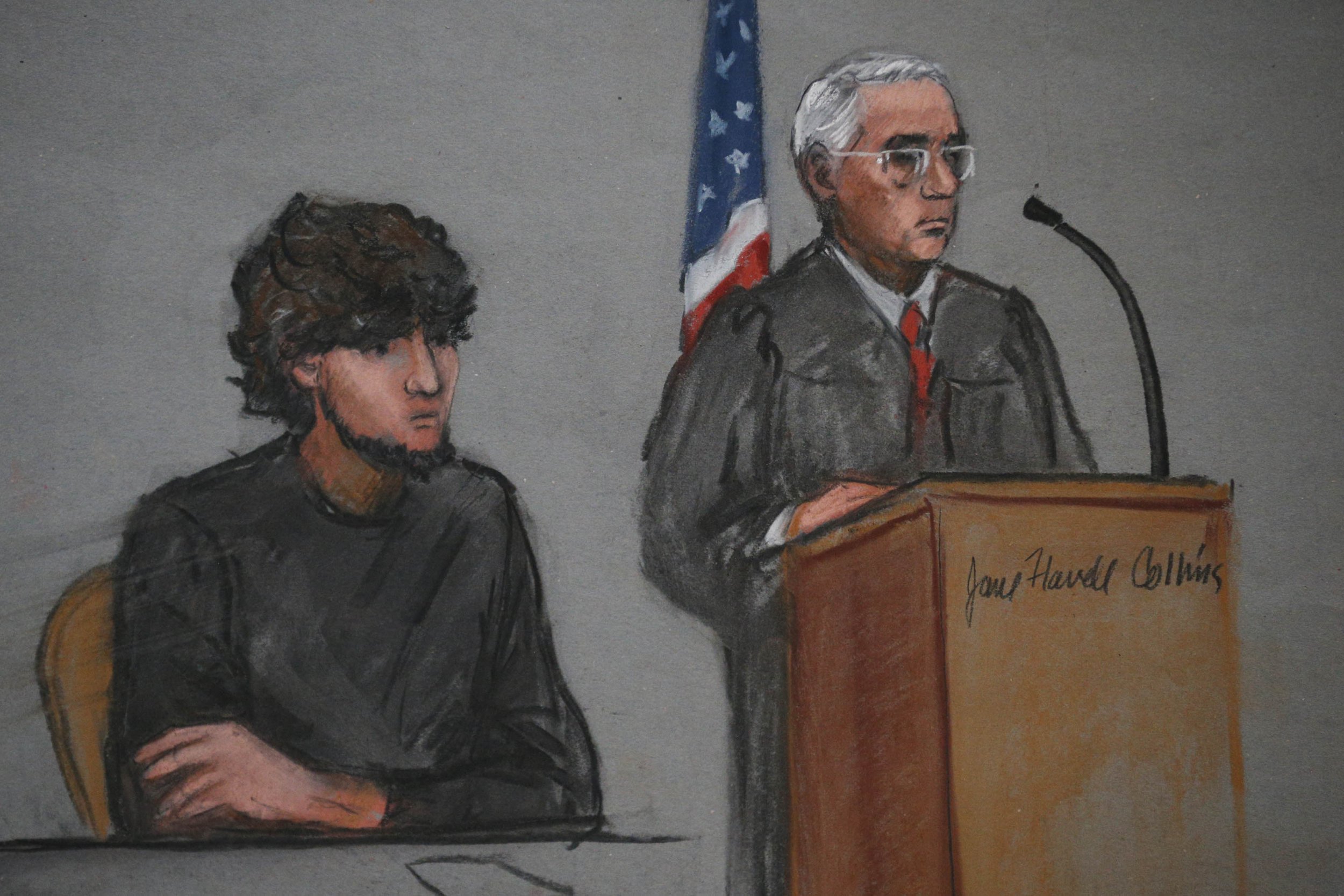 Boston Marathon bomber Dzhokhar Tsarnaev is guilty of the "senseless, horribly misguided acts" that killed three people and injured more than 260 others at the finish line on April 15, 2013, his defense attorney, Judy Clarke, admitted to a courtroom in March.
Since then, the defense has been working to show how the 21-year-old was a willing but secondary player in a plot led by his elder brother, Tamerlan, who died in the days after the attacks. His lawyers called to the stand more than 40 relatives, friends and teachers, who recounted memories of a Muslim boy raised in a Russian immigrant family who struggled to adjust to life in the United States.
Prosecutors, who are seeking the death penalty, argue that Tsarnaev followed the militant Islamist ideology to punish America for U.S. military campaigns in Muslim lands. They pressed some of the witnesses who described Tsarnaev as an endearing child. Instead, they allege that he was defiant in his actions and behaviors.
In the first phase of the trial that ended last month, Tsarnaev was found guilty of 30 counts related to his involvement in the bombings. Tsarnaev and his brother planted homemade pressure-cooker bombs near the finish line of the race. They also are responsible for the murder of a Massachusetts Institute of Technology police officer later that week, on April 18.
Both the defense and prosecution rested their cases on Monday in the second phase of the trial. Lawyers for each side are expected to return to the courtroom on Wednesday to give closing arguments. Then, 12 jurors will begin to decide whether Tsarnaev should be sentenced to death by lethal injection or to life in prison without the possibility of release.
Here's what we have learned about Tsarnaev from the two phases of his trial:
1. Tsarnaev expressed genuine sorrow for the bombing victims, according to Sister Helen Prejean, a well-known death penalty opponent, and the final witness to testify before the defense rested its case. "He said it emphatically. He said no one deserves to suffer like they did," the 76-year-old nun said. She had met with Tsarnaev five times this year at the request of the defense.
Bombing survivors in the gallery of the courthouse shook their heads when Prejean, who emphasized Tsarnaev's youth, said he was remorseful.
2. Tsarnaev apologized to one witness, Deputy U.S. Marshal Kevin Roche, for showing his middle finger to a cell surveillance camera after his arrest in April 2013. Roche told Tsarnaev that raising his middle finger wouldn't be tolerated and asked him if he would make the gesture again. Tsarnaev replied: "No, I'm sorry. I won't do it again."
While standing in a holding cell at a Massachusetts courthouse in July 2013, Tsarnaev showed a peace sign, then his middle finger, to the camera. The image, which was taken from a longer video in which he is seen pacing the cell, was shared with the jury almost two years later as an end to the prosecution's case this month. Attorneys have said the photo will alienate the jurors, and it has become the remaining public representation of Tsarnaev.
3. The 21-year-old showed his first sign of emotion when he appeared to cry during testimony from one of his aunts. Patimat Suleimanova sobbed uncontrollably from the moment she took the stand, soon was unable to speak and ultimately was asked to return to her seat. As she walked away, Tsarnaev wiped his right eye repeatedly with a tissue. Seconds later, he used his hands again to wipe his eyes. Later, in another sign of emotion, Tsarnaev blew a kiss to one of his aunts and cousins following their testimony in the courtroom.
It was a stark contrast to most of the trail, when Tsarnaev sat impassively and didn't show any emotion, even when survivors and families of victims spoke about their heartbreaking losses, pain and suffering. He didn't even glance their way when they shared their often gruesome stories in court.
4. Relatives described Tsarnaev as a compliant, adorable child when they knew him before his family, ethnic Chechens, immigrated to the United States in 2002. His cousins often referred to him as a brother. It wasn't until the family had lived in the United States for a few years that his mother shed her stylish clothes for traditional Muslim clothing, becoming deeply religious.
Raisat Suleimanova, Tsarnaev's cousin, said neither Tsarnaev nor his brother would hurt a fly. The lead prosecutor, William Weinreb, questioned her portrayal of him: "But you'd agree that the bombing of innocent people is not an act of kindness?" The defense's objection ended that line of questioning, as The New York Times reported.
She said Tsarnaev was a sensitive boy who once cried while watching the father lion die in The Lion King. Weinreb began to ask about Tsarnaev's reaction but was cut off in court before he finished speaking: "Would you agree that someone who cries at the death of a cartoon character but is indifferent to the suffering of hundreds of people—"
5. Becki Norris, the middle school principal at the Community Charter School of Cambridge, said an administrator sent home Tsarnaev, then in ninth grade, to change into the black pants that were part of his uniform. His mother was angry and ultimately pulled him out of the school. Norris offered to talk to her, but Tsarnaev insisted she avoid trying. Norris called him one of her "top students" and believes he could have received a college scholarship, with the proper guidance, according to The Boston Globe.
6. Tsarnaev was a quiet, well-behaved and hard-working student who enjoyed rap music, video games, fast cars and hanging out with friends, his teachers and friends told the courtroom. Some also said they didn't know he was religious.