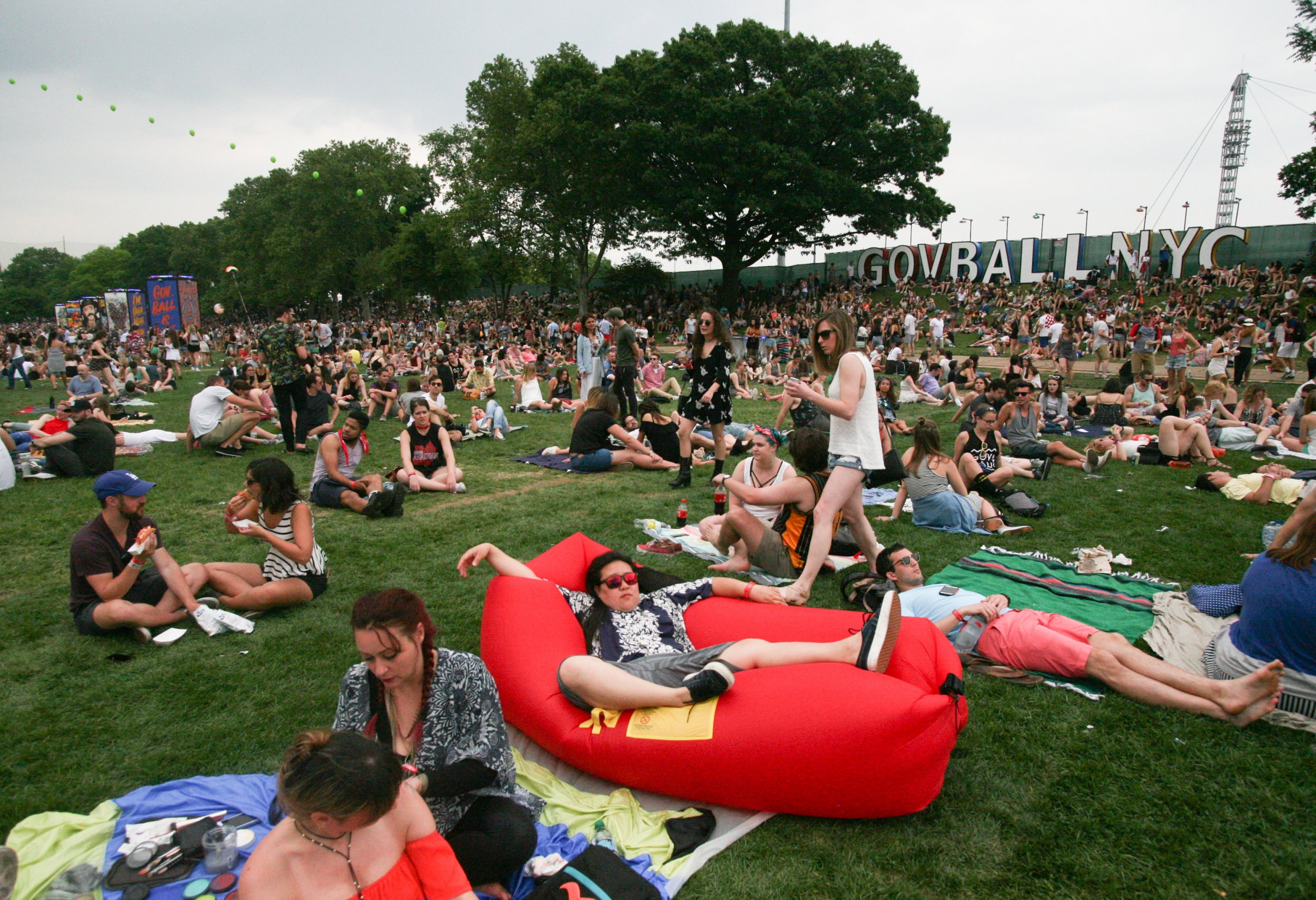 The New York music extravaganza Governors Ball took place on Randall's Island over the weekend, but the biggest story of the festival ended up happening after Governors Ball was over. All sets were canceled on Sunday due to inclement weather, meaning so too was Kanye West's highly anticipated headlining set. Fans were furious, and the more industrious among them spent the day scouring Twitter for any indication of a Yeezy pop-up performance that night. He wound up stopping by Summer Jam in New Jersey's MetLife Stadium, but then it was announced that he would be playing Pablo in Manhattan at 2 a.m. 2Chainz later posted a video informing fans that the venue would be Webster Hall, after which all hell broke loose.
The streets were packed, people climbed atop cars and, ultimately, the show was canceled. New York City will have to wait.
Despite the near-riotous disappointment on Sunday, Governors Ball 2016 went off as planned on Friday and Saturday, and both days were packed with incredible music, incredible food and an incredible amount of teens. Since perception is reality, here's the best stuff we saw and therefore the best things that happened at the event.
Synchronized Dance Moves With Christine and the Queens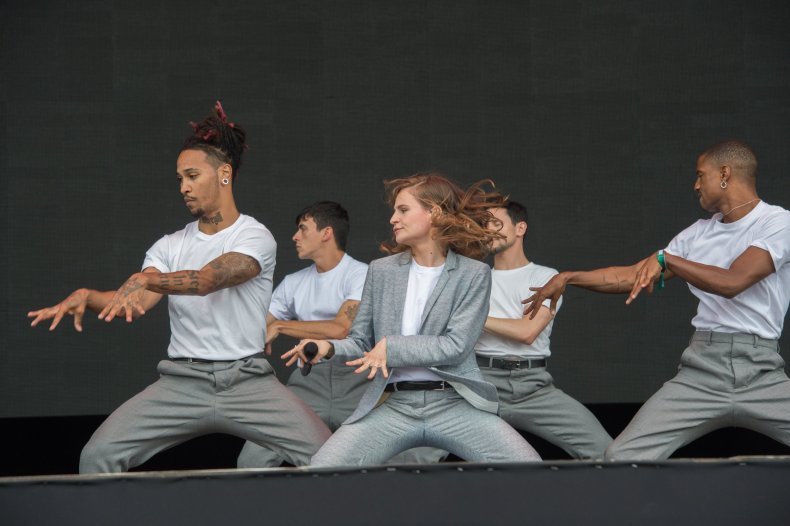 Playing the main stage early in the day isn't easy. Not only have most of the patrons yet to arrive, a usually mid-level band has to occupy a space designed to house the elaborate stage shows of the festival's headliners. Friday afternoon, French throwback dance-pop band Christine and the Queens embraced the challenge. "This is a free zone," Christine said to the rapidly thickening crowd early in the set. "You get to be whoever you want to be, whatever you want to be. If you want to be a bicycle, now is the time."
It was hard not to be drawn in by Christine's eccentric joy, nor that of her NSYNC-circa-1999-caliber backup dancers. Few other artists at Governors Ball appreciated the opportunity as much as they did, and Christine crooned through body-mover after body-mover. Toward the end of the set, after wrapping up a high-energy remix of "Pump Up the Jam," she spent five minutes talking to various flowers that had been strewn across the stage. One she pretended was Beyoncé. Another was Rihanna. Another was herself. "I'm here," she said, holding it up. "And I get to be part of the same bouquet!"
Behold, a Plethora of Strokes T-Shirts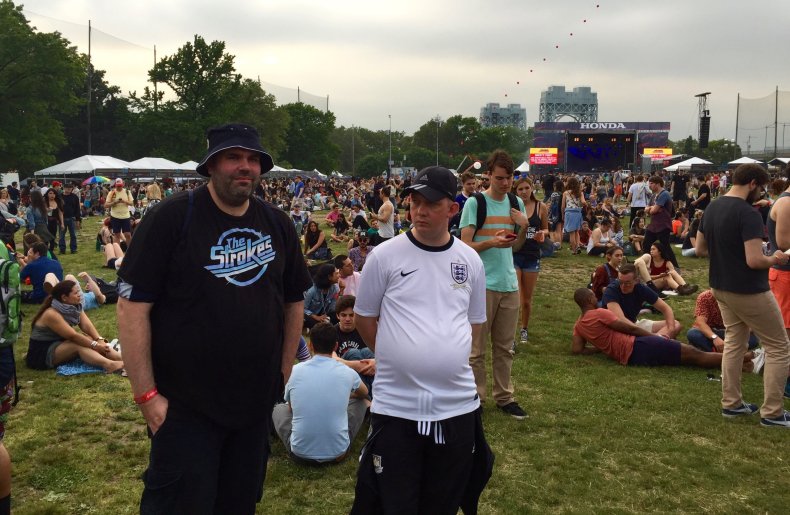 The Strokes are from New York City, and New York City loves the Strokes. The garage rock veterans headlined Friday's slate of artists, and throughout the day you couldn't turn around without seeing three more patrons sporting the band's logo on their chest.
Action Bronson Got Happy and High
Action Bronson's brand centers on one thing: food. He loves it. He cherishes it. He raps about it. On Friday afternoon, he cradled a watermelon like a baby before tossing it in the air and launching 2015 hit "Actin' Crazy" when it exploded on the stage. Then he brought out celebrity chef Mario Batalli to say a word ("Weee!"). Then he showcased an oven tray full of some Italian deliciousness as he simultaneously burned through a song and a blunt.
He also loves New York City, his hometown. "It's been a while," the Queens native announced in between blunts (he also loves blunts), referencing recent forays into TV and books. But despite the new ventures, Action Bronson is a rapper, and at Governors Ball he made it clear that there's nowhere he'd rather be rhyming "oysters" with "voices" than in NYC. "I'm so motherfucking comfortable up here," he added.
Next Year, Try to Get Hired as a Balloon Holder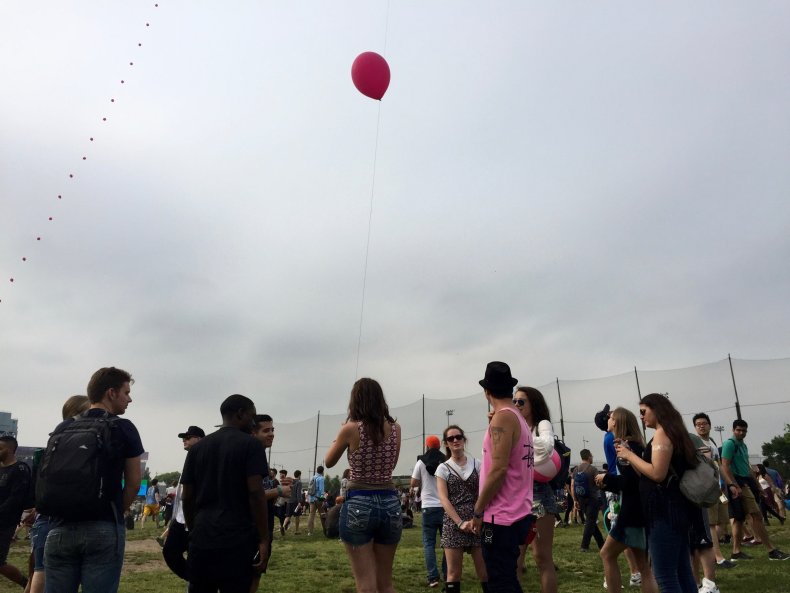 Like many gatherings, Gov Ball had large strings with balloons on them that flew over the main field. Unlike other festivals, these were not anchored into the ground but held manually by people the festival organizers presumably hired for this exact job. One guy we saw was lying on the ground watching something on his iPhone while a carabiner attached to the balloon string was nonchalantly hooked to his foot. The girl above couldn't do her job properly because she was busy being accosted by bros who were hitting on her. So many question remain: Who were these heroes? Were they getting paid? Did they get to take breaks? What happened to the balloon strings when they went to the bathroom? How can we apply for this job next year?
Say Yes to Lobster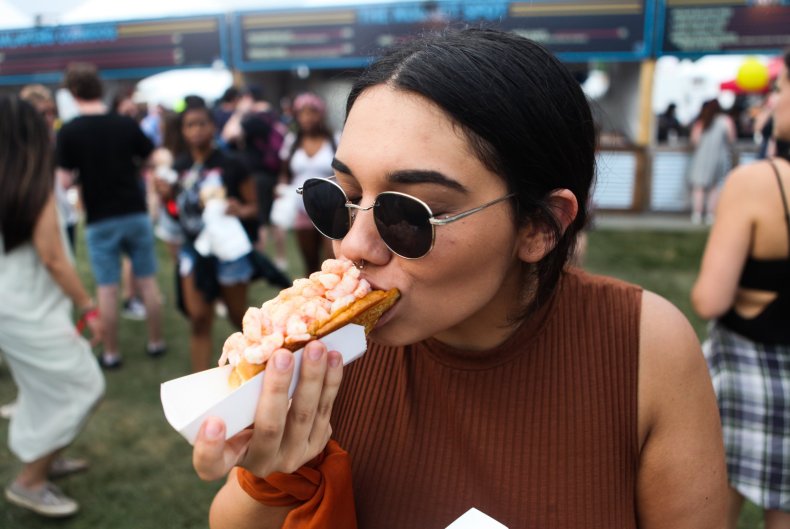 Gov Ball goes HAM with the food vendors, and this year the bold could chow down on Black Tap's pornographic-looking burgers, ingenious rice balls from Arancini Bros. and the loaded shrimp rolls from Luke's Lobster you see above.
Against Me! Brought the Joy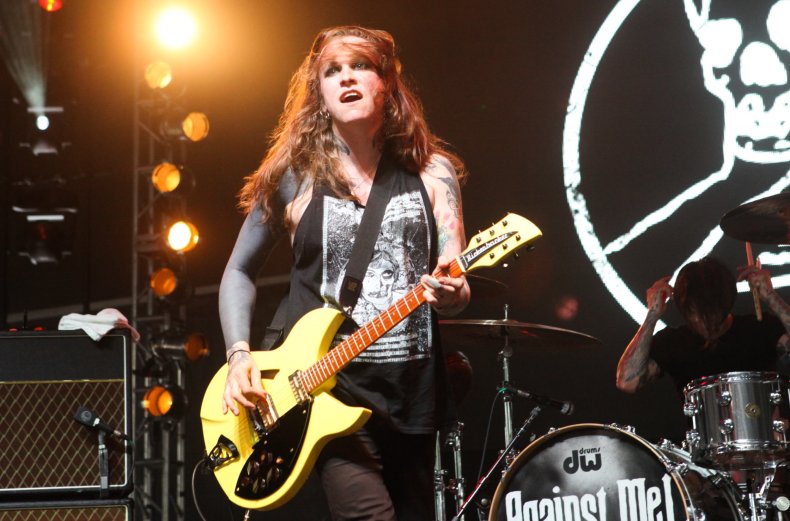 Though they've been playing bracing and relentless punk for nearly 20 years, Laura Jane Grace is smiling in most of the pictures taken of her onstage. Even with the heavy lyrical subject matter of songs like "Thrash Unreal" and "Transgender Dysphoria Blues," there's something resilient—almost giddy, almost romantic—about Against Me!'s music. This is most pronounced onstage, and the Gainesville, Florida, band's set at Gov Ball was no exception. Though the pace is furious and the words can be jarring, watching every member of a band express themselves in real time is an undeniably joyful experience. It's a feeling that lasts all day.
People Partook in Giant Field Jenga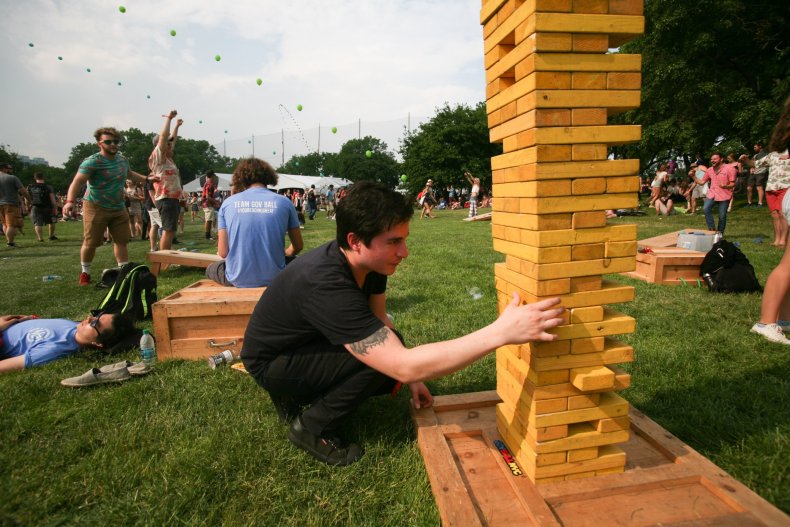 In case four stages of music were not enough to keep your idle hands busy, you could escape to the hillside and play a massive game of Jenga. Or, if you're really stoned, you could do what a bunch of people we saw did and spend several hours throwing a beanbag into a hole.
New Yorkers Are Great at Getting Dressed
The recent upswelling over the past few years of "festival attire" has been lamentable. Many people can't even go near Indio, California, for fear of upsetting their allergy to hideous flower crowns. But New York doesn't trifle, and as a result the clothing was largely on point. For example, we felt bad asking for a photo of this girl because she couldn't go more than 5 feet without someone asking for a pic of her sick tiara: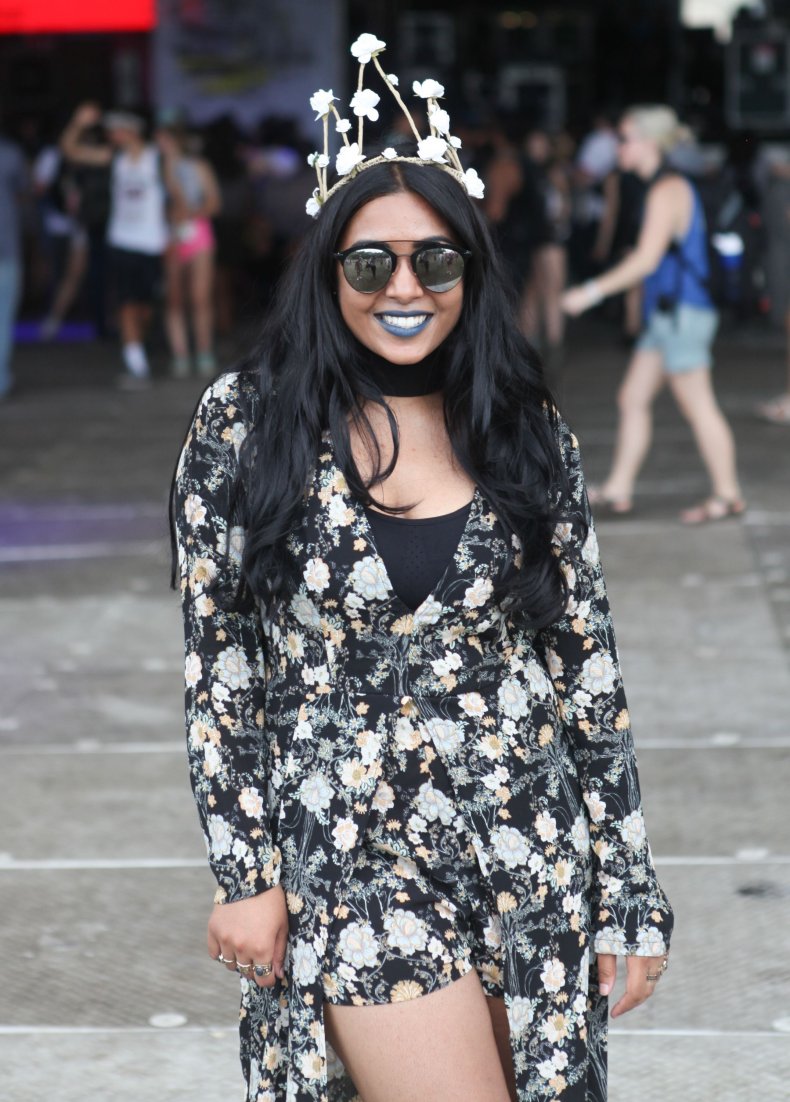 We didn't want to blow up this happy dude's spot, but we have it on good authority he brought his own bathtub gin in a water bottle: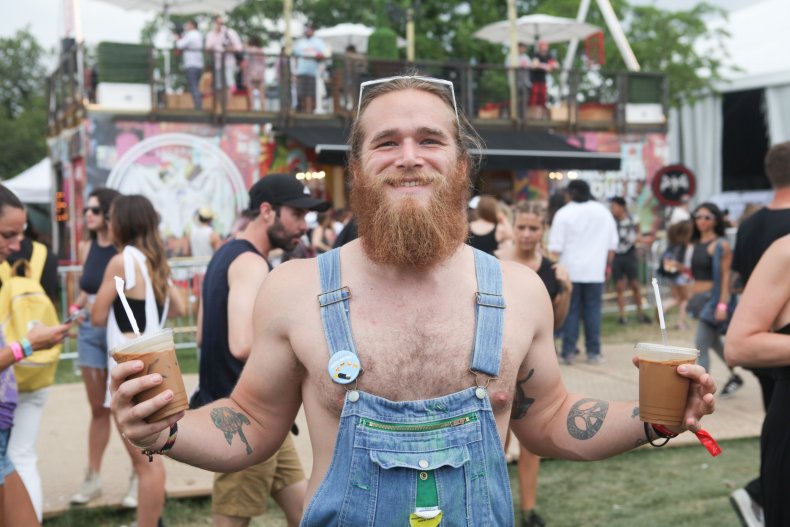 Or this girl, who probably had to leave early to attend an adorable picnic: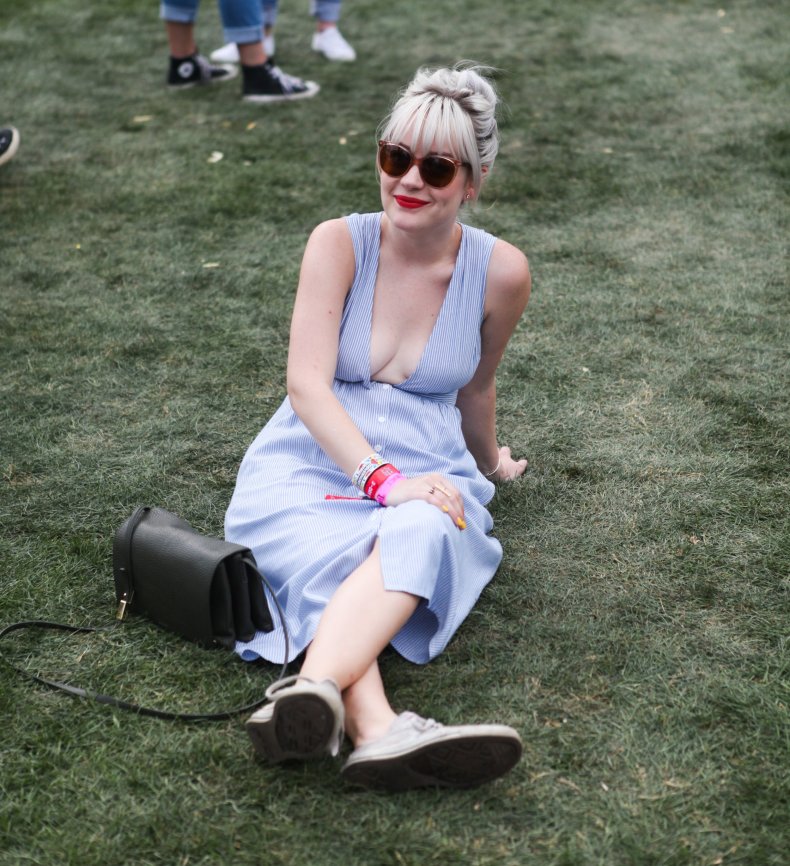 And lest we forget, this handsome fellow who nearly convinced us that the ascot was making a comeback (nice try!):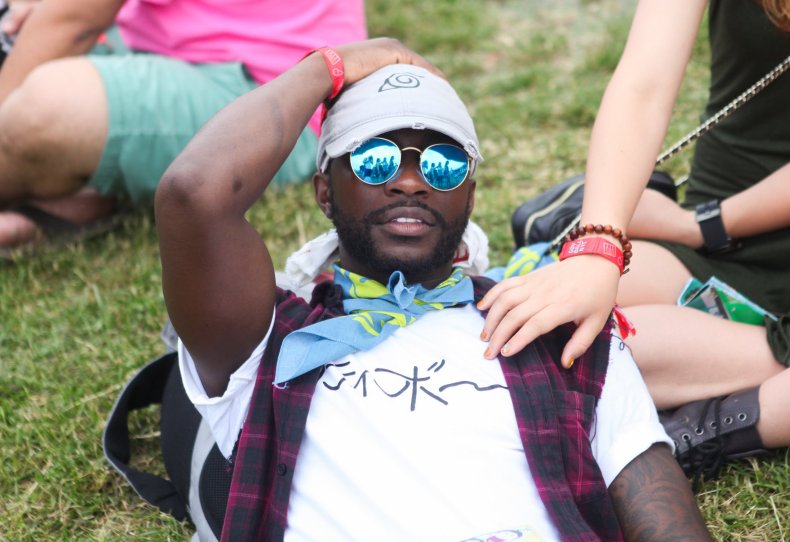 And speaking of fashion...
Only Miguel Is Allowed to Wear Ponchos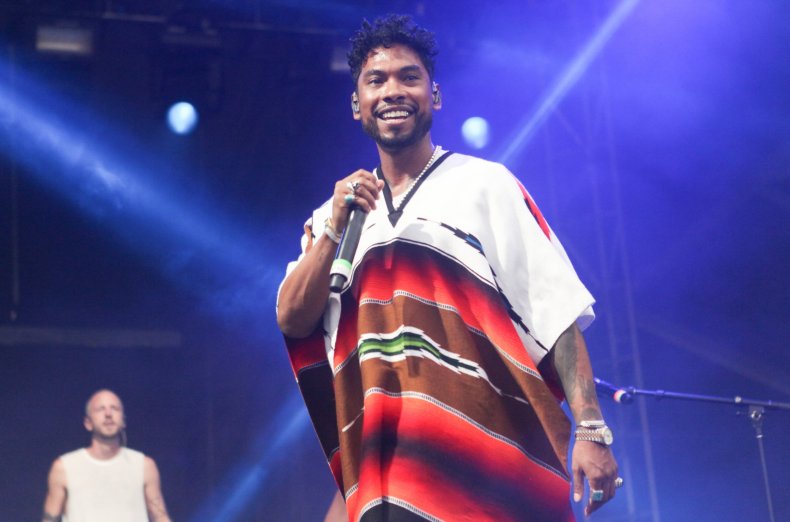 The Wildheart artist and irrepressible showman classed up the joint for his Saturday evening Governors Ball set. A talented writer, vocalist and dancer, when Miguel isn't busy staying mum about the blatant rip-off that is Zayn's "Pillowtalk," he is making this drug rug look weirdly good. A few songs into his set, a light mist began to fall, followed a few minutes later by a biblical monsoon. The crowd refused to stop dancing to find shelter, so Miguel took out his earpiece and jumped off-stage to join them in the rain. God bless.
And Then the Rain Came
Perhaps a prelude to the deluge that would eventually force festival organizers to cancel Sunday's lineup, the rain that fell on Saturday evening briefly caused mayhem. With few places to get away from it, some festival goers embraced the inclement weather while others surrendered and went home. This girl got crafty under a picnic table: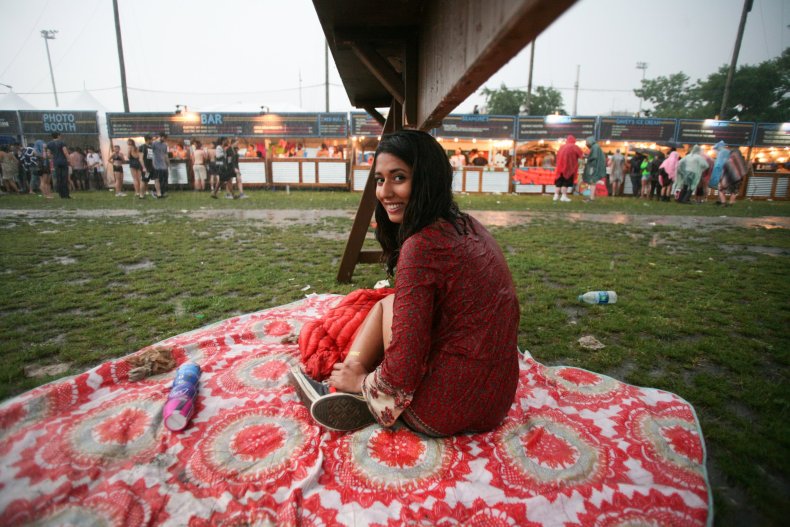 These ladies weren't going to let a little rain stop them from dancing: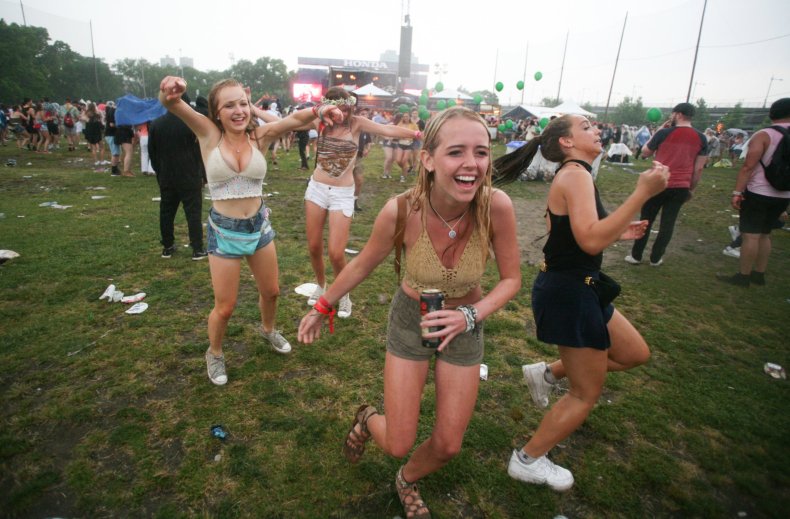 And the main concern for these folks was to protect the balloons at all cost (what is it with these people and balloons?):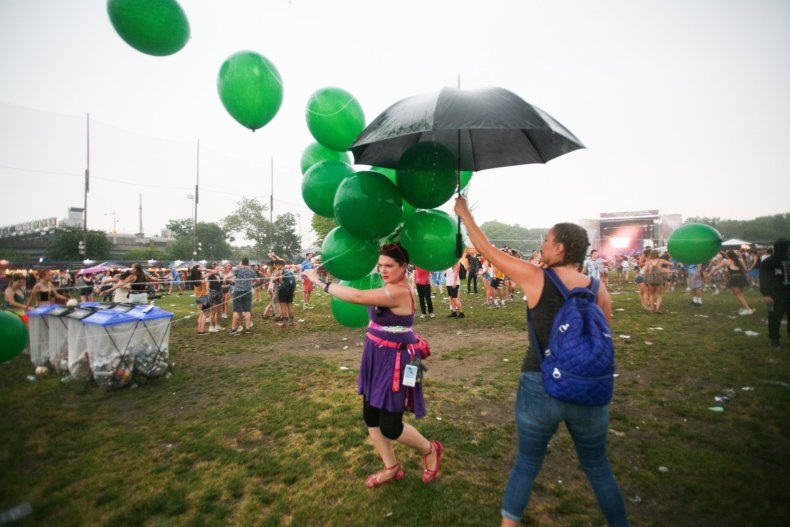 A solid few days. See you next year, Gov Ball.