What Weisselberg's Guilty Plea Means for the Trumps
The Trump Organization's former chief financial officer pleaded guilty Thursday to 15 felonies on Thursday and admitted he conspired with the company to avoid taxes on corporate benefits.
Allen Weisselberg reached a plea deal with the Manhattan district attorney's office that will likely have major implications for the Trump Organization.
Weisselberg is expected to be sentenced to five months in prison with potential time off for good behavior, which means he could end up serving around 100 days.
However, Weisselberg's plea deal does not include cooperation in a wider probe into former President Donald Trump and he will not implicate Trump by pleading guilty.
Weisselberg will be required to testify at a trial concerning charges against the Trump Organization due to begin in October if prosecutors call on him to do so. His testimony could prove a major factor in the outcome of that trial.
Trump has not been charged with any crime arising from the investigation and Weisselberg's cooperation with prosecutors appears unlikely to change that, but his guilty plea could have a significant impact on the former president's company.
Newsweek has reached out to the Trump Organization for comment.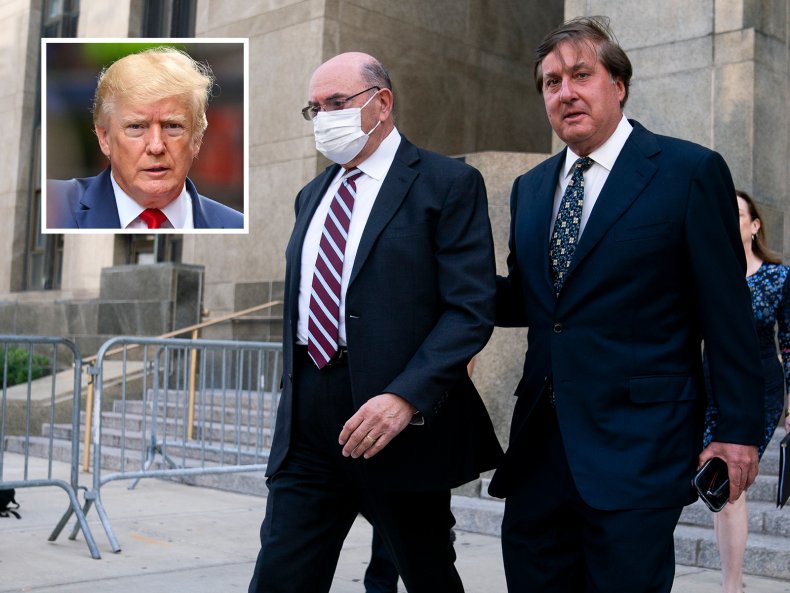 Andrew Weissman, an MSNBC legal analyst and professor of practice at New York University's School of Law, said on Wednesday: "Once Allen Weisselberg pleads guilty, it's over for the Trump Organization."
Weissman said Weisselberg's alleged crimes would be "imputed" to the company and the impact would be "huge."
Thursday's guilty plea is likely to add to the pressure on the former president, who is facing multiple probes, including an FBI investigation of the handling of White House documents that recently resulted in a raid of his Mar-a-Lago residence in Florida.
New York Attorney General Letitia James is also investigating the Trump Organization's finances and Trump recently sat for a deposition as part of that probe where he repeatedly invoked his Fifth Amendment rights.
It remains to be seen how Weisselberg's plea deal might affect James' investigation, which is separate from the Manhattan district attorney's.
Lawyer and founder of the New York-based Main Street law firm Tristan Snell tweeted on Wednesday that "Allen Weisselberg flipping just increased the legal jeopardy for everyone else in the executive office of the Trump Org" including Trump himself and his children.
Michael Cohen, Trump's former lawyer, retweeted Snell and also said in a separate post: "It's about time" and shared an article about the guilty plea.
Former federal prosecutor Renato Mariotti, in a long Twitter thread on the guilty plea on Wednesday, said he thought it was "possible for Weisselberg to implicate the entities but not Trump, but it could be tricky."
"We may learn more when Weisselberg changes his plea, but I presume that Weisselberg will testify that Trump was hands off and relied on his judgment. Prosecutors would have to prove Trump's knowledge and intent beyond a reasonable doubt to convict him," Mariotti added.
Weisselberg and the Trump Organization were charged last year in what prosecutors described as a "sweeping and audacious" tax fraud scheme and accused the company of evading tax by paying senior executives off-the-books through fringe benefits.
Prosecutors have accused Weisselberg of receiving $1.7 million in off-the-books compensation, including school tuition, apartment rent and car payments for two Mercedes-Benz vehicles.
The former Trump Organization CFO is understood to have extensive knowledge of the company's operations and that knowledge has potentially immense value to prosecutors in their case against the company.
The Trump Organization has pleaded not guilty to the charges brought against it last year and jury selection for the trial is set to begin on October 24. If convicted, the company could face fines as well as other penalties.