What is a Wet Market? Calls For Crackdown on Selling Live Animals Amid Coronavirus Pandemic
Calls are coming to crack down on China's wet markets, which some suspect are the place where the coronavirus could have first infected humans.
Such markets are known for selling live animals such as cats, dogs, fish, rabbits and bats. Wet markets are named after the melting ice used to preserve the food, as well as the constant washing of the market floors when they are covered in blood from the animals.
The calls for a crackdown on these markets stem from China's decline in coronavirus cases over the past few days. Following this reported drop, many wet markets in the nation began to reopen, despite speculation that the virus jumped in these places from an animal to a person, leading to the worldwide pandemic. A number of animals have been identified as possible culprits, including bats and the endangered pangolin.
"The origin of the new coronavirus is the wildlife sold illegally in a Wuhan seafood market," said Gao Fu, director of China's Center for Disease Control and Prevention, at a press briefing in January.
A recent story in the Daily Mail details how these wet markets have reopened following the end of China's two-month lockdown.
"The markets have gone back to operating in exactly the same way as they did before coronavirus," a correspondent who visited a wet market in Dongguan, in southern China, told the Daily Mail. "The only difference is that security guards try to stop anyone taking pictures, which would never have happened before."
The correspondent added: "Everyone here believes the outbreak is over and there's nothing to worry about anymore. It's just a foreign problem as for as they are concerned."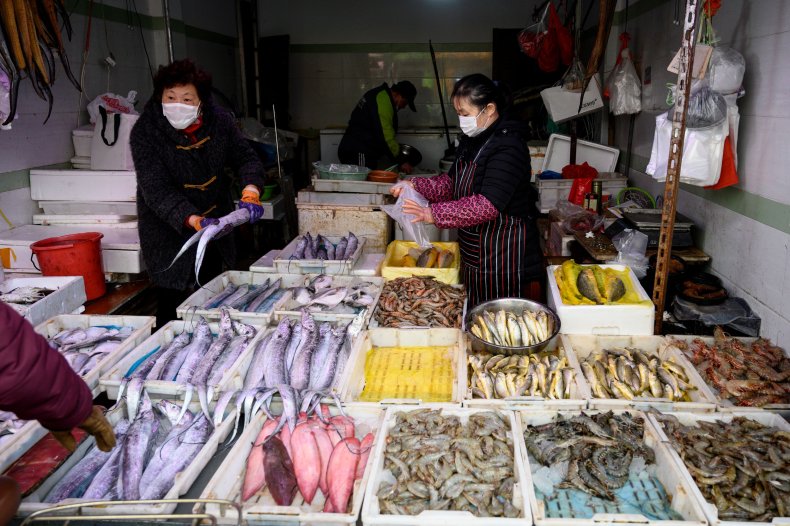 According to the Daily Mail, a medicine seller in a Dongguan market featured signs advertising bats, scorpions and other creatures as a healing remedy, while another market in Guilin, in southwest China, offered cats and dogs in cages, ready to be killed and sold.
One of the reasons the virus has been traced back to these wet markets is that a similar virus infection, severe acute respiratory syndrome (SARS), is also thought to have originated there.
Australian outlet News.com.au recently published a story citing a 2007 research paper from Clinical Microbiology Reviews. In the paper, the researchers studied the 2003 SARS outbreak and warned of a similar virus coming from the wet markets in China.
"Coronaviruses are well known to undergo genetic recombination, which may lead to new genotypes and outbreaks," the paper said. "The presence of a large reservoir of SARS-CoV-like viruses in horseshoe bats, together with the culture of eating exotic mammals in southern China, is a time bomb."
The novel coronavirus originated in Wuhan, China, possibly from these wet markets, and continues to spread rapidly across the world, infecting over 803,000 people, according to a Johns Hopkins University tracker. The virus has also caused over 39,000 deaths, while nearly 173,000 people have already recovered.