What Widespread Vaccinations Mean for Weddings, Concerts and Other Large Gatherings
If all goes according to plan, America could be on its way to a much more normal life come this fall, but it may take a little longer to return to a world with large gatherings, such as weddings and concerts.
President Joe Biden announced this week that the United States will have enough doses of the new coronavirus vaccine in May to inoculate everyone. It could take a few months after that to get at least 70 percent of the country fully inoculated, which is needed to reach herd immunity, and once that happens, schools can reopen and theaters can resume normal operations.
While it's possible that multiple hundreds of people could gather later this year for an indoor event, Dr. Daniel Havlichek, former chief of the College of Human Medicine's Infectious Diseases Division at Michigan State University, told Newsweek it'll likely depend on the event. Packing people into an arena for a basketball game, where fans yell and scream, when 30 percent of the population isn't vaccinated could be problematic.
The same could be true for a concert, where there's a lot of singing. But, he said a movie, play or an orchestra performance, where audience members are largely quiet, could likely be a safe form of entertainment.
As for multiple hundreds of people gathering for a wedding, Havlichek put it at the "edge" of him saying it would be okay because of the dancing, singing and close contact.
"With weddings, I think here is a bit to be determined but there's a lot of other things I think will be able to be opened up," Havlichek said.
Only 8 percent of Americans have received both doses of either the Pfizer or Moderna vaccine that are necessary to be fully protected. However, Biden's working on ramping up vaccination efforts and combined with the increase in supply, as well as the one-dose Johnson & Johnson vaccine, Dr. Anthony Fauci, director of the National Institute of Allergy and Infectious Diseases (NIAID), foresees America reaching herd immunity in the summer or early fall.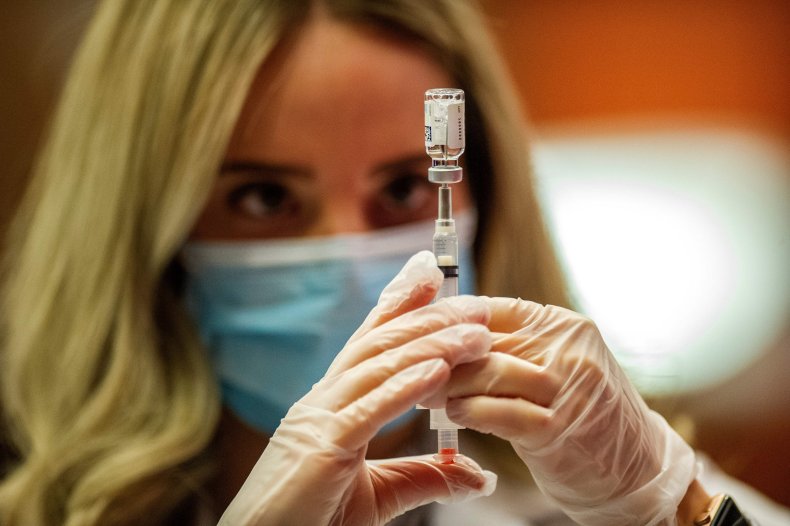 That level of immunity in America creates an opportunity for larger gatherings, but Jon Andrus, a professor of global health at the Milken Institute School of Public Health at George Washington University, said he would caution against throwing away face masks because of new variants. So far, vaccines have proven effective against both a variant that originated in the United Kingdom and a different, more concerning, strain from South Africa.
America's in a "race against the variants" and at this point, Andrus wasn't confident that people would be "dancing and hugging" at weddings before the end of the year.
Catherine Curley, interim director for Villanova's Center of Public Health, also wasn't confident that people would return to packed concert venues in 2021 because even if 70 to 90 percent of people are vaccinated, we won't be "out of the woods in terms of ridding us of COVID."
Complicating the effort to resume normal life are states dropping their mask mandates. Texas and Mississippi repealed their mask requirements, this week, a decision Biden characterized as "neanderthal thinking." A Centers for Disease Control and Prevention (CDC) report found masks were associated with a decrease in cases in states where they were mandated, and Fauci has warned against finding a false sense of security in vaccinations.
"Now is not the time to pull back on public health measures. It is entirely understandable—I feel it myself: You want to get back to some form of normality; that will come relatively soon," Fauci told WTOP on Friday. " But the better we do with suppressing the virus, the quicker we'll get back to normal."
Fauci added that there is "light at the end of the tunnel" and Vincent Racaniello, a professor of microbiology and immunology, felt optimistic about the future. If things go according to plan, Racaniello considers widespread vaccinations being a door to larger gatherings where adults aren't wearing masks and saw them taking place before the end of the year.
"If you had asked me this a year ago, I wouldn't have said that," Racaniello said. "Be positive, this is looking really good. People should continue masking and distancing but I think in another month or two we're going to be in a much better place."