The death of Senator John McCain left an empty Senate seat for Arizona, and until a special election is held in 2020, Governor Doug Ducey is responsible for picking McCain's successor. Among Ducey's choices is Cindy McCain, McCain's wife, whose appointment would be part of the practice called widow's succession.
Ducey has reserved this week as a time to remember and honor the senator, and won't be naming McCain's successor before his interment next Sunday. But that hasn't stopped the rumors from circulating about whom he might pick.
Since McCain went public with his diagnosis of glioblastoma, an aggressive form of brain cancer, the possibility of Cindy McCain taking over his Senate seat has been raised, and if appointed, she would join close to 50 other women throughout history who succeeded their husbands in office after their deaths.
What Is Widow Succession?
Widow succession was coined by political scientists after the practice had already begun, according to the House of Representatives' History, Art & Archives. The rationale behind a wife succeeding her husband in the event that he died while in office was that it would aid in a seamless transition and prevent political infighting over the seat. Until recently, widows were meant to hold the seat until a male successor could be appointed.
"For the parties, these women were placeholders," Debbie Walsh of the Center for American Women and Politics at Rutgers University told The Washington Post. "The idea was to get somebody in and then regroup, and keep intraparty fights from happening."
The practice could also apply to husbands whose wives died while serving in government, but as of 2014, The Washington Post noted that that had never happened.
Who Was the First Woman to Succeed Her Husband?
In 1923, Mae Nolan became the first woman to take over for her husband, John Nolan, after he died. During their marriage, Mae and John Nolan established such a close bond between family and work that their daughter, Corlis, was nicknamed the "Daughter of the House of Representatives" and was often present on the House floor.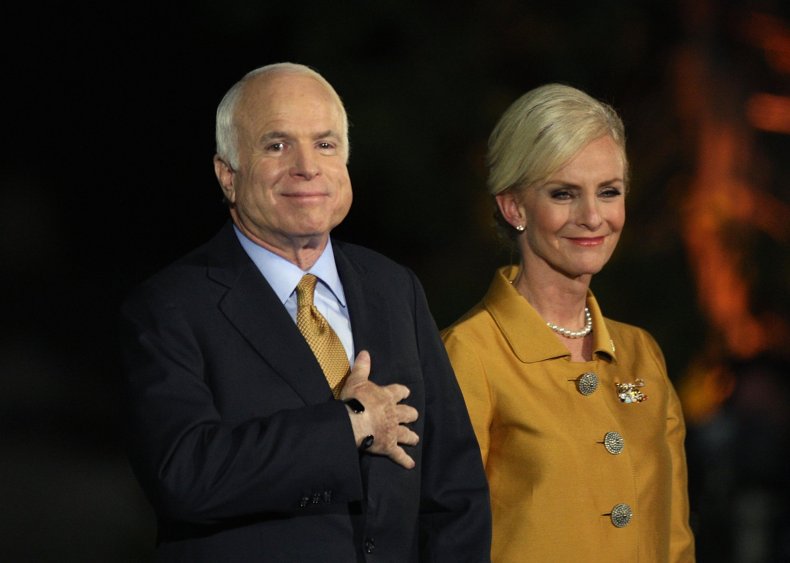 Representative John Nolan of California was elected to his sixth term in November 1922 but died a few weeks after the election, according to the House of Representatives' History, Art & Archives. Mae Nolan was nominated to take her husband's seat and after running a successful campaign, was elected as a Republican to serve out the remainder of the 67th Congress and to the full term of the 68th Congress.
She told the San Francisco Examiner that no one knew her husband's legislative agenda, which included a minimum wage bill, child labor laws and national education bills, better than she did.
"I come to Washington, not as a stranger, but as one among friends," she said in taking the oath of office. "I come with new responsibilities and in a new attitude, however. I cannot forget that my election was a tribute to the memory of my late husband…and in the belief and expectation that I, who was his close associate in his legislative work for many years, could best carry that work on in his place."
Mae Nolan became the first woman to chair a congressional committee and sought to minimize gender differences. "A capable woman is a better representative than an incapable man and vice versa," she said.
Given the demands of raising her daughter alone, Mae Nolan decided not to run for re-election.
How Many Times Has It Happened?
Through the start of the 113th Congress in 2013, 46 women had succeeded their husband's following their deaths. Of the women, 16 were Republicans and 30 were Democrats, and only eight of the women assumed Senate seats, beginning with Hattie Caraway in 1931.
Nellie Tayloe Ross was the first woman to serve as governor of a state, according to Britannica, and became governor of Wyoming in 1924 when she succeeded her late husband, who died just before the election.
Representative Doris Matsui of California was the woman most recently elected to succeed her husband, Representative Bob Matsui, after he died in 2005. She serves as co-chair of the Sustainable Energy and Environment Coalition.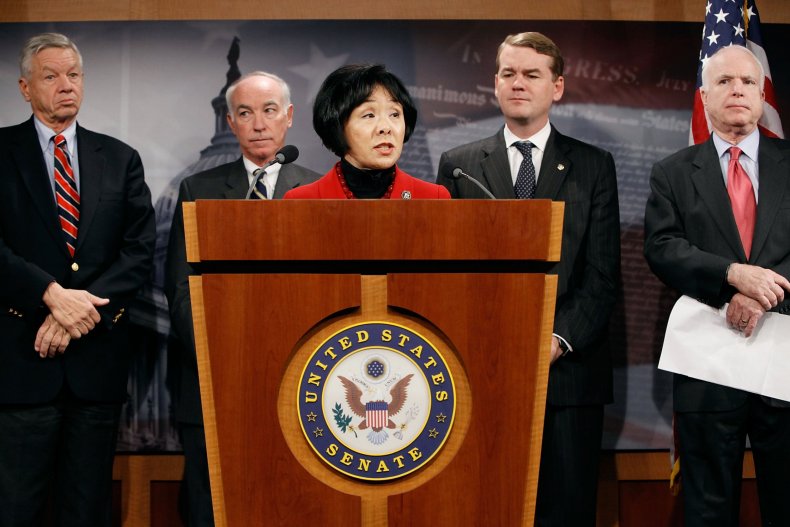 Who Was the Longest Serving Widow?
Edith Nourse Rogers of Massachusetts was first elected to the House of Representatives in 1925 after her husband, John Jacob Rogers, died of cancer.
She defeated her Republican opponent, with 13,086 votes to his 1,939, according to the House of Representatives archives.
She won the special election by 72 percent and went on to have a 35-year career in the House, becoming one of the longest-serving women in Congress. Edith Rogers worked 18-hour days and earned the title "the busiest woman on Capitol Hill." She served on a variety of committees, including the Foreign Affairs Committee and co-sponsored a bill with Democratic Senator Robert Wagner in 1939 to increase the quota of Jewish immigrants, who were fleeing the Nazi regime, to the U.S.
Edith Rogers was a staunch supporter of veterans and chaired the Veterans' Affairs Committee, championing the inclusion of women in the military and increasing benefits for veterans.
She died on September 10, 1960, three days before the primary.
If Cindy McCain is appointed to McCain's seat, she will serve until the special election in 2020, during which she can choose to run. The winner of the special election will hold the seat for the remaining two years of McCain's term. The seat will then be open for a full six-year term in 2022.