What WikiLeaks Docs Reveal About the Iran Threat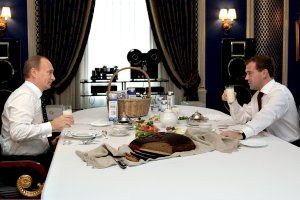 The WikiLeaks documents released so far paint a remarkable picture of just how closely the U.S. and Russia have been working on containing Iran. An extremely detailed exchange of views between top U.S. and Russian officials in Washington in February 2010 is described in detail.
At the meeting, the two sides compared notes on their latest intelligence on Iran and North Korea's missile capacities. The level of detail that Moscow and Washington were willing to share with each other is remarkable. The upshot of the exchange was that Russia's estimate is that Iran's latest efforts on improving the accuracy and range of its Shahab-3-class liquid-propellant missiles have produced a weapon that can reach targets in the Middle East and Southeastern Europe with an accuracy of several kilometers. However, given that they have only conventional warheads, these missiles cannot do substantial damage.
North Korea is in the same boat, able to field missiles with ranges of 1,300km, according to Vladimir Nazarov, deputy secretary of the Russian National Security Council. But both Iran and North Korea would face real technical difficulties in trying to make additional advances to increase the range of their systems. Nonetheless, they continue to pursue more sophisticated missile technology, pushing the U.S. and Russia into unprecedented levels of cooperation in order to thwart their efforts.
In terms that would send Cold Warriors into a spin, the WikiLeaks documents detail a presentation by Anatoliy Raikevich, first deputy department director of Russia's Federal Security Service, or FSB, in which he says the agency "must cooperate with the U.S. and European security services" and is delighted that such cooperation "has moved from information exchanges to operational activities." The FSB thinks U.S. services are "very professional and well prepared, and hopes cooperation will continue."
Few observers had any idea that the U.S.-Russia diplomatic "reset" went this deep. It's also fascinating that at the beginning both sides agreed that their national interests essentially coincided on Iran and North Korea (though the U.S. was less sure than the Russians that the Iranians had reached the technical limits of their missile-development capabilities).
Russia is key to any effort to contain the Iranian missile threat for many reasons, not the least of which is the fact that it serves as an unwilling middleman for the purchase of the sophisticated missile technology that both rogue nations seek. And there are also the FSB's efforts to "interdict Iranian and North Korean attempts to buy restricted technology, or to transship third party materials through Russia."
Raikevich frankly admits that "the FSB has information that Iran and North Korea both have programs to try to acquire Russian technology" and that "a key effort of the Iranian services is the company to company approach, whereby they use fake companies run by the Iranian security service to procure Russian goods." The FSB has set up sting companies to uncover Iranian activities, Raikevich says, and in the past two years the FSB has "cut off a good deal of the exports of such technology [as] measuring devices, high precision amplifiers, pressure indicators, various composite materials, and technology to create new missile engines."
Even Syria Is Worried
The WikiLeaks documents also highlight the changing attitudes toward Iran regionally. A Feb. 25 cable reports that in a meeting between U.S. Undersecretary of State William Burns and Turkish Undersecretary of Foreign Affairs Feridun Sinirlioglu, the Turkish diplomat revealed that even Syria, formerly a close ally of Tehran, is concerned by Iran's nuclear program. Sinirlioglu "acknowledged the countries of the region perceive Iran as a growing threat: 'Alarm bells are ringing even in Damascus.' " More, Sinirlioglu claimed that Turkey's diplomatic efforts to pull Syria out of Iran's orbit were gaining traction. "A shared hatred for Saddam [Hussein] had been the original impetus for [Syria and Iran's] unlikely alliance. Now their interests are diverging." Turkey also wants U.S. backing to press Israel to accept Turkish-brokered Israel-Syria proximity talks: "Sinirlioglu contended Israel's acceptance of Turkey as a mediator could break Syria free of Tehran's influence and further isolate Iran."
Talk of War
At a lunch between U.S. Secretary of Defense Robert Gates and French Minister of Defense Hervé Morin in Paris on Feb. 8, 2010, the two agreed that Russia had shifted its position on Iran, with Gates observing that "Tehran's persistent rejection of international proposals for negotiated solutions and its concealment of the Qom facility had changed the Russians' mind, even to the extent of persuading China not to veto further sanctions." Gates told Morin that he had "been blunt with Turkish Prime Minister [Recep Tayyip] Erdogan, telling him that if Iran developed nuclear weapons, we were facing two scenarios: nuclear proliferation in the Middle East, a regional war, or perhaps both."
In February of this year, Gates also met Mehmet Vecdi Gönül, Turkey's minister of national defense, and Gen. Ilker Basbug, the chief of the Turkish General Staff. Erdogan had previously said that concern over Iran's nuclear program was based on "rumors," but he was contradicted by Gönül, who acknowledged that Ankara is "concerned about the Iranian threat." Also, contrary to public statements by Turkish officials playing down the need for a Europe-wide missile defense shield, the Turks and the U.S. appeared to be horse-trading over possible sites for U.S. missile-defense radar stations on Turkish soil.
More alarmingly, the cable reports that Gates told the Turks that "there was a good chance Israelis would at some point decide that military action [against Iran] was necessary. As Turkey would inevitably be unable to sit out on any conflict in the region, it is important to be prepared militarily, and Ankara should not hesitate to acquire defensive systems, even as the international community works to stop Iran's efforts." We know that Gates later told Morin that he had been "blunt" with Turkish officials , but so far no U.S. official has so pointedly predicted that there is a "good chance" of an Israeli strike on Iran, let alone advised neighbors to stock up on defenses.