What Will Democrats Do Now? After Georgia Loss, Party Eyes State Elections and 2018 Races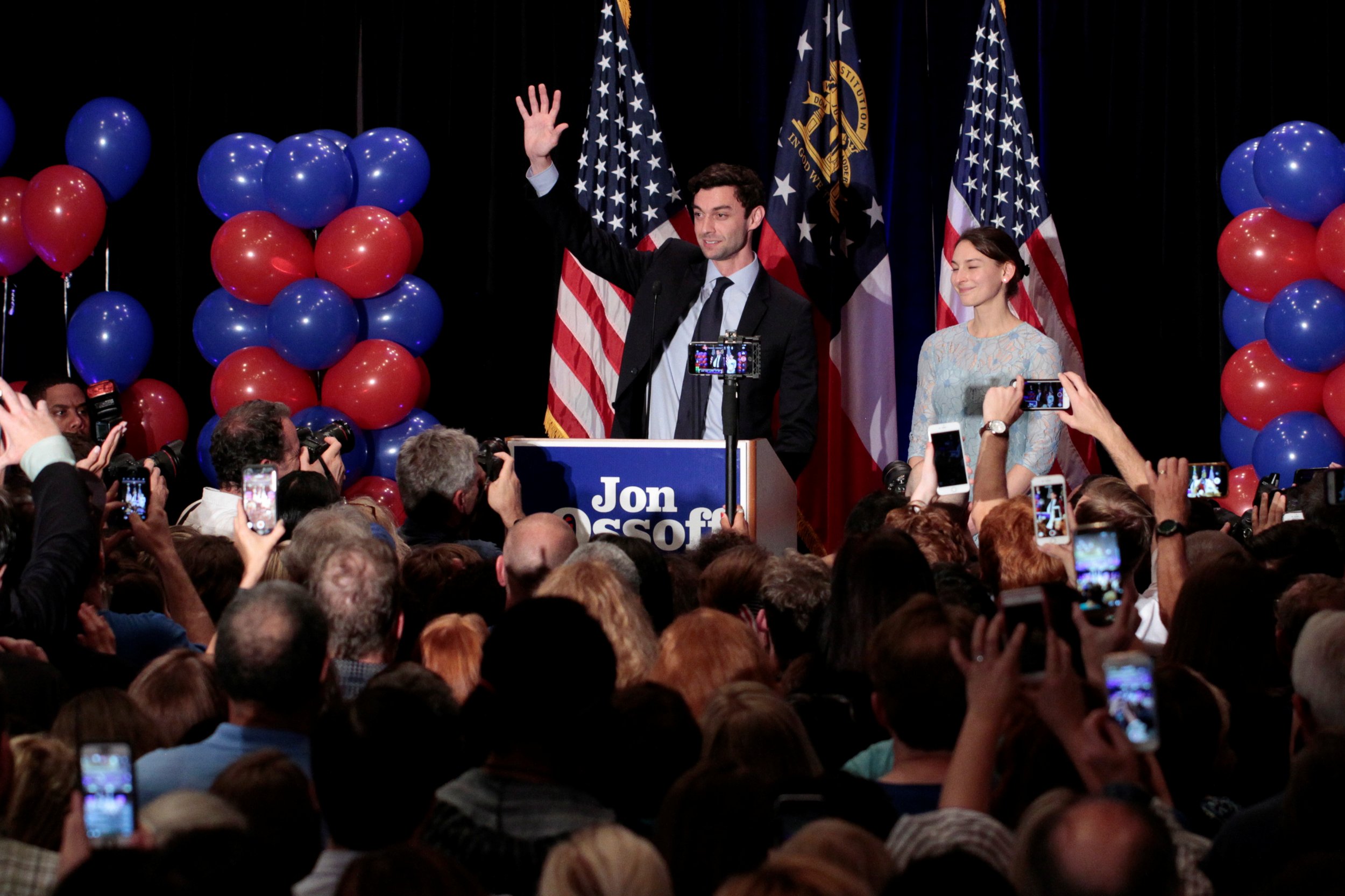 Democrat Jon Ossoff came up short in his much-heralded special election in Georgia's Sixth Congressional District, losing to Republican Karen Handel Tuesday by four percent of the vote.
While Ossoff's loss has led to some soul-searching in the Democratic party. Democrats are now focused on gubernatorial elections this fall in Virginia and New Jersey, searching for their first win of the year. Many Democrats also remain hopeful for the 2018 midterm elections. Although the party has lost special congressional elections this year in Kansas, Montana, Georgia and South Carolina, all have been in heavily Republican districts and by narrower margins than they had in 2016.
Democrats would have hailed an Ossoff victory as a rebuke of President Donald Trump in the staunchly Republican district. The minority party often picks up seats in midterm elections, and some Democrats predict the party may see a landslide election in 2018, similar to their 2006 midterm success. Democrats are eyeing 23 districts that elected Republicans to Congress despite voting for Hillary Clinton over Trump in November and are planning on making votes in support of the House's health care bill a key campaign issue. In the Senate, they are targeting Republican Senators Dean Heller of Nevada and Jeff Flake of Arizona, states with growing Latino populations.
But to win back the House, Democrats need to win districts similar to the won Ossoff lost: Suburban districts that are traditionally Republican but did not support Trump at the same level as previous Republican nominees. While Tom Price, now secretary of Health and Human Services, won the district by 23 points in 2016, Trump only won by 1.5 points.
Massachueets U.S. Rep. Seth Moulton, considered by many a rising star in the party, tweeted the election should serve as a "wake up call" for the party.
"We need a genuinely new message, a serious jobs plan that reaches all Americans, and a bigger tent not a smaller one," he tweeted. "Focus on the future."
The Georgia loss puts the Democrats at 0-4 in 2017. But with gubernatorial races in Virginia and New Jersey this fall, as well as a special Senate election in Alabama, it is unlikely the party will finish the year winless.
Virginia
In Virginia, Democratic Lieutenant Governor Ralph Northam handily defeated former Representative Tom Perriello in the primary, winning 56 percent of the vote to 44 percent for Perriello. Northam will face off against Ed Gillespie, the former chair of the Republican National Committee in the November general election.
Although it's expected to be a close race, Northam is the early favorite. Virginia has turned from a red state to a purple state to light blue in recent years. Both senators and the current governor, Terry McAuliffe, are Democrats, and President Barack Obama won the state twice. Clinton won the state in 2016.
Democrats also had a large turnout advantage in the June 13 primary. Just over 543,351 Democrats voted, while 366,274 Republicans voted. Recent polls from Quinnipiac University and The Washington Post give Northam a double-digit lead, while the most recent survey from Harper polling found the race tied.
New Jersey
Democratic nominee Phil Murphy is a strong favorite over Republican Lieutenant Governor Kim Guadagno in the November election. Murphy, a former ambassador to Germany and Goldman Sachs executive, won a comfortable victory in his June primary. New Jersey is also a blue state, with 493,940 votes in the Democratic primary compared to 241,393 in the Republican primary.
The race is colored by current Governor Chris Christie's wide unpopularity. Although Christie was comfortably re-elected in 2013, the Bridgegate scandal, his failed presidential bid and his subsequent support for Trump has made him the most unpopular governor ever surveyed by Quinnipiac University. Only 15 percent of New Jerseyans approve of his job performance. His lieutenant Guadagno faces an uphill battle in her campaign for governor.
Alabama
The election to fill Attorney General Jeff Session's seat in the Senate will be held in December. Trump won Alabama with 62 percent of the vote to 34 percent for Clinton, making this race a long shot, at best, for Democrats. Current Senator Luther Strange, appointed to fill the seat, is running against a field of Republicans including Representative Mo Brooks and former Chief Justice of the Alabama Supreme Court Roy Moore in the primary. Although a number of Democrats are running, including former U.S. attorney Doug Jones, the winner of the Republican primary is expected to cruise to victory in December.