What Will Robert Mueller Have to Do to Move Impeachment Needle for Democrats?
Members of Congress have been waiting for this moment for months—their time in the limelight to grill the man responsible for investigating President Donald Trump and Russian election interference.
But former special counsel Robert Mueller has made it crystal clear: he does not want to testify before Congress, and he has nothing further to add than what's laid out in his 448-page report. Lawmakers were forced to issue a subpoena in order to secure his testimony, and he's stated publicly that "the report is my testimony."
Still, Democrats view Wednesday's hearing as an opportunity to convince the American people and additional Democratic colleagues that it's time to open an impeachment inquiry into the president.
Democrats will be looking for Mueller to reiterate this basic point from his report and his public remarks: Trump could not be exonerated of obstruction of justice for attempting to thwart the special counsel probe on numerous occasions.
It will be a made-for-TV spectacle that Democrats have argued will educate the American people, even if new information is not revealed, because those who lack the detailed knowledge of what's in the Mueller report or those who did not read it will be offered the chance to hear from the author himself.
"Most people are not going to read the Mueller report. But a lot more will be watching the proceedings on TV, and we can make up their minds in that way," Democratic Representative Hank Johnson told Newsweek last month leading up to the congressional testimony of former Nixon White House counsel John Dean.
"The information has to be presented to them in a manner that is relatable," he added. Johnson has not formally endorsed the idea of an impeachment inquiry, but he was one of 95 Democrats who last week voted in support to move forward with Representative Al Green's articles of impeachment.
With only about 40 percent of House Democrats pushing for an inquiry, the party views this opportunity with Mueller as one of its last chances to drastically move the impeachment needle.
The former special counsel's words will need to be jarring enough to convince much of America and lawmakers, including House Speaker Nancy Pelosi. The California Democrat has reiterated that without the required votes in the GOP-controlled Senate, a House impeachment vote would be futile and undoubtedly place moderate and swing district Democrats in a politically precarious situation headed into 2020.
Republicans, on the other hand, will want Mueller to reiterate that then-candidate Trump's campaign did not criminally conspire with a foreign adversary, despite the report concluding that it did expect to benefit from Russian interference. Mueller has said there was insufficient evidence to support the criminal conspiracy allegations.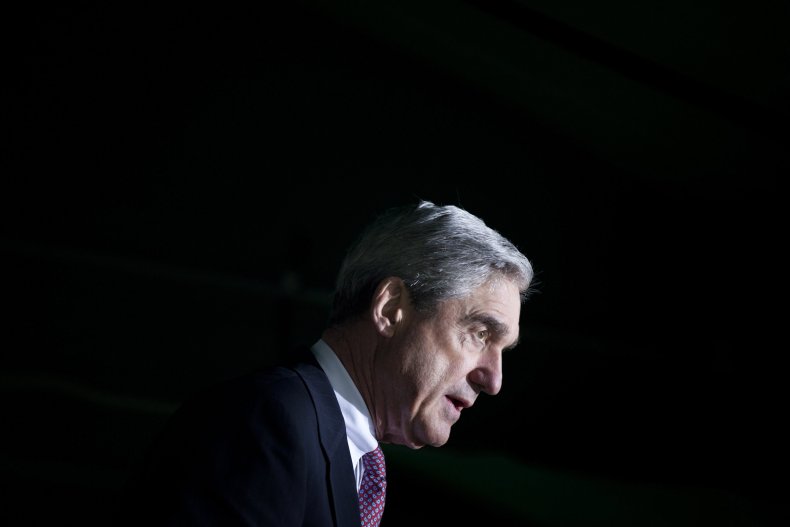 "The Judiciary [Committee] members have a good plan to force more info out of Mueller when he testifies before the committee," Representative Maxine Waters, the Democratic chairwoman of the House Financial Services Committee, wrote on Twitter Monday. "If this works, this will give us the ammunition we need to start impeachment immediately."
The Judiciary Committee reportedly conducted a mock hearing Tuesday in preparation for Mueller's 2.5-hour appearance before the panel. After his Judiciary Committee testimony, Mueller will appear for the same amount of time before the House Intelligence Committee.
"The [Mueller] report presents very substantial evidence that the president is guilty of high crimes and misdemeanors," Representative Jerrold Nadler, chairman of the Judiciary Committee, told Fox News over the weekend. "We have to let Mueller present those facts to the American people and then see where we go from there."
If the past few months are any indication, Mueller's testimony—even if he simply restates portions of his report—will lead to more undecided Democrats coming out in favor of an impeachment inquiry. A handful of instances acted as the main tipping points for Democrats to call for such an inquiry, a list that now tops out at around 90 members.
Two of those instances include the White House directing former White House counsel Don McGahn, a central figure in the Mueller report who is referenced hundreds of times, to defy a congressional subpoena for testimony and Mueller's rare on-camera statement in May. Despite revealing no new information, the former special counsel swayed many Democrats' opinions toward an impeachment inquiry.
In reading between the lines of his remarks, Democrats saw a message from Mueller: it is up to Congress to determine whether the president broke the law and should be impeached.
That determination, lawmakers said, was based on these statements by Mueller: "The Special Counsel's Office is part of the Department of Justice and, by regulation, it was bound by that Department policy. Charging the President with a crime was therefore not an option we could consider."
Pelsoi has so far managed to hold off the majority of her caucus from moving forward with impeachment, something that becomes increasingly difficult as more Democrats support an inquiry. House Democrats killed a forced impeachment vote by Democrat Al Green of Texas last week, with the majority of Democrats voting to table the measure indefinitely.