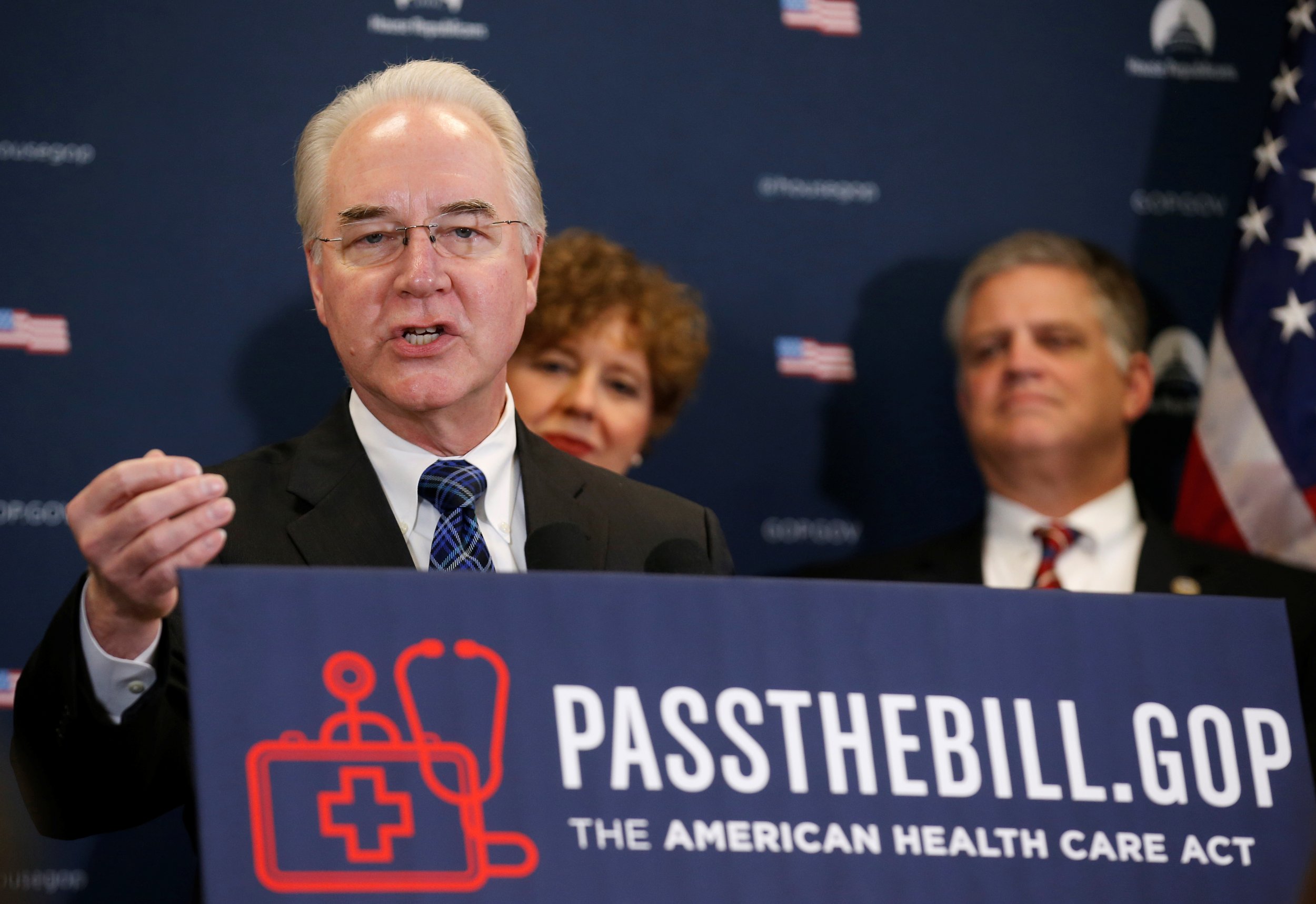 Republican efforts to overhaul the nation's health care laws moved forward Wednesday as the House Rules Committee voted on rules that will shape how lawmakers debate the bill Thursday on the floor. Republicans introduced the bill two weeks ago to replace former President Barack Obama's Affordable Care Act and President Donald Trump has urged Congress to pass the measure so he can sign it into law.
But what exactly is in it? Rules Committee Chairman Pete Sessions (R-Tex.) said the measure would allow Americans "to make their own health care decisions" by fostering a competitive insurance market that will expand health care coverage. Democrats and other critics argue it will leave Americans worse off. Confused? Here are five things to know about what's being called Trumpcare:
1. Fewer Americans would be insured—compared with Obamacare—if the new health care bill becomes law. Earlier this month, the Congressional Budget Office said it expected 24 million fewer people would have coverage in 10 years if Trumpcare became national policy. That would bring the share of Americans who are uninsured from 10 percent to 19 percent. In just the first year, 14 million more people would be without insurance. By 2026, 52 million would not have health insurance, compared to the 28 million people who wouldn't have coverage under Obamacare.
2. The government stands to lose money under Trumpcare. Federal revenue would drop by $592 billion by 2026 because the bill seeks to repeal the taxes on high-income Americans, hospitals and health insurers that helped pay for the Affordable Care Act.
3. Insurance premiums would go down for young people, but soar for older people. A 21-year-old earning $68,200 would pay about $1,450 for a year's worth of insurance premiums under Trumpcare compared with $5,100 under Obamacare. But a 64-year-old earning $26,500 would see the cost jump from $1,700 to $14,600, The Washington Post reported.
"Health insurance is very expensive. Many people need large subsidies to pay the premium. If you're poor, you will not have the money to pay the premium, leaving you without insurance," Gerard Anderson, professor of health policy and management at Johns Hopkins University School of Public Health, told Newsweek earlier this month.
4. Trumpcare will keep some of the more popular provisions passed by Obamacare, including maternity benefits, mandated coverage for Americans with pre-existing conditions and allowing people under the age of 27 to remain on their parents' plans.
5. The bill seeks to block more states from expanding Medicaid, the federal program that helps low-income Americans. States can also require Medicaid recipients to work, undergo job training or do community service to qualify for health care assistance.