What Will U.S. Forces Do With ISIS Prisoners?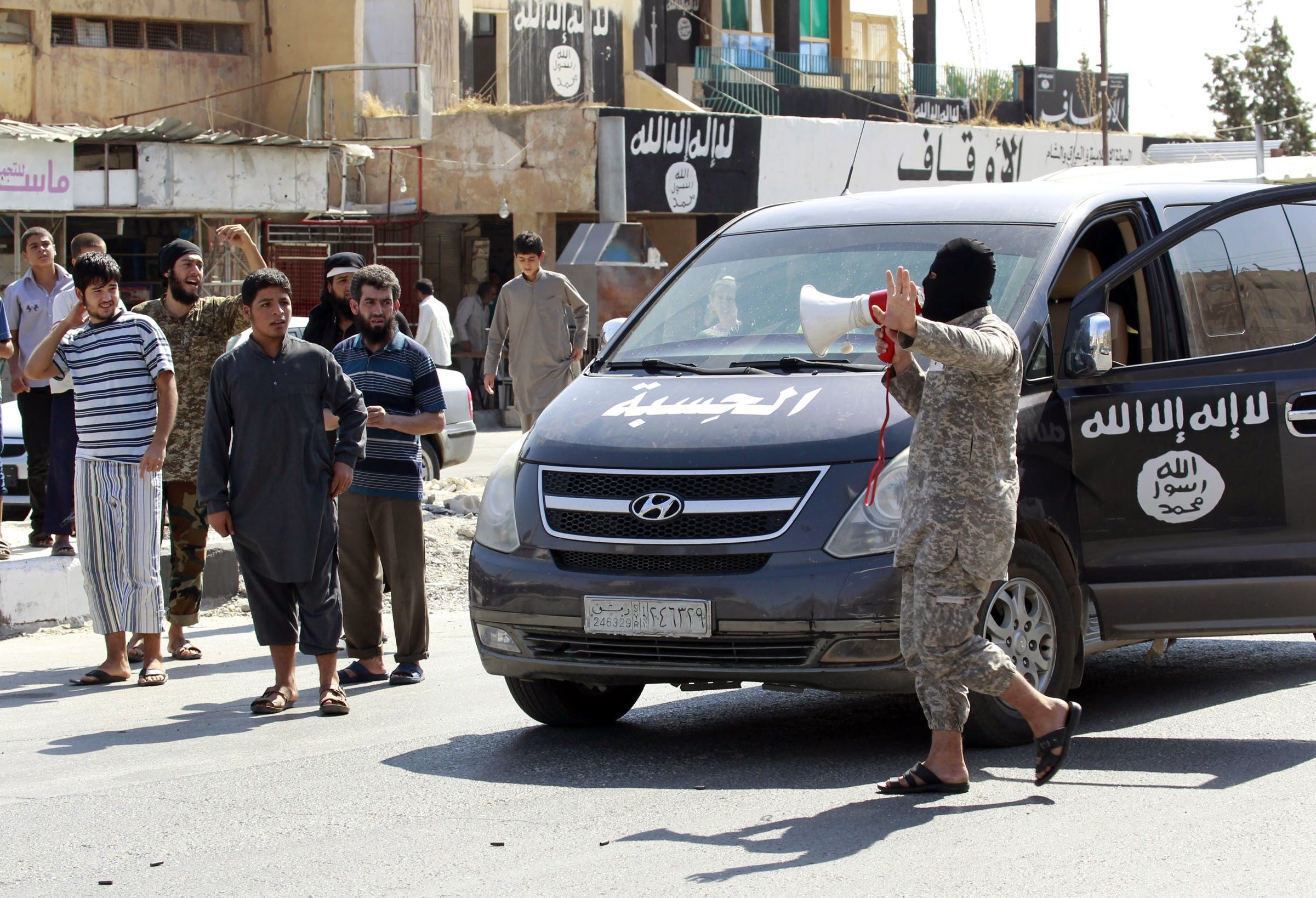 Washington's ramped up war on the Islamic State looks like an airliner lifting off the runway with mechanics still working on the wings.
Among the many unresolved issues in the campaign to "degrade and destroy" ISIS, as it's generally known, is what to do with prisoners in Iraq or Syria, should American special operators or U.S.-backed forces be lucky enough to capture any. How deeply will we be involved in interrogating them? Will we stand by as our "moderate" Syrian rebels and our Iraqis "partners," as the administration now calls them, go to work on prisoners? Where will detainees be held, and for how long? How will we enforce our newly embraced ban on torture, when the Iraqi security forces we're advising employ mutilation and murder as a matter of course?
To say all this is a work-in-progress is an understatement.
A Pentagon spokesman told Newsweek the Defense Department doesn't have a policy yet on how to handle Islamic State detainees. A CIA spokesman, declining to explain its interrogation role further, pointed me to early Obama administration legislation outlawing the spy agency's detention of prisoners. The FBI, which has been involved in recent terrorist renditions from Libya and Somalia, didn't respond to a request for guidance. The White House said that the Iraqis, those exemplars of humane prisoner treatment, are in charge of the war on the Islamic State.
"As you know, the Iraqis are the ones engaging [ISIS] on the ground, not us," White House National Security Council spokeswoman Caitlin Hayden told Newsweek. "Our forces are advising and assisting." Given that there are at least 1,600 U.S. military trainers and advisors in Iraq (and presumably more on the way), the statement was a model of obfuscation -- understandable, given the Obama administration's rapid u-turn on Iraq policy. Long reluctant to get deeply involved in Syria's civil war, the administration is fashioning policy as it goes along.
"It's a mess," said Dan O'Shea, a former counterinsurgency advisor to Marine Corps Gen. John Allen, appointed last week to lead the charge against the Islamic State. "Special operations peers are voicing frustrations that they've gotten limited to no guidance from higher authorities" for degrading, much less destroying ISIS, he told Newsweek. "If you can't hunt down, capture or interrogate IS captives, your options are limited. So for now, their hands are completely tied.
"The no-combat-boots on the ground policy theoretically means we can't do a snatch-and-grab or rescue operation in Syria or Iraq," added O'Shea, who was coordinator of the U.S. embassy's hostage working group in Baghdad from 2004 to 2006. "Yet we've admitted to the world that we did go in and try to rescue James Foley, so it's confusing and contradictory."
On Thursday, Congress moved quickly to authorize the training and arming of about 5,400 "moderate" Syrian rebels to battle the Islamic State. It's unclear if U.S. operators will accompany them into battle, as Sen. Kelly Ayotte, R-N.H., a member of the armed services committee, advocates. Another committee Republican, Sen. Jeff Sessions of Alabama, has argued that the Iraqi Security Forces (ISF) would be "more emboldened and encouraged" with U.S. troops accompanying them in the field.
Either case would almost certainly bring U.S. troops face-to-face with ISIS captives.
In the administration's rush to hammer together an international coalition for the campaign, having to articulate a detention and interrogation policy would seem to be an annoyance. Indeed, when U.S. special operators were rounding up al Qaeda suspects in the first few years following the Sept. 11, 2001 terrorist attacks, nobody seemed to care much about what tactics they used. The same may hold true now, following ISIS's beheadings of American journalist James Foley and others (with more promised).
But the infamous 2004 photographs that surfaced from Abu Ghraib, the Iraqi prison where American soldiers programmatically humiliated detainees, followed by revelations of secret CIA prisons, waterboarding and other "enhanced interrogation techniques," ended the free-for-all. The CIA's secret prisons were closed. Guantanamo became a blight, closed to new prisoners. Today, there's little U.S. appetite for holding ISIS prisoners.
Still, someone's got to interrogate them, and keep them off the battlefield. Current Defense Department policy, issued just last month, spells out the humane treatment of detainees by U.S. personnel. But it doesn't address what U.S. advisors should do when ISIS combatants are picked up by their Iraqi "partners," who are hardly more than murderous Shiite militias, many backed by Iran. What happens then?
"We have policies on detainees," a Defense Department official allowed to Newsweek on condition of anonymity, "but how they'll apply in this new war has yet to be determined."
"It's a real good question," said Rep. Adam Schiff, a California Democrat who has introduced legislation for a new Authorization for Military Force tailored for Syria. "I don't think there are any provisions in place at the moment, and I'm not sure you would see them set out [in a statute]. My guess," he said in an interview with Newsweek on Thursday, "is that we're going to avoid holding any prisoners ourselves, but when our Iraqi partners capture prisoners we'll want access to them for intelligence-gathering purposes."
The Iraqis "shouldn't be mistreating any prisoners," added Schiff, a senior member of the House Intelligence Committee. "But I think other than requesting access to them, we're not going to be in the detention business. I don't think we want to add to the population at Guantanamo or set up any new detention facilities."
But that still dodges the question of what to do when our "partners" capture an ISIS operative. U.S. advisors may well face a dilemma: Stay in the interrogation room to moderate Iraqi behavior, thus becoming complicit in at least some degree of torture--or leave, knowing it will get far worse.
The situation may require a sleight of hand, suggested Martin Reardon, a former high-ranking counterterrorism official in the FBI, which stopped cooperating with the CIA over torture decade ago.
"I don't think the American public is going to shed any tears for what happens to ISIS detainees in the hands of the Iraqis as long as the U.S. isn't a party to it," Reardon told Newsweek. "As long as our military role doesn't change on the ground, I don't see CENTCOM [the U.S. Central Command, which is in charge of the campaign] getting involved in interrogations anyway. Instead, [the CIA] will work with the Iraqis and other allied countries through intelligence channels to get what actionable intelligence from them that we can." If Europeans fighting with ISIS are captured, "the intelligence services from those countries will want to be involved," he added.
Likewise, the capture of anyone connected to the executions of U.S. citizens Foley or Steven Sotloff will trigger special handling procedures, Reardon said. "The administration will place a high priority on making sure nothing jeopardizes the opportunity to prosecute them because of third- country interrogations, so expect the FBI to get involved quickly."
But "those not deemed high value detainees will likely be at the mercy of the 'moderate' rebel forces we're supporting there," said Reardon, who ran counterterrorism operations in Pakistan, Jordan and Saudi Arabia before retiring in 2011 as head of the FBI's Terrorist Screening Operations Center. "As with those captured in Iraq, I don't think the American public will get overly concerned with what happens to them as long as the U.S. isn't directly involved."
Which concerns Laura Pitter, acting national security counsel for New York-based Human Rights Watch. "Some of the forces with which the U.S. is considering aligning itself," she noted, "have been implicated in torture and other abuses, as has the U.S. government during a previous administration, let's not forget. So the U.S. must make it very clear that it will not tolerate abuses by its own troops, nor cooperate with forces that are engaged in abuses, either [which] could make the US complicit in those abuses as well."
One way to avoid such messy situations, of course, would be to kill Islamic State leader Abu Bakr al-Baghdadi and his top lieutenants with the kind of drone strikes that the administration has routinely carried out against terrorist targets in Pakistan, Yemen and Somalia. The chances of capturing any of the the ISIS leaders in Syria and whisking them to a U.S. warship for interrogation, followed by arrest and prosecution, as U.S. special operators have done with other "high-value targets" in Libya and Somalia over the past year, however, seems unlikely. And finding such people will require capturing and interrogating their underlings. There could be blood.
Officials responsible for navigating U.S. operators through such minefields are palpably frustrated. James Clapper, the nation's highest ranking spy, seemed to embody the weariness of the U.S. intelligence community in a Thursday speech. "We are expected to keep the nation safe and provide exquisite, high-fidelity, timely, accurate, anticipatory, and relevant intelligence, and do that in such a manner that there is no risk, and there is no embarrassment to anyone if what we're doing is publicly revealed," Clapper said at a Washington conference. There can't be "even a scintilla of jeopardy to anyone's civil liberties and privacy, whether U.S. persons or foreign persons," he said.
The audience chuckled with an edge of bitterness.
The spies have a phrase for "this new approach to intelligence," he said: "immaculate collection."