What World Is Saying About US Election as Both Sides Indicate They Won
The 2020 presidential election is dragging through a second day as votes are still being counted and both sides have indicated they won the race, developments drawing global attention from allies and adversaries alike.
President Donald Trump has declared victory, vowing to take the contest to the Supreme Court in an attempt to halt the counting of votes he has alleged may have been illegally cast in states in which he was ahead on election night, while insisting that the counting continue in states in which he was behind.
His rival, former Vice President Joe Biden, has also said he believed himself the winner of the bout but wants to wait until all ballots were counted before making a formal declaration of victory.
Most media outlets agree that the election now comes down to several key states. With no definite end in sight, however, the world watches, captivated, yet with many hesitant to comment on the uncertain situation.
China
Chinese Foreign Ministry spokesperson Wang Wenbin took "notice that the U.S. presidential election is still ongoing, and the result hasn't come out yet" during a regular press conference Wednesday.
Asked if he had a preference as to the outcome, Wang reiterated his country's neutrality despite a sharp deterioration in relations between Washington and Beijing under the Trump administration.
"The U.S. presidential election is the country's internal affair," he told reporters. "China doesn't take a position on it."
France
The French Foreign Ministry held a press conference Wednesday in which the spokesperson was asked what Paris had hoped to see for U.S.-Europe ties from whomever won the White House. The spokesperson did not directly address the race, but instead emphasized that there would be no change in French and European efforts to shore up this partnership, which has suffered under Trump's "American First" approach.
"We have no comments to make on the results of the U.S. general election. It is up to the relevant U.S. institutions to announce the results," the spokesperson said. "The trans-Atlantic relationship with the United States is, and will remain, a priority for France and for Europeans."
He cited French Foreign Affairs Jean-Yves Le Drian, who "underscored during his speech at the GLOBSEC Bratislava Forum, we are determined to continue efforts to boost European capacity and action, which is the basis for a strengthened and long-term trans-Atlantic relationship."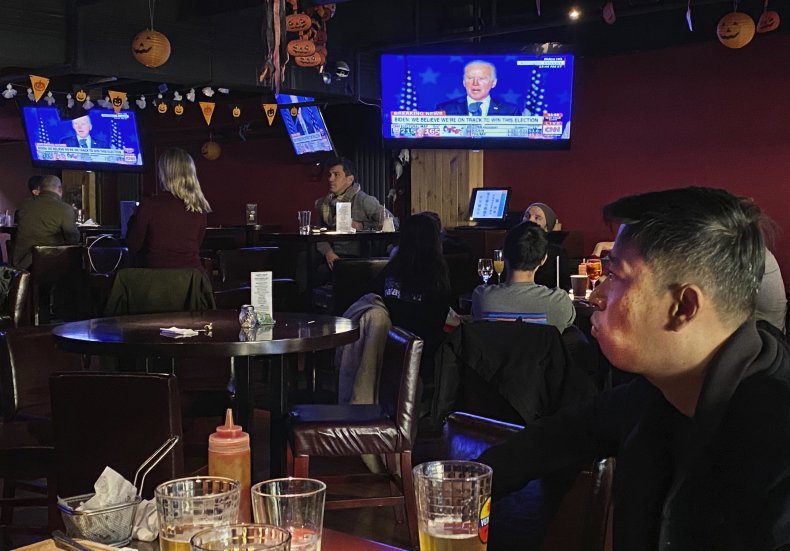 Germany
In a series of tweets published Wednesday, German Foreign Minister Heiko Maas addressed some of the challenges facing a historic U.S. vote, which has seen fluctuations in momentum between the two candidates.
"From what we've seen so far, it's a very close race between President Trump and Joe Biden. In many places, votes are still being counted, and the postal votes are still pending," Maas wrote. "It would be premature to comment on the election today."
But with the contenders at odds, he urged they reestablish trust within a divided nation.
"The voter turnout in the USA was historically high in this election - unfortunately also the polarization," Maas said. "This is why it is important that all politicians who reach people directly establish trust in the electoral process and the results."
He expressed hope for a stable outcome.
"We have great respect for the way America has approached the challenges associated with organizing and running elections in this vast country in the coronavirus pandemic," Maas said. "We are now waiting for the elections to be properly completed."
Democracy, he believed, would triumph.
"America is a strong democracy, which with its 'checks and balances' has proven several times in the past that it works even in difficult situations and that it can clarify critical questions in accordance with democratic principles," Mass said.
Iran
Iranian President Hassan Rouhani mentioned the U.S. elections during his cabinet meeting Wednesday. He noted that, although he wouldn't predicate his country's policies on how the results of the race, there may very well be something important at stake for Tehran.
"The government's decisions are based on domestic production, and mostly non-oil exports and the way ministries interact with each other," Rouhani said. "Therefore, we do not care who is elected in the United States. Of course, the recent U.S. election is instructive in many ways."
The Trump administration's abandonment of the multilateral Iran nuclear deal meant crushing sanctions for the Islamic Republic, which seeks their immediate removal.
"It is important for us that the United States returns to the law and all international and multilateral treaties, and respects Iran," the Iranian leader said. "We want to be respected instead of sanctions. If we are respected instead of illegal and oppressive sanctions, then things will be different, and if honor and respect replace threats, and enforcing the law replaces breaking one's promise, things will be different."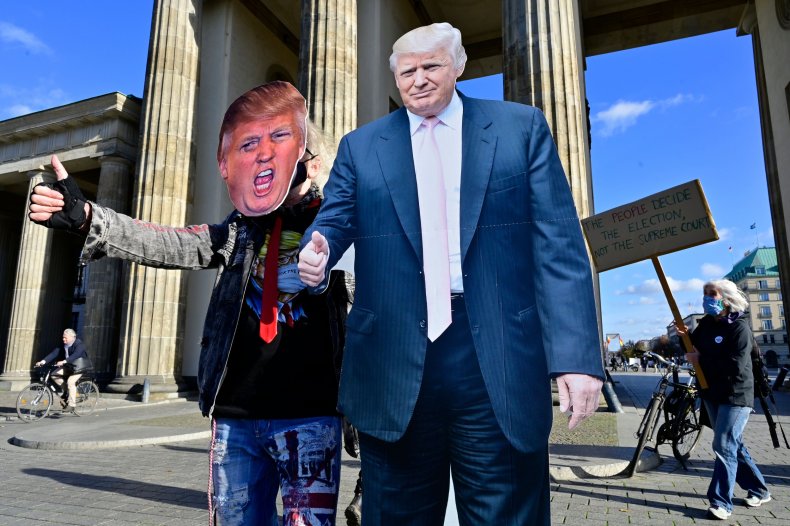 Russia
Officials in Russia, like many other nations, have repeatedly stressed their neutrality in the U.S. election—especially after being accused by Democrats of attempting to aid a Trump victory in 2016. Aware of the potential impact of the race on Washington's foreign policy, however, a senior Russian lawmaker weighed in Wednesday to comment on the situation, even as no clear winner emerged.
"The show called 'US Presidential Election' is not over, it continues, although Donald Trump has already announced his victory and urged to stop counting," Leonid Slutsky, chairman of the foreign affairs committee the lower house of Russia's parliament, wrote on Facebook. "However, his opponent, Democrat Joe Biden, also claimed full confidence in becoming the next White House owner."
He said the situation remained fluid.
"The situation is still unpredictable. Intrigue in the US presidential election remained in five out of six states where votes were not counted," Slutsky said. "The winning choice of the electoral race is complicated by early and, this time by large-scale mail voting and the final sum could take some time."
As for strategy, he noted the challenges Moscow faced moving forward with either candidate, and announced that a parliamentary session would be held later this month to discuss future strategy toward Washington.
"The anti-Russian card has been used widely in the US domestic policy field and regardless of who sits in the White House in the next four years, it will inevitably be used again," he said. "Still, we remain hopeful for common sense and healthy pragmatism."
United Kingdom
In the United Kingdom, with an administration that aligned itself closely with the Trump administration, officials were noticeably cautious in their remarks as the election process unfolded.
While Prime Minister Boris Johnson refused to comment altogether, even after Trump's calls to stop the vote counting, Foreign Minister Dominic Raab said the pair would remain close allies no matter what outcome a close, anxious race produced.
"I'm confident there is an excellent free trade deal to be done," Raab told Sky News on Wednesday. "There's been a lot of progress so far."
But even Raab, an ardent conservative well-known for his caustic remarks, was circumspect in his comments.
"Let's wait and see what the outcome is," he said. "There is obviously a significant amount of uncertainty. It is much closer than many had expected. But this is for the American people to decide, and we're confident in the American institutions that will produce a result."
He said he hoped the two countries could build upon a "bedrock" of solid relations to build an "even stronger" partnership, regardless of the result.