What the World's Top Chefs Are Cooking Up at Home During the Pandemic
"First we eat, then we do everything else," said the great food writer M.F.K. Fisher. The rub, though, is that during the great plague of 2020 there really isn't much to do except cook and eat and drink good wine—provided we have all that. When you're locked in your home, eating well might be a challenge. So we turned to chefs and food writers around the world to see what they're cooking up and what tips they might have about the best way to stock our kitchens and pantries for optimum deliciousness.
Find out what this international coterie of chefs and food writers—from Tbilisi, Georgia, to Rome to New York City—are cooking up these days. And if you want to take your cooking to the next level—we've all got the time, after all—Italian superchef Massimo Bottura is offering free cooking classes via his Instagram profile.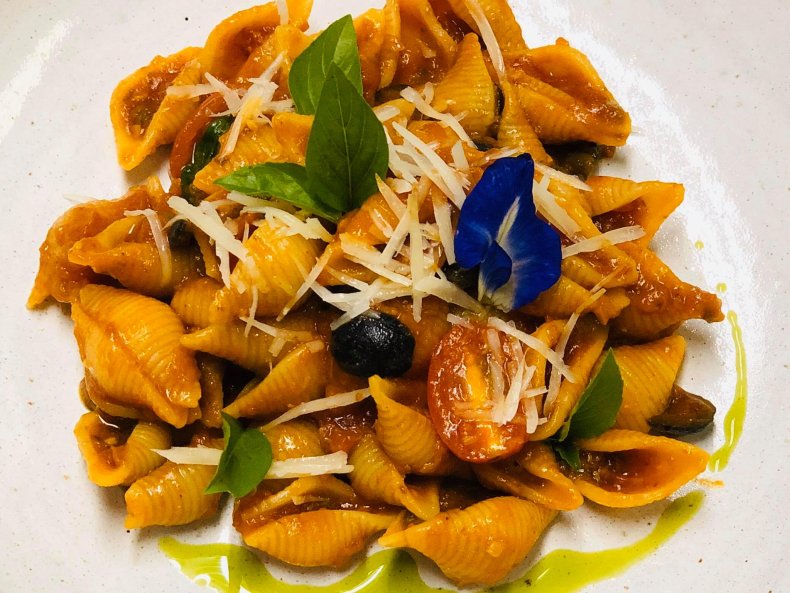 Angela Grace Brown
Executive chef at Raffles Grand Hotel d'Angkor in Siem Reap, Cambodia
"I've been eating too much pasta because there's a pretty long shelf life—mixing up the recipes from Asian oyster sauce, garlic and chili all the way to lemon and olive oil. Then making cold pasta salads with cold cuts and cheese.
"And stocking copious amounts of chocolate is a must. I like melting it and eating it with a local banana. If there aren't any fresh bananas around, I'll use a dried banana. As long as the chocolate doesn't run out, I should be OK."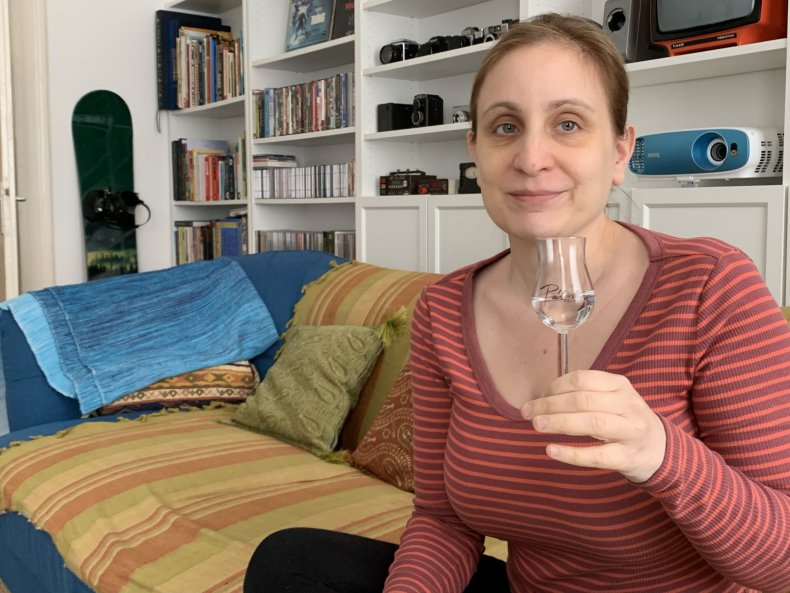 Alia Akkam
Budapest-based writer and author of the forthcoming book Behind the Bar: 50 Cocktail Recipes From the World's Most Iconic Hotels
"Admittedly, I'm not much of a cook. I normally rely on restaurants to feed and nurture me, so in the home kitchen I need to keep things as simple and fuss-free as possible. I have a new appreciation for the Asian grocery store, where I snagged things like canned fava beans, couscous and dal makhani. The bio/organic section at DM, the German drugstore chain, is pleasantly surprising, it turns out, stocked with whole wheat farfalle, tomato-cranberry soup and hazelnut butter.
"I don't usually drink at home at either, but sipping on Pálinka, the robust Hungarian fruit brandy—apricot is my favorite flavor—feels essential right now, a searing jolt of comfort and clarity during such a bewilderingly sad, uncertain time."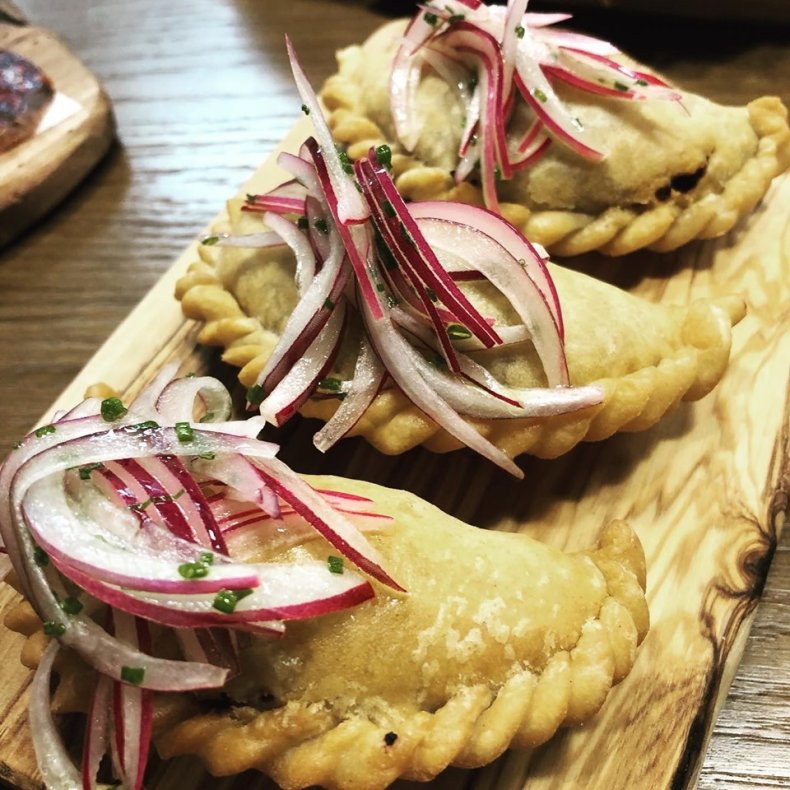 Juan Carlos Ferrando
Executive chef at Juan Carlos Ferrando in Logroño, Spain
"The kitchen is a good retreat to have so much free time. I try to eat healthy food and have my family do it too. We had coffee and toast with olive oil for breakfast, which as you know is a jewel of our Mediterranean food.
"Meals at lunchtime are more forceful. There is no shortage of grilled, cooked or roasted veggies on a daily basis. We will be inactive for several days and have to control the calories we consume. We accompany these vegetables with meat or fish. For today, we have zucchini stuffed with beef au gratin with mozzarella and tomato and onion salad. In the afternoon, fruit and yogurt.
"Dinners are more informal, usually a little cheese, sausages—Iberian ham, for example, which is another of our jewels—or some salad. Tonight's dinner will be a salad of cod, avocado, anchovies, lettuce and some fresh cheese.
"One tip: To have more delicious results, I plan what I´m going to eat for lunch and dinner the next day. This allows me to marinate and do resting processes that bring more flavor and better textures.
"For example, if tomorrow I'm going to eat roast chicken with cherry tomato salad, my advice is to put the chicken in Tupperware, cover it with water and add your favorite spices, along with a few slices of lemon, orange, garlic and salt. The next day, I drain the chicken; stuff it with garlic, lemon and orange; and roast it in the usual way. I cut the tomatoes in half and season them with olive oil, oregano, garlic and lemon zest to use as a garnish for the roast chicken."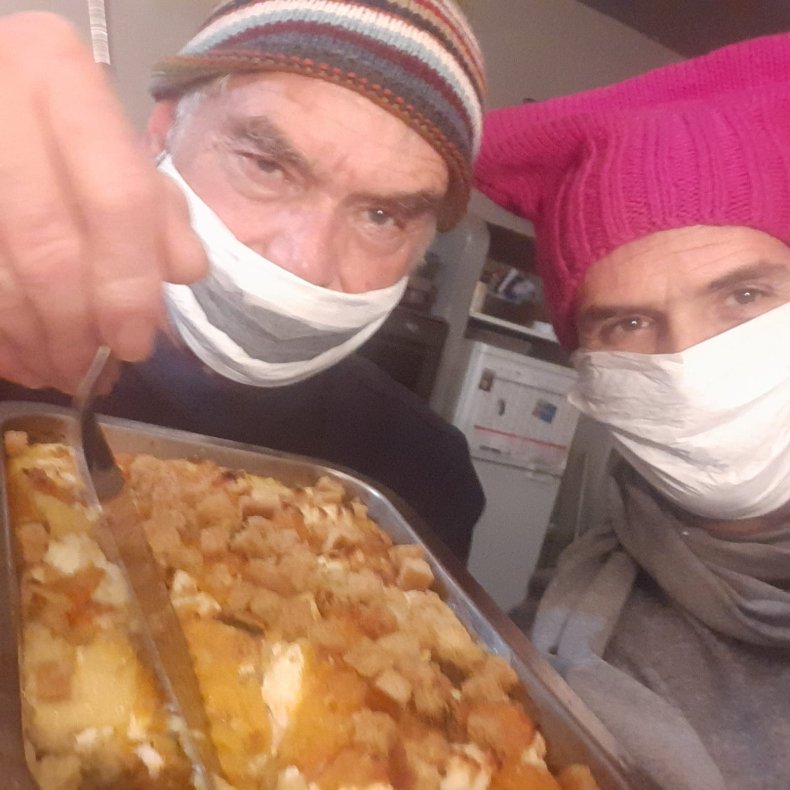 Pancho Garrison
Chef/owner of La Grotta dei Germogli in Calcata, Italy
"We've been eating quite well. My partner, Mario, has been participating pretty actively in the kitchen. We have some great organic vegetables. There is a group of Senegalese immigrants in the nearby town of Bracciano that grow and deliver to Calcata once a week. We place the exact order on WhatsApp, and they deliver each order in a separate case.
"We haven't stocked up, because we are permitted to shop here in Italy. However, the rules have gotten more restrictive, and we are expected to do our shopping in Calcata. That means no variety of choice.
"That said, here are some of our meals in the time of the coronavirus: classic creamy polenta with simple, outrageous tomato sauce. Grilled polenta with refried black beans à la Tex-Mex. Soft polenta mixed with baked squash, or maybe pumpkin, and ricotta and baked together.... Absolutely delicious carciofi alla Romana—Roman-style artichokes. Pasta in the oven with ricotta, spinach, kale and mozzarella.
"Things I think are essential to stock in your kitchen: some decent and some good wines, satisfying coffee, good olive oil and frying oil, rice and pastas, walnuts and all nuts and seeds and dried fruits, enough oranges and lemons to drink a healthy glass of juice a day. And [it's a] good time to implement an apple a day. And last but not least, a stash of magic mushrooms to make the best of the corona experience, and to help put death in an awesome perspective.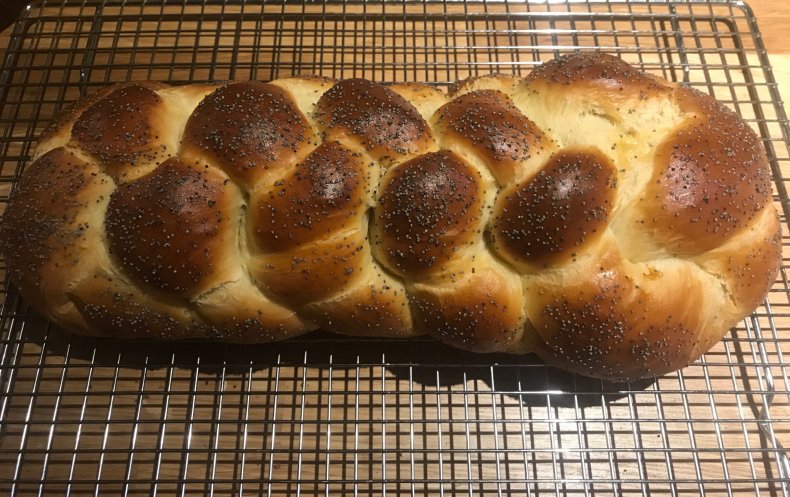 New York City-based writer for The Wall Street Journal, Saveur, The New York Times and Food & Wine
"My husband and I have hunkered down in our home in upstate New York with what probably amounts to a month's worth of groceries, maybe more. We're basically sheltering in place and don't plan to go to the store again if we can help it. We both realize that feasting like a king and queen is not sustainable, but we are eating the perishable foods first for obvious reasons.
"On night one, my husband roasted a chicken with potatoes underneath to catch the drippings, and we had a cucumber and tomato salad with za'atar, lemon juice and olive oil, and a bottle of wine. The carcass went into the freezer, to be repurposed later into broth. On night two, we made pasta with red sauce and meatballs.
"Tonight, my husband made a nourishing soup from chickpeas he had soaked the night before, a turkey stock he made from a carcass we had frozen after Thanksgiving, chopped cabbage and spices. This meal is representative of what I think our future dinners will look like. The soup is made from affordable pantry superstars: cabbage, an incredibly versatile vegetable that lasts forever in the fridge or in a cool pantry or root cellar, and can be eaten fresh, pickled or in any number of cooked preparations; dried beans, which are shelf-stable, will feed you for days, take up little space and are incredibly healthy; and broth, which, from a box, a powder or made from scratch, is an essential building block for a flavorful meal.
"Because the fridge and freezer can only hold so much food, we are leaning heavily on our pantry to sustain us for the next several weeks. When shopping with this in mind, we were thinking about what we needed for breakfast, lunch and dinner, and having enough food to feed us at each meal was the guiding principle. For instance, breakfast items we purchased include oat milk, muesli, oats, maple syrup, nuts and dried fruit. For lunch and dinner, dried and canned beans, canned fish, bags of rice, pasta, and canned tomatoes and vegetables provide the backbone of our supply. We also made sure to buy treats so that meals don't start to get joyless."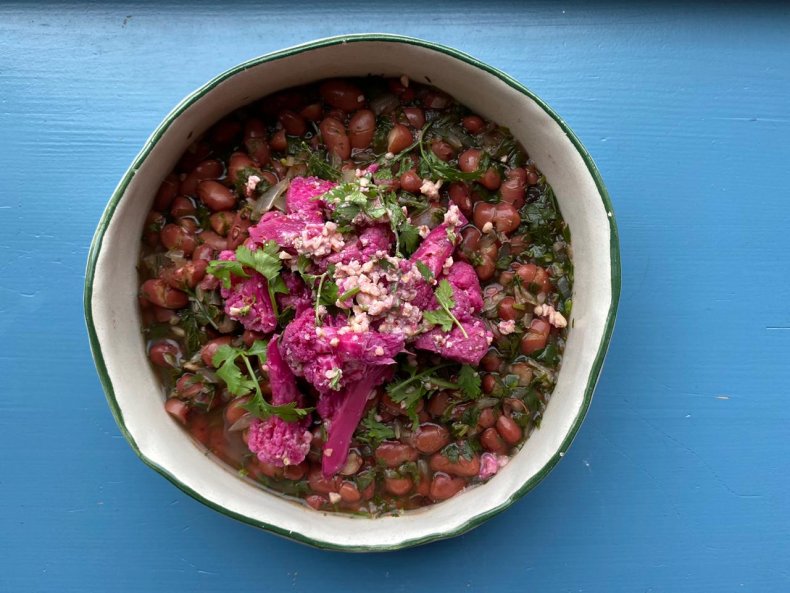 Meri Gubeladze
Chef/owner of Shavi Lomi in Tbilisi, Georgia
"One good thing this virus has brought is family getting together, and family members are very happy that I am finally cooking at home, 'cause usually I don't.
"As for the menu, it's easy comfort food. Eggs with sulguni cheese or vegetables in the morning, or Russian pancakes. Then it's some kind of soup for lunch, like hot yogurt soup with barley, cilantro and mint. For dinner there was pasta yesterday, with artichokes, mushrooms and spinach. The day before was coconut chicken with rice. Another good thing is that my son can't indulge in his usual takeout junk food habit."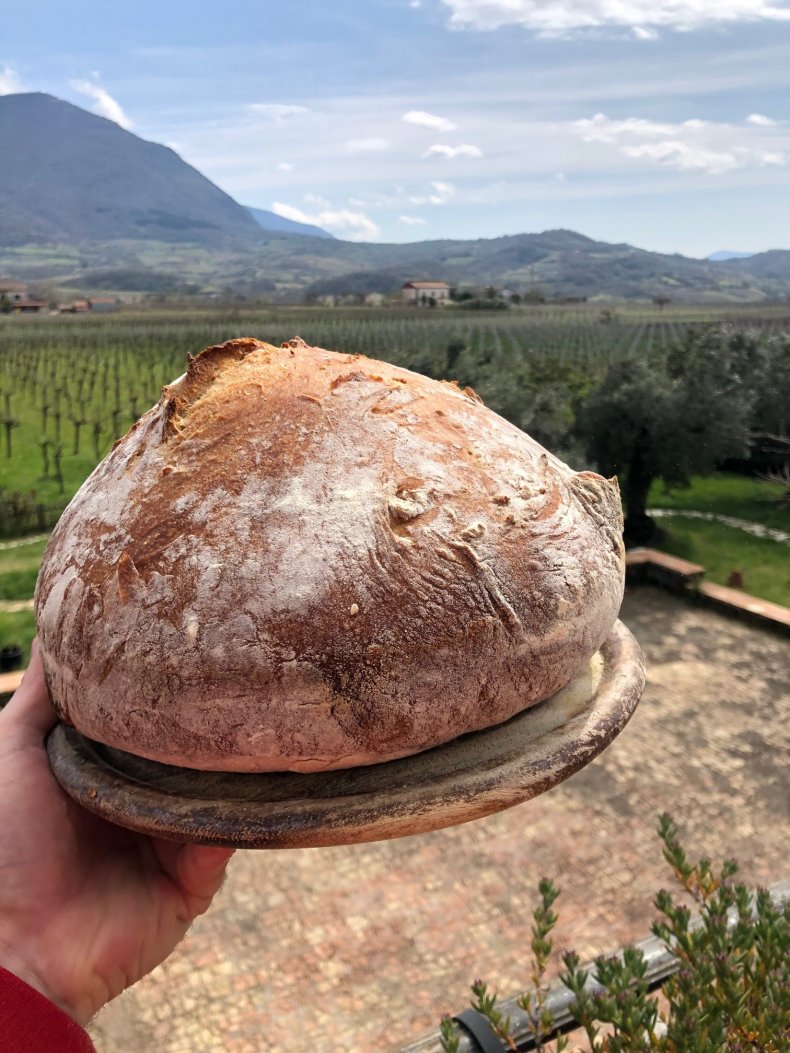 Guiseppe Iannotti
Executive chef at Michelin-starred Kresios in Telese Terme, Italy
"For a chef, staying away from his kitchen is always somewhat stressful. The only anti-stress is to continue doing it at home for his loved ones. This is what is happening to me during these days, since I will spend my quarantine with my family: my mom, my father and my brother. This is the time to homemade pasta with the typical Sunday's ragù, or biscuits.
"Quarantine is the right time to knead, to do things you normally don't do, just because you have limited time. Long cooking, taking care of sourdough to make bread, or milk kefir for yogurt every morning rather than kombucha. Each of us must help each other not to panic; we are lucky to be forced to sit on a sofa and not to fight in war, even if this circumstance might seem so.
"We must not lose the habit of taking care of ourselves and our meals. Maybe it's now time to make more meals, and therefore we are busy producing for breakfast, lunch, snack and dinner. We sit the table as if it were a day of celebration or if we were waiting for a guest.
"The food shopping list is certainly composed of flour, eggs, tomato sauce, peeled tomatoes, pieces of meat such as roast beef or chicken, sugar, honey. For sourdough, unpasteurized grape juice or honey would be enough to activate it. For kombucha and kefir you can buy them on the internet."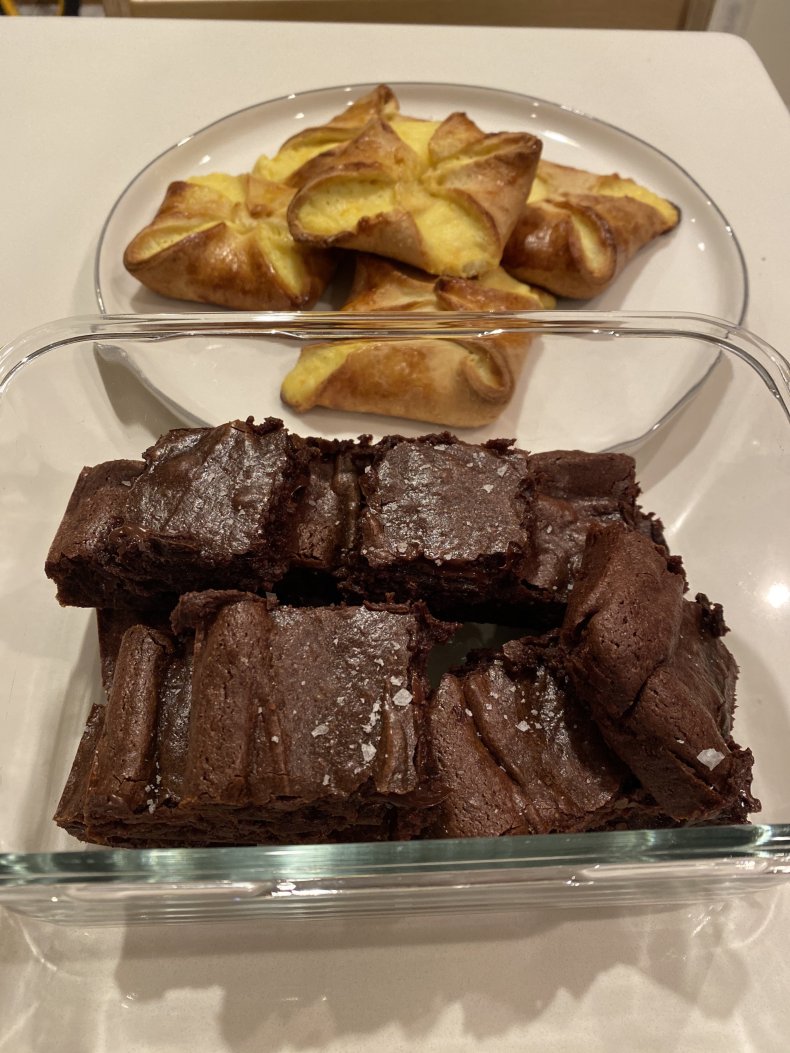 Amanda Kludt
New York-based editor-in-chief, Eater
"The one positive of being home more is we can cook nightly instead of cooking all at once for the week on Sunday. So there can be more variety in our meals. Our grocery stores are still mostly well stocked, so we haven't had to change the types of foods we eat. That said, I have been baking a lot more as a way to keep myself and my kids entertained. I've been spending a lot of time with Maida Heatter's recipes and especially recommend her Budapest coffee cake. I also love Melissa Clark's olive oil sea salt brownies."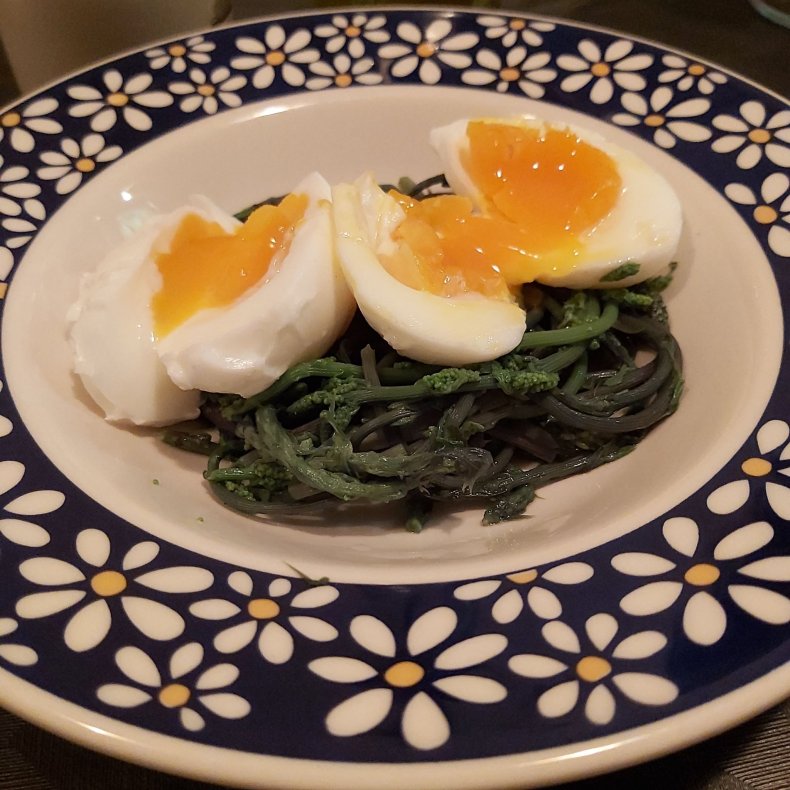 Marija Papak
Chef/owner of Marija's House in Dubrovnik, Croatia
"My husband, Zlatko, brought home a whole pig from Slavonia, in northeastern Croatia, a few weeks ago. So, needless to say, we now have a bounty of sausages, lard, bacon and other delicious pork. Just today we cooked steak on an open fire on our terrace, with cauliflower. And, because this is Dalmatia, pršut, or prosciutto, is part of our daily diet. Cured meat is a good thing to always have because it lasts a long time.
"We've also been eating a lot of blitva, or Swiss chard, because it's a typical southern Dalmatian ingredient and it's good for immunity. I'm also taking advantage of hyper-seasonal vegetables. Currently, it's wild asparagus season, so I'll go forage asparagus around Dubrovnik."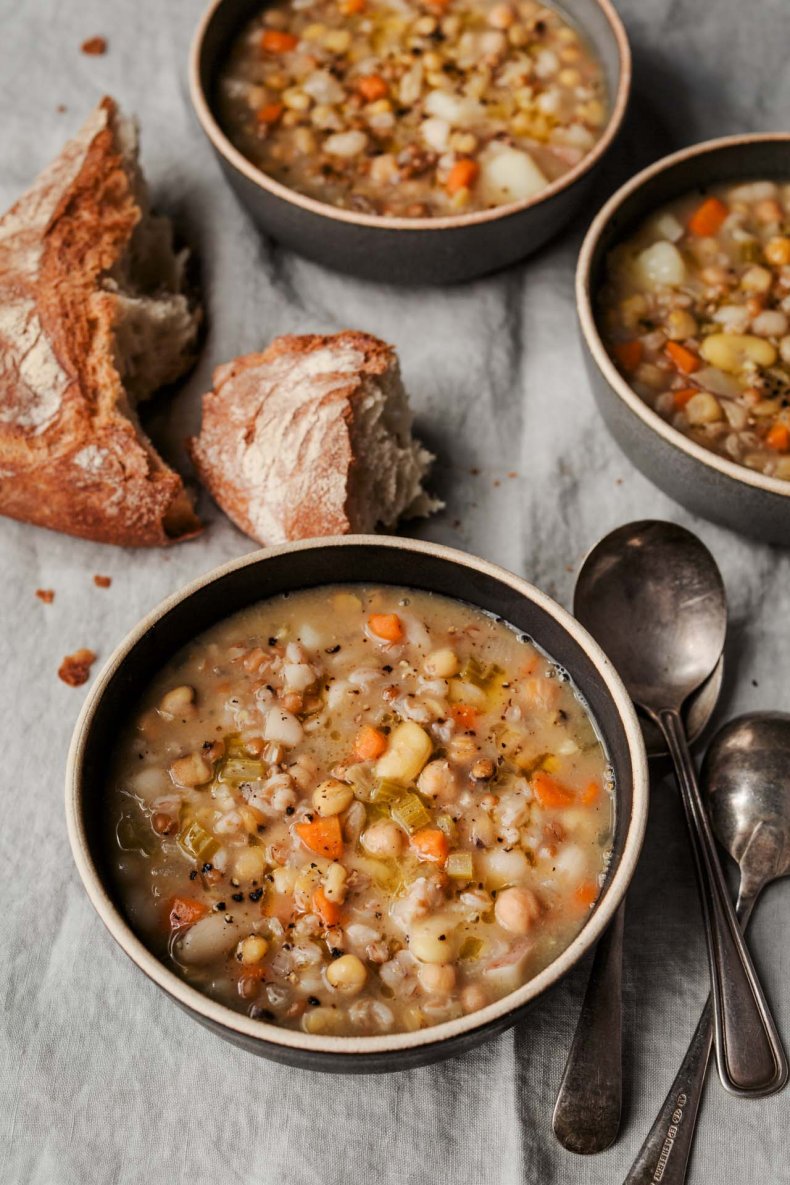 Rome-based author of Tasting Rome, Food of the Italian South and other books
"Well, I'm working on a cookbook about the Italian islands, so have been making a lot of pasta. I always have a dozen or more boxes of spaghetti on hand, plus farina di semola rimacinata flour for making hand shapes. A lot of the pasta condiments I have been making, both from the book as well as inspired generally by island cultures, work well in a period of isolation: cans of whole peeled tomatoes, garlic, onions, aged cheeses, salted anchovies, capers, olives, breadcrumbs, lard, olive oil and canned tuna. Oh, and so many dried legumes: cicerchie soup, borlotti beans with bitter greens, bean soup, etc.
"If you think about it, this makes perfect sense, because island food in Italy developed partially to survive in moments of siege or in the absence of coastal security, so people ate what could be cellared instead of relying on what they could go out and fish. Aside from that, I've got a solid stock of potatoes, beets and nuts and so much wine that I picked up in Sicily, Sardinia and Friuli before the outbreak.
"Last night I made a pesto—no traditional origin, just my own creation to see how marjoram works in a sauce like that—with marjoram and garlic, chives from the garden, pine nuts, extra virgin olive oil and Pecorino Romano. Turns out, marjoram makes a nice if potent pesto!"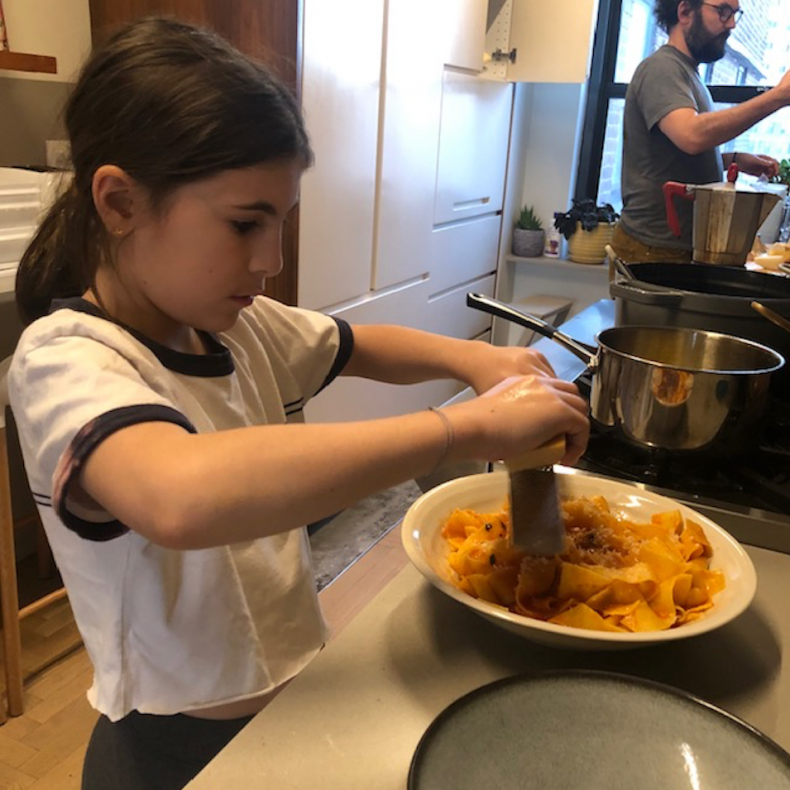 Alexandra Raij
Chef/co-owner of La Vara, Saint Julivert Fisherie, Txikito, El Quinto Pino in New York City
"As a restaurant owner, I have the advantage of having a large pantry, but I'm now at home in a Lower East Side apartment. One thing I have been vigilant about is no waste. I try to up-cycle all leftovers (flavor saving I call this), but I also try to use this commitment to create new and different meals and deepen yesterday's dish and create something new. Dried pasta is great because it can be a garnish or main dish even. We like to toast it and cook risotto-style, like the tuna casserole at Saint Julivert Fisherie.
"Remember to use potatoes and canned goods like tuna for flavor and to reduce your need for refrigerated items. Storage items like apples, onions, citrus, etc. will be a lifesaver. Also vinegar and chilies.
"Garlic soup with a poached egg and day-old bread is Basque staple at Txikito and such a comforting meal. Don't let your bread get moldy in a bag. Dry out bread rusks and reconstitute them into amazing French toast or savory dishes like panzanella salad with a few tomatoes and lot of onions. You can live pretty luxuriously for pennies. Save your Parmesan rinds for tomato sauce and broths, adding eggs or a little frozen pesto for another protein-packed meal with a different flavor profile.
"Economizing is key for everyone right now because even those of us that cook a lot are making way more meals in close quarters, try to school our kids and not spend all day cooking. In my case, I have lots of paperwork and people to support in my work and neighborhood community, so easy and satisfying are also important."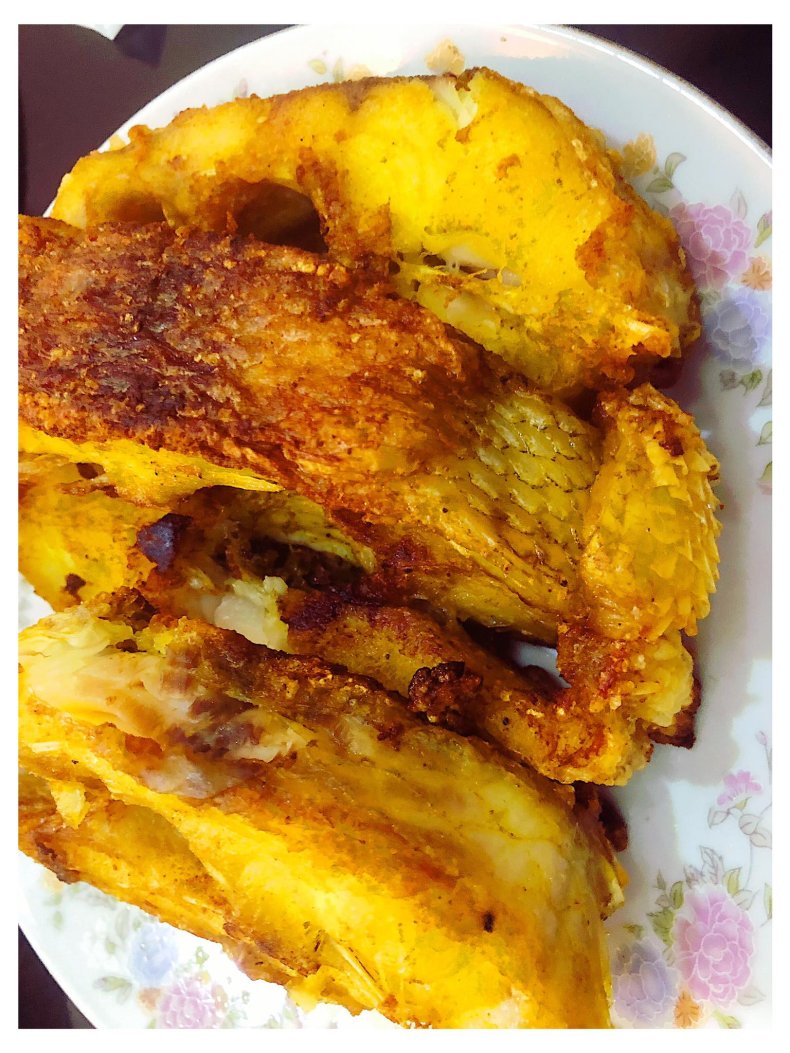 Hoang Tung
Chef/owner of T.U.N.G. in Hanoi, Vietnam
"When I'm home these days cooking for my family, I prefer to use plenty of vegetables and herbs that are in season and high in antioxidants that boost the immune system—broccoli, bok choy, ginger and especially a lot of mushrooms. Vietnamese people love having mushrooms in soups or noodles, but my tip is to sauté or grill them to help bring out the rich savory flavor while retaining their vitamins.
"Right now in Vietnam there is a campaign to help local businesses by purchasing the lobsters that cannot be exported outside of the country. And so who could say no to this delicacy? A perfectly cooked lobster is surely one of life's most simple pleasures. I boil or steam the lobster and add it to dishes with pasta."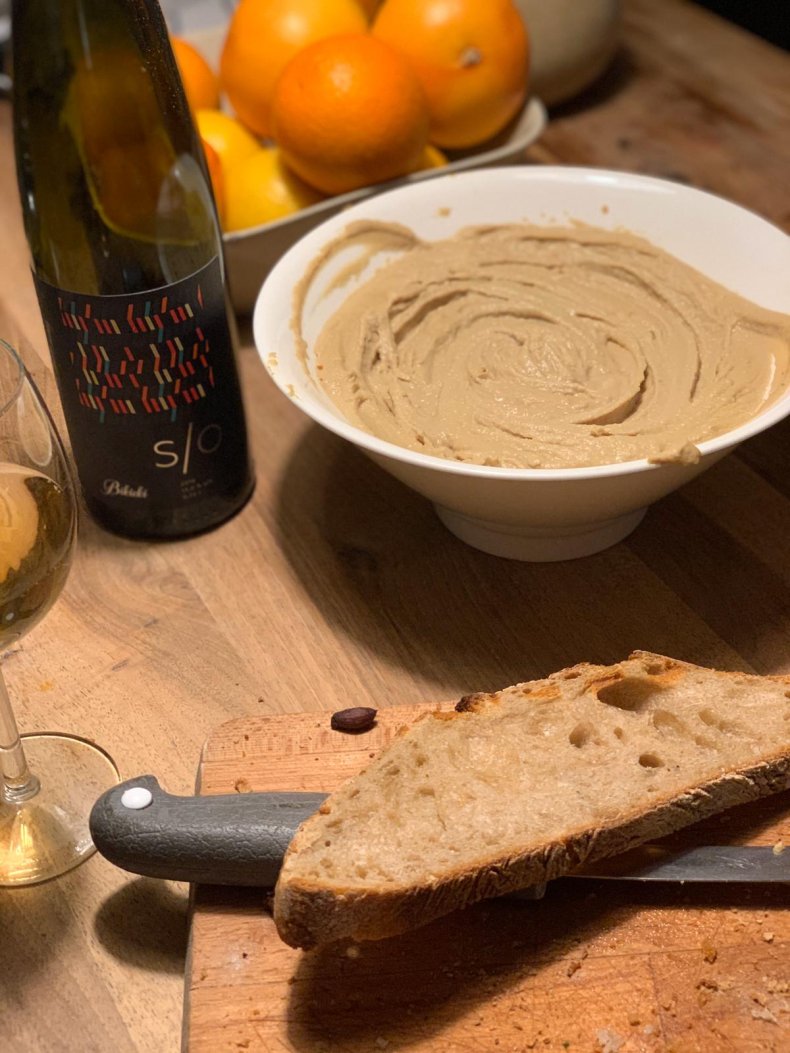 Miloš Vuksic
Co-owner of Endorfin in Belgrade, Serbia
"Our country is still at the beginning of this pandemic mess, so we are all still figuring out what our life is going to look like in the next few weeks. At this point, we are trying not to waste the food from the restaurant that cannot be stored, so we are eating a lot of soups, mushrooms, salads, steak tartare and drink a variety of open wine bottles. We don't go crazy about basic supplies; we make our own sourdough bread, pasta, etc.
"For these days, I would go as simply as I could. My two favorites are almond vegan pâté—the secret ingredient is lemon—and olive tapenade pâté, on crispy sourdough bread. Pasta with lemon hot green peppers and olive oil, or good old-fashioned carbonara.
"Hummus is rich with proteins and excellent when you diversify it with other ingredients, such as with poached eggs, cherry tomatoes and grilled mushrooms. The other one I prefer is with baked beetroot walnuts cheese and tahini yogurt. If I can't get fresh meat, I'm stocking up on dry and cured meats, like pepperoni sausage and prosciutto."