What Is Y'Allywood? Mike Pence Slammed After Claiming Georgia 'Ain't Hollywood'
Vice President Mike Pence appears to have sparked outrage in Georgia after informing the state that it "ain't Hollywood," while addressing supporters on Thursday.
The vice president had been trying to make a point condemning Hollywood's involvement in the upcoming midterm elections, slamming celebrities including Oprah Winfrey and Will Ferrell for making their way to Georgia to support Democrat Stacey Abrams, who is currently locked in a tight gubernatorial race against Republican Secretary of State Brian Kemp.
"I'd like to remind Stacey and Oprah and Will Ferrell, I'm kind of a big deal, too," Pence said. "And I've got a message for all of Stacey Abrams' liberal Hollywood friends: This ain't Hollywood. This is Georgia."
The vice president also tweeted out the same comment, sharing video of a speech he delivered in Augusta, Georgia.
While Pence might have been taking aim at "liberal Hollywood," it was Georgians and film industry buffs who appeared to be hit the hardest by the vice president's comments, with many taking offense to the slight on the state's own film industry.
Calling Atlanta the "Hollywood of the South" and "Y'allywood," Twitter users were out in full force to point out that Georgia has, in fact, become a booming hub for the film industry in the U.S.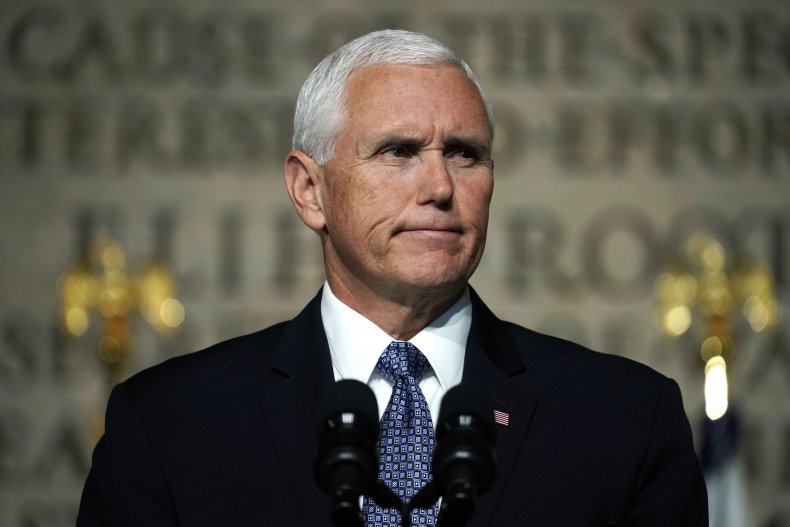 "The GA film industry is a huge employer and film and TV crews and actors are hard-working people who put in 12-18 hour days behind the scenes to make a product that brings hundreds of billions to the U.S. economy," one Twitter user, Eddy Robinson, pointed out. "I realize you think GA is all peaches and racism, but you're wrong."
According to the Georgia Department of Economic Development, the state has set the stage for hundreds of films and television shows, with 320 movies and shows shot there in the last year alone, generating an economic impact of $9.5 billion, including $2.7 billion in direct spending.
Hit films, including Black Panther, Guardians of the Galaxy and The Hunger Games featured scenes shot in the state, while popular shows, including Stranger Things, The Walking Dead were also among TV shows filmed in Georgia.
Why is the film industry flocking to the "Hollywood of the South?" According to the Atlanta Journal-Constitution, Georgia handed out more than $1 billion in tax credits to movie and TV production companies like Sony and Disney in what is considered one of the most generous programs assisting film production companies in the world.
"BLACK PANTHER was filmed in Georgia. BLACK LIGHTNING is filmed in Georgia. THE WALKING DEAD, too. List goes on. A lot of films and TV are made in Georgia. And they employ a lot of Georgians," Jamil Smith, a senior writer at the Rolling Stone wrote on Twitter.
"This is the Hollywood of the South. We have receipts," another Twitter user, Kelly Green, chimed in. "Run along now!"
"We're Y'all-ywood–and proud of it!" another social media user, Aleta Wolf, said.
Read more: Mike Pence says he's a 'big deal too' as Oprah and Will Ferrell campaign for Democrat Stacey Abrams
Pence has yet to comment on the reaction. In a tweet following a post repeating his message that Georgia "ain't Hollywood," the vice president celebrated having "another GREAT crowd" out in Savannah in support of Kemp.
However, it appears his message for voters to "vote Brian Kemp" may have been eclipsed by his apparent lack of knowledge of Georgia's claim to fame as the "Hollywood of the South."