What You Missed on Late Night: Anderson Cooper Says Donald Trump 'Hijacked' Coronavirus Press Briefings
It's a new week of late-night and our favorite hosts are still filming from the comforts of their homes.
With so many states kicking off their first phases of reopening over the weekend, the hosts had plenty to talk about for their at-home monologues on Monday night: from beaches reopening in Florida, to protestors fighting against shelter-in-place rules in the Midwest to deadly Asian hornets being discovered in Washington D.C. Some special guests made appearances on a few shows to share their two cents about the U.S.' current status with coronavirus and President Donald Trump's handling of the matter too.
Check out some of the standout moments from late-night last night below.
The Late Show with Stephen Colbert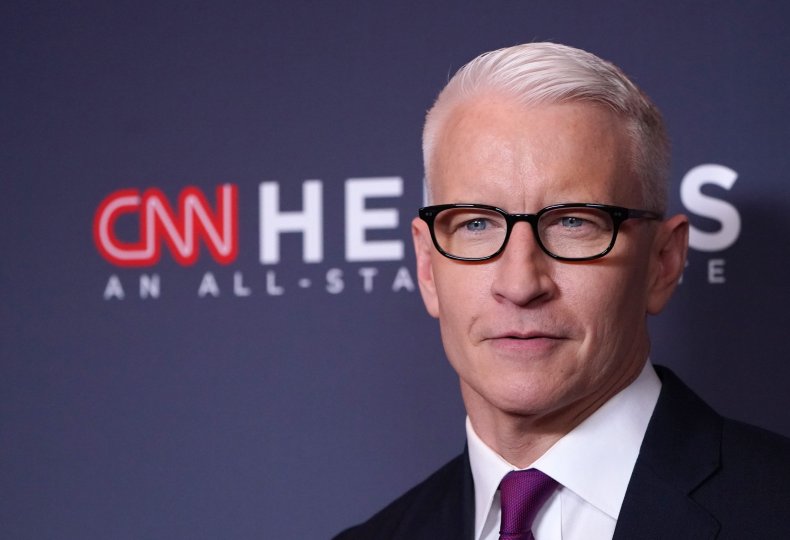 Fresh from his first weekend into fatherhood, new dad and CNN anchor Anderson Cooper made a web appearance on The Late Show. He chatted with Colbert about the arrival of his adopted son, Wyatt Cooper, whose birth Cooper announced on Instagram on Thursday.
Then it was on to more important matters like the coronavirus and the media's access to accurate scientific facts about the pandemic. For his part, Cooper assured Colbert that many reporters were doing their due diligence to get the facts people needed the most.
"This is life and death. This is as serious as it gets, and it's more important than ever before that things be true and accurate," Cooper said. "It's one of the reasons why I'm not taking time off. Thankfully I can do some work from home and stuff, but I feel like this is an extraordinary time to be in this business as a reporter and to be able to try to help inform people and give people facts."
He added: "Right now facts and science and truth—it is the difference between life or death for many people."
However, the news anchor did note that accurate scientific information pertaining to the coronavirus seemed, to him, to become stifled now that all the updates about the virus was being funneled through the White House.
"You have these coronavirus task force briefings that started off, yes, with Vice President [Mike] Pence constantly—you know, starting the sentence with 'At the direction of the president.' He knew better than to make himself...Everything was done at the direction of the president so he could stay in the president's good graces. But you at least heard from the scientists," Cooper said. "And suddenly the president realized 'I should get in on these. These are popular, and the scientists are getting—you know, their numbers are going up. People are respecting them.' He wants to get in on it, and so he has hijacked these coronavirus task force briefings."
Cooper said it was disheartening to see that officials from the Centers for Disease Control and the National Institute of Health were no longer getting to share information directly to the public, noting that the coronavirus press briefings are now "largely the president using it as a mini-campaign rally.
"[Trump's] saying things which are demonstrably false and rewriting history about his administration's response to it. And at the same time giving out bogus medical information, you know, with the idea of doing studies, injecting people with disinfectant. I mean you couldn't make that up that a president of the United States would actually suggest that, and just think of it—muse out loud about it—and have a government official sort of nod his head and say, 'We'll try and find the right people for that or the people who can figure that out.'"
Cooper added: "I mean you see the president talking about 'liberate Michigan.' How about liberating the scientists, letting the CDC hold a press conference of their own every day or the National Institute of Health. Just liberate the scientists to just speak truth. Science will save us."
Jimmy Kimmel Live
As if murder hornets and "suicidal beachgoers" wasn't enough to worry about, Kimmel proclaimed that we still have to worry about "lyin' king" Trump continuing to play both sides of the fence on matters of reopening the states. Despite many of the top health officials warning people need to continue sheltering-in-place, Trump's "ready to get back on the road" and begin holding his campaign rallies according to Kimmel.
"That is what this is all about. Right there. He misses his rallies. He needs to get out there. He needs to be cheered," Kimmel said. "It's what keeps him going. He's like a shark. He has to keep moving, and he has a hammer for a head."
The Daily Show with Trevor Noah
Although Noah was pleased to hear that coronavirus cases were on the decline where he lives in New York, he found it pretty alarming to learn that other areas of the country—particularly the Midwest and the South—were seeing an increase.
"It turns out that coronavirus is a lot like a Broadway musical. It starts out big in New York, and then months later, a much worse version pops up in Peoria," Noah joked. "And like, I don't even understand how these midwestern states are failing at social distancing. The whole state is already social distancing. Everything's spread out. You got to get in a truck and drive 70 miles just to infect someone. 'I'm feeling a bit of a sneeze coming on honey. We should head up to the Andersons' place. Make this thing count.'"
The late-night host thought the incline in certain states this late in the game just showed how "fighting coronavirus in America was not a unified approach."
"I get it. America's a big country and a country that likes to argue. It's hard to get everybody on the same page, you know? Noah said. "Forget coronavirus, imagine if America tried to order a pizza together. Some people would want toppings. Some people would want no toppings. Some people would say pizza is a hoax, and then Trump would jump in like, 'Forget pizza. Just inject yourself with marinara.'"