What You Missed on Late Night: Andrew Cuomo Calls Trump's Opposition Toward Funding Blue States 'Nonsensical'
And just like that, it's Friday.
The top late-night TV hosts were anxious for the end of the week during Thursday night's shows—mostly because they were excited to celebrate the special women of their lives on Mother's Day. Although many people won't be able to spend the day as he normally would this year, Jimmy Kimmel had a few bright ideas on how to honor mom on Mother's Day: give her some quiet time in the car away from the kids and deliver her a "cargarita," a.k.a., a big margarita straight from the blender.
Meanwhile, Trevor Noah dedicated his opening monologue to "college in the time of corona," highlighting some of the ways students are adjusting to their new lives off-campus and the quirky commencement ceremonies some universities are planning in light of the coronavirus pandemic.
Of course, it wasn't all pleasantries on the late-night shows. As always, President Donald Trump got his fair share of roasting by hosts, too.
Check out some of the best moments from last night's late-night programs below.
The Late Show With Stephen Colbert
A special guest made an appearance on The Late Show on Thursday—none other than New York Governor Andrew Cuomo.
Cuomo updated Colbert on some of the good news coming out of the coronavirus pandemic right now, like the fact that his three adult daughters have been quarantining with him and the state's declining number of COVID-19 cases. He also shared his reasoning for not getting caught up with President Donald Trump's staunch opposition towards bailing out blue states in need of coronavirus relief.
The president has suggested issuing federal funds out blue states who have been ravaged by the coronavirus—like New York, California and Illinois—is "not fair" to Republicans, claiming that the other side of the aisle likely wouldn't want to bail out states whose funding has been "mismanaged over a period of time."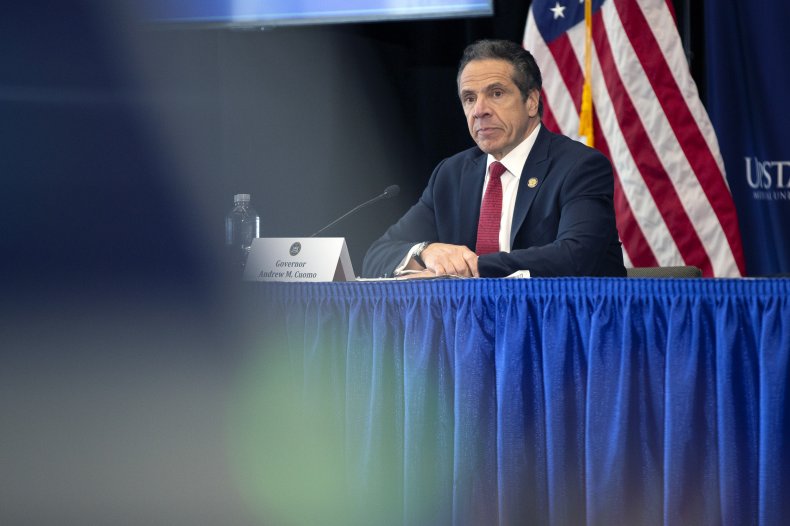 Cuomo called out Trump's claims and said he wasn't going to make his state's need for federal funding a partisan issue.
"You know, my state has a terrible financial hold because of this virus, and all states are in the same position. If you want to get the economy back running, you have to fund the states. The federal legislation, the small businesses, the airlines, et cetera—the states fund police, fire, schools, teachers, so you have to fund the states. The bailout argument is just nonsensical," Cuomo said, noting that New York is technically one of the biggest contributors to the federal government in the first place.
"If you look at who pays the bills in this country—who contributes more money—New York contributes more money to the federal government every year than it gets back. We, in essence, have been subsidizing the federal government and other states to the tune of billions of dollars every year," Cuomo explained. "We put in about $30 billion dollars more every year than we get back. So if anything, New York has been bailing out the nation for many many years."
He added: "But this is not a Democratic or Republican issue. The virus does not discriminate. You have Democrats dying, you have Republicans dying. It's not a red-state, blue-state issue. It's a national issue. It is a red, white and blue issue."
Jimmy Kimmel Live!
Vice President Mike Pence found himself as the butt of a few jokes on Kimmel Thursday, after he visited a hospital in Virginia without wearing a protective face mask once again. Further making himself more of a target for late-night teasing, the vice president forgot that his microphone was on and asked if he could carry a few empty boxes into the hospital, you know, for the pictures.
"Mike Pence pretending to carry empty boxes of PPE into a hospital is the perfect metaphor for who he is and what he's doing: a big box of nothing delivering another big box of nothing," Kimmel said.
Of course, the brunt of Kimmel's roast was reserved for Pence's "boss King Joffery," or rather Trump, who received some unsettling news on Thursday.
"One of the president's personal valets has tested positive for coronavirus, which is a big deal because the White House valet works very closely on a personal level. He does everything from handing him the remote to turn on Fox News in the morning to grinding up his Adderall at night. The White House says Trump took tests. He gets tested every day and tested negative Think he gets that swab shoved up his nose every time? I wonder what kind of sound he makes," Kimmel cracked.
The Daily Show With Trevor Noah
Noah was feeling bad for the college kids whose school year was interrupted due to the coronavirus crisis. Thousands of young adults across the country were forced to leave campuses earlier this year without getting to properly pack up their dorms or say goodbye to their friends.
"Man, that has got to suck so much. Can you imagine? One minute you're in school, and the next thing, your stuff is in trash bags and you're on the street, which is pretty rough. I mean, the last person who had to leave college that quickly was Aunt Becky's daughter," Noah said.
He added: "Having your university shut down is not a normal thing, except at Trump University."