What You Missed on Late Night: Colbert Jokes Trump Thinks the Value of Human Life is 'Worth One Trip to Buffalo Wild Wings'
President Donald Trump may have trolled late-night hosts in a tweet on Tuesday, but that didn't stop the fellas from going after him on their respective shows.
While Jimmy Kimmel relished in the joy of being personally attacked by the president on social media, Colbert continued to tease the Trump administration for its handling of the coronavirus pandemic, among other things.
Check out a few moments from late-night last night below.
The Late Show with Stephen Colbert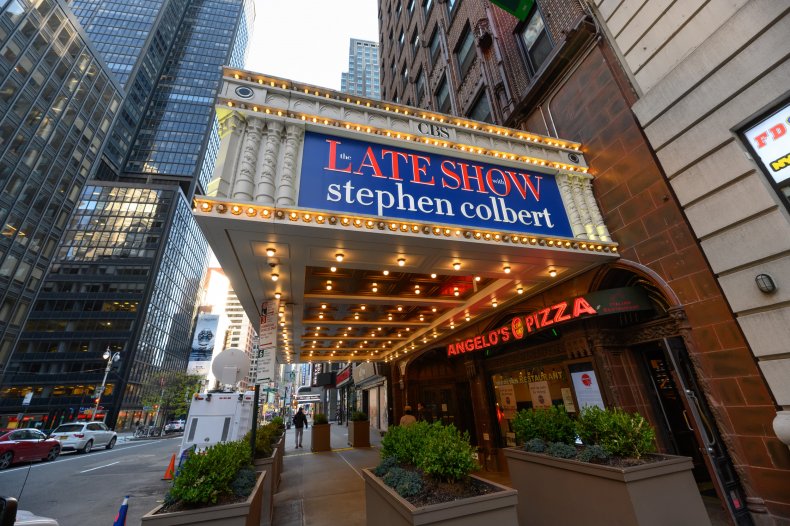 Colbert was bewildered to learn that the White House was planning on disbanding the Coronavirus Task Force—you know, the official group that's supposed to be updating the country on all things pertaining to COVID-19.
"Big news from the endangered world of listening to scientists because we learned today that the White House plans to wind down the coronavirus task force. No, don't do that. We still need them," Colbert said. "When Trump said as the weather gets warmer it would miraculously go away, I didn't know he meant our response.
Although Colbert was admittedly puzzled about how people would remaining informed on all things coronavirus if there was no task force to provide information, he was more concerned about claimed that the group's gradual demise will likely not be officially announced. White House says the task force's gradual demise may not be announced.
"So we might not ever really know what happened to the group that was supposed to let us know what was really happening? How will we find out? Do we need a coronavirus task force task force?" he teased.
Another issue Colbert took up on The Late Show on Tuesday was the president's apparent hastiness toward reopening the country. However, Colbert was please to learn that New York Governor Andrew Cuomo was challenging the idea that we should sacrifice people's lives for the economy.
"I [have to] say that's a refreshing contrast to Trump's position: A human life is worth about one trip to Buffalo Wild Wings," Colbert said.
Jimmy Kimmel Live
Kimmel was shocked to see his name mixed in with the president's Twitter rants of the day on Tuesday. While congratulating Fox News' Greg Gutfeld's late-night ratings in a tweet, Trump dissed "no talent Stephen Colbert, nice guy Jimmy Fallon" and Kimmel, who he deemed the wacko 'last placer.'"
Kimmel was pleased to get a shout out on Trump's social media, but he felt the president had a couple of typos in the tweet.
"'Wacko last placer?'" I hope he wasn't talking about me," Kimmel said. "I think maybe this was another typo situation. I think what he meant to tweet was: 'I am completely devastated by the loss of life caused by this insidious virus. My thoughts are with the families of those who have passed. I pledge to spend every waking moment working to make sure our medical workers have the support they need and every American has access to tests. PS Congrats to Greg Gutfeld.' That's better right?"
Kimmel added: "He does seem to be familiar with all the late-night shows. I've heard that if you snort enough Adderall you can watch four of them at once."
The Tonight Show Starring Jimmy Fallon
Over at Fallon's house, he and his wife Nancy Juvonen played another round of "Ask the Fallons." The big question of the night was how Juvonen met her longtime friend and production company co-owner Drew Barrymore.
"I met Drew Barrymore in Seattle, Washington, at an amazing little bar called 13 Coins that is still there. And she was 19. I was working for Clarence Clemons at the time in San Francisco. And she was working on a movie that my brother was working on," Juvonen explained. "He was a producer's assistant, and we met and really got along. But then, you know, thought nothing of it. I mean, all good, great, great. Went home, and three weeks later, my roommate Kevin Mersky said, 'Hey, someone's making prank calls on our answering machine.' Yes, we had an answering machine. 'And they're pretending that they're Drew Barrymore, and they're daring you to move to Los Angeles and start a production company.' And I go, 'I actually did meet Drew Barrymore.' And I packed up and went down to L.A."