What You Need to Know About Bob Chapek, Disney's New CEO
Bob Iger announced on Tuesday that he's stepping down as the CEO of Disney. Bob Chapek, the most recent chairman of Disney parks, experiences and products will step into the role of CEO as Iger's successor.
Iger will remain a part of Disney, as executive chairman, through the end of 2021. He has served as CEO of Disney since 2005, when he replaced Michael Eisner. Iger's accomplishments with the company included the acquisition of Pixar, Marvel Entertainment, Lucasfilm and 21st Century Fox. Most recently, Iger spearheaded the launch of Disney+, making the company a strong player in the streaming wars.
In a statement, Iger explained the timing for the move.
"With the successful launch of Disney's direct-to-consumer businesses and the integration of Twenty-First Century Fox well underway, I believe this is the optimal time to transition to a new CEO," he said.
Chapek assumes the role of CEO after more than 20 years at Disney. Before he was in charge of Disney parks, experiences, and products, Chapek led the Walt Disney Parks and Resorts division, which he was chairman of from 2015 to 2018.
"I am incredibly honored and humbled to assume the role of CEO of what I truly believe is the greatest company in the world, and to lead our exceptionally talented and dedicated cast members and employees," Chapek said in a statement.
Chapek also had kind words for Iger: "Bob Iger has built Disney into the most admired and successful media and entertainment company, and I have been lucky to enjoy a front-row seat as a member of his leadership team."
Under Chapek's leadership, Walt Disney Parks saw an aggressive expansion into new projects. The addition of Star Wars to both Disneyland Resort and Walt Disney World Resort was his most recent highlight, with the creation of the immersive "Galaxy's Edge" experience. Disney Parks has gone on to develop Marvel-related attractions worldwide, making full use of Disney's arsenal of intellectual property.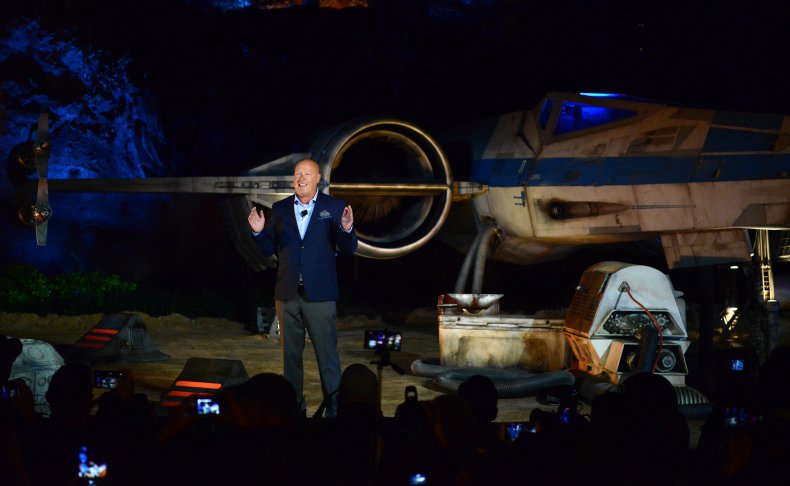 Chapek also served as president of Distribution for The Walt Disney Studios, where he managed Disney's distribution strategy. The Studio has been particularly dominant at the worldwide box office in recent years, with a steady stream of Marvel blockbusters, Star Wars films, and animation spectacles. Chapek also served as president of Walt Disney Studios Home Entertainment and led the company's notorious "vault" release strategy, which turned home releases into events.
Chapek's new contract began on February 24 and will end on February 28, 2023. His base salary is also getting a bump to $2,500,000 as he begins his tenure as Disney's seventh CEO.
What You Need to Know About Bob Chapek, Disney's New CEO | Business