What You Need to Know About the COVID Booster Shot
The U.S. Department of Health and Human Services (HHS) is putting out a plan to prepare COVID-19 booster shots for the American public beginning late next month, health officials said Wednesday.
In recent months, officials have been researching whether those who have already received two doses of the Pfizer or Moderna vaccines, or a single dose of the Johnson & Johnson vaccine, will need to get a booster shot to continue immunizing themselves against COVID-19.
Because of the rapid spread of the coronavirus's Delta variant—which has caused a rise in breakthrough cases among the vaccinated, as well as growing hospitalizations among the unvaccinated—officials concluded that booster shots for the two mRNA vaccines, from Pfizer and Moderna, would "maximize vaccine-induced protection and prolong its durability."
"The available data make very clear that protection against SARS-CoV-2 infection begins to decrease over time following the initial doses of vaccination, and in association with the dominance of the Delta variant, we are starting to see evidence of reduced protection against mild and moderate disease," federal health officials said Wednesday in a press release.
"Based on our latest assessment, the current protection against severe disease, hospitalization, and death could diminish in the months ahead, especially among those who are at higher risk or were vaccinated during the earlier phases of the vaccination rollout," the release added.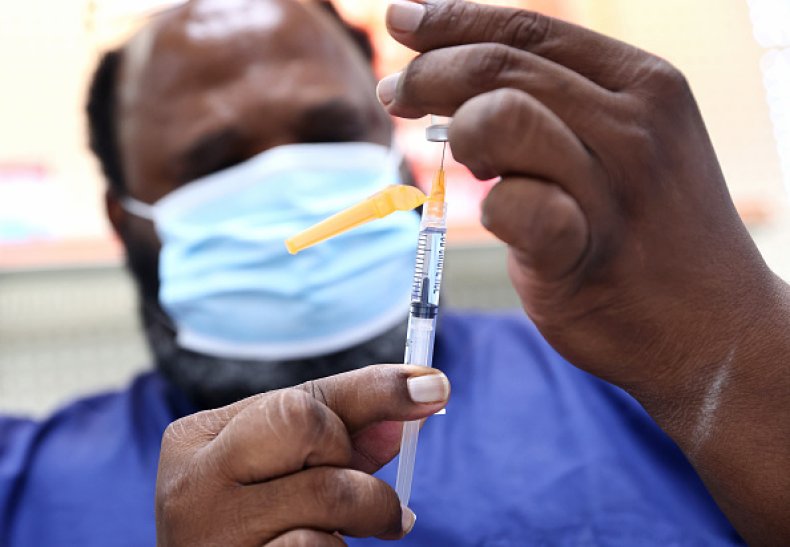 When Should I Be Getting My Booster Shot?
It is recommended that people receive a booster shot eight months after receiving their second dose of the Pfizer or Moderna vaccine. For individuals who were fully vaccinated the earliest in the nation's rollout—such as health care workers, nursing home residents and other seniors—that would mean sometime in late September.
The HHS is preparing to offer booster shots to all Americans beginning the week of September 20.
Where Can I Get My Third Shot?
Officials said the booster shots will be available at approximately 80,000 locations across the country, including over 40,000 local pharmacies.
Data shows that 90 percent of Americans live within five miles of a vaccine site.
What If I Got the Johnson & Johnson Vaccine?
While the recommendation mainly pertains to those who received one of the mRNA vaccines, officials are anticipating that recipients of the single-dose Johnson & Johnson shot will also require booster shots.
However, because of the later rollout of the one-shot vaccine, health officials say they will need more data to plan when booster shots will become available for individuals who received the J&J vaccine.
What Will the Booster Shots Mean for Americans Who Are Still Unvaccinated?
While the HHS will be working on rolling out third shots for eligible Americans, the department emphasized that it will continue to push for unvaccinated Americans to get their first doses.
"Nearly all the cases of severe disease, hospitalization, and death continue to occur among those not yet vaccinated at all," federal officials said. "We will continue to ramp up efforts to increase vaccinations here at home and to ensure people have accurate information about vaccines from trusted sources."
Update (August 18, 2021, 11:38 p.m.): This story was updated with information on booster shot locations.