What You Need to Read Now: Economic Survival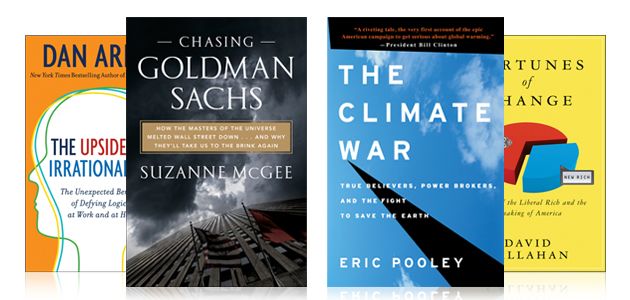 Fortunes of Change | by David Callahan
A sympathetic and comprehensive survey of the trust funders, venture capitalists, environmental entrepreneurs, and Wall Street liberals who helped make the Democrats the party of the rich--in 2008, at least.
Chasing Goldman Sachs | by Suzanne McGee
It's not so much what the once admired investment bank does that's the problem, argues McGee. It's that Goldman's earnings inspire the rest of the financial sector to ramp up risk and speculation.
The Climate War | by Eric Pooley
A fast-paced, campaign-style, behind-the-scenes narrative about the conflict over regulating emissions. Really!
The Upside of Irrationality | by Dan Ariely
The follow-up to Predictably Irrational is predictably readable and insightful about the foibles of economic decision making.